Brett Hankison, Officer Involved in Breonna Taylor Shooting, Accused of Sexual Assault in Lawsuit
Former Louisville Metro Police Detective Brett Hankison, who was the only officer charged in the shooting of Breonna Taylor, allegedly sexually assaulted a woman in April 2018, according to a lawsuit filed in Jefferson County, Kentucky on Tuesday.
Louisville resident Margo Borders claims that Hankison assaulted her after giving her a ride home from a local bar. According to the filing, Hankinson allegedly entered Borders' apartment and assaulted her after she fell asleep on the couch.
Borders was allegedly "physically injured, mentally horrified and remained in emotional duress over both the assault and the feeling that any efforts made to hold Officer Hankison accountable for his actions would backfire," according to the lawsuit.
"Brett Hankison's conduct was absolutely terrible," said Borders' attorney Sam Aguiar in a Tuesday statement reported by WDRB. "What's just as terrible is how protected he was within the department. The man ruined lives for years and was never held accountable."
Other Louisville police officers were named as defendants, including former Louisville Police Chief Steve Conrad. The lawsuit claims that the other individuals were aware of Hankison's behavior but did not attempt to prevent it.
Newsweek reached out to Aguiar's office for further comment.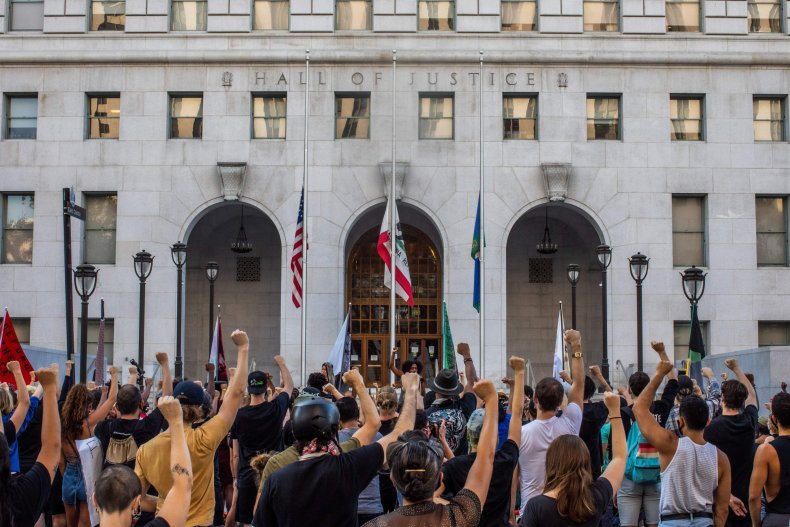 Borders posted about the alleged assault on Facebook in June. Referring to Hankison, Borders wrote that she "never reported him out of fear of retaliation."
"I had no proof of what happened and he had the upper hand because he was a police officer," Borders continued. "Who do you call when the person who assaulted you is a police officer? Who were they going to believe? I knew it wouldn't be me."
Taylor's shooting death in March happened when 3 Louisville police officers, including Hankison, entered Taylor's apartment to serve a warrant. Taylor's partner Kenneth Walker, believing a home invasion was in progress, fired on the officers. Police returned fire, striking Taylor in the process.
Hankison was dismissed by the Louisville Metro Police Department in June after his involvement with the Breonna Taylor shooting. According to Hankison's termination letter from Police Chief Robert Schroeder, Hankinson "blindly" fired ten rounds into Taylor's apartment and surrounding units.
Schroder called Hankison's behavior "a shock to the conscience," claiming that Hankison had never been trained by the Louisville police to use deadly force "in this fashion."
In September, Hankison was charged with three counts of wanton endangerment. However, no Louisville police officers were indicted in Taylor's death. According to Kentucky Attorney General Daniel Cameron, Taylor was not struck by any of the bullets fired by Hankison. Hankison entered a not guilty plea.