What Does Brett Hundley Have That Colin Kaepernick Doesn't? Packers Quarterback Was Woeful Against Lions
Brett Hundley was bad against the Detroit Lions on Monday Night Football, in the most boringly, mind-numbingly, soul-crushingly competent way possible.
Check out his numbers. There was nothing wrong, per se, with Hundley's performance. Aaron Rodgers's backup-turned-starter threw for 245 yards in completing 26 of 38 passes and zero interceptions. There was nothing much right with it, though, either. Spreading the ball around between 10 different receivers, including luminaries like Jordy Nelson, Randall Cobb and Davante Adams, Hundley failed to find the end zone all game. The Lions got a near-perfect game from Matthew Stafford, who completed 26 of 33 passes for 361 yards and no interceptions. If Stafford starts heating up, they can probably catch a Vikings team playing Super Bowl–caliber defense that also plans to stick with Case Keenum under center when Teddy Bridgewater returns, according to CBS. The NFC North, not so long ago one of the strongest divisions in professional football, is now something of a mess.
"An offense that once operated with unparalleled efficiency at the hands of all-time great Aaron Rodgers is unrecognizable with Brett Hundley at the controls," Matt Harmon wrote in a scathing takedown of Hundley's performance on NFL.com on Monday night. "No one makes it look easier than Rodgers. Accustomed to a quarterback who executes every facet of the position, it's painful to watch the Packers' offense manned by a player who makes every play look as laborious as possible."
There are mitigating factors to Hundley's futility. Since Rodgers went down with a broken collarbone against the Vikings on October 15, the Packers' defense has been unable to make crucial stops in conceding 26 points to the New Orleans Saints and then 30 to the Lions. Rodgers could overcome those defensive weaknesses—the Packers are giving up 357.4 yards per game, eighth-worst in the NFL—a backup cannot. Hundley also isn't being helped by a mediocre running game: The Packers are gaining 98.6 yards per game, which ranks 21st in the league. The Packers' problems on the ground were on show on Monday night. Head coach Mike McCarthy, who calls the Packers' offensive plays, spread the carries between five different backs, including wide receiver Cobb. Ty Montgomery ran for 33 yards on six carries, but the Packers' second-most effective rusher was Hundley.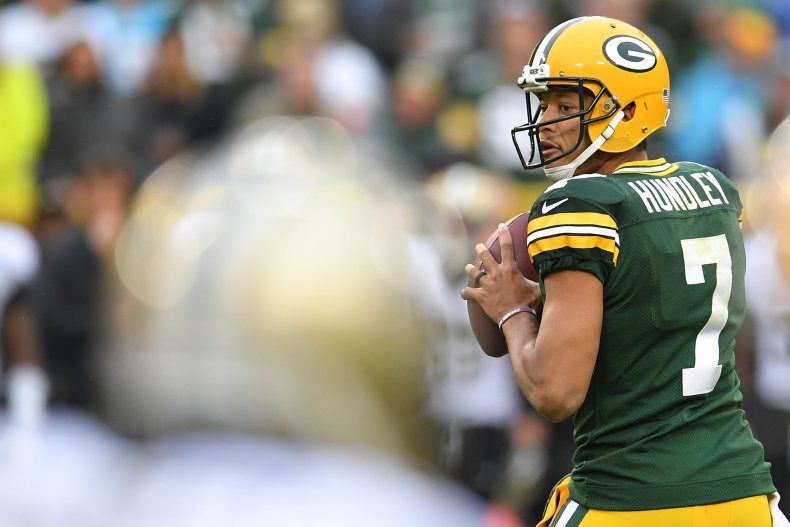 Once again, it feels like only Rodgers could overcome the Packers' lack of play-action threat. Hundley, on the evidence of two full games, does not possess the skill set to overcome a laborious running game. So why, with Rodgers nowhere near a return and the offense stagnant, not rip the system up and bring in a dual-threat quarterback? Yes, Colin Kaepernick is now enmeshed in a suit alleging collusion by NFL owners in keeping him out of the league, which may finally have made him a persona never to be grata again. But it's uncanny how the situation Peter King outlined in Sports Illustrated, and that we covered in the middle of October, has and hasn't come to pass.
"My opinion: The Packers should call Colin Kaepernick on Monday morning. Not necessarily to sign him. If I were general manager Ted Thompson and coach Mike McCarthy, I'd want to meet with Kaepernick to see if he'd be willing to come in as a backup to Hundley while he took a crash course in the offense," King wrote on October 15, opining that if Hundley struggled, the Packers would have an experienced signal-caller ready to take over for the crucial run-in to the playoffs. OK, it was almost five years ago, which may as well be a lifetime in the NFL, but McCarthy had a ringside seat for that extraordinary, spine-tingling NFC Divisional game on January 12, 2013, when Kaepernick ran for 181 yards, shredding a bemused and ultimately befuddled Packers defense.
Kaepernick is probably never going to do that again, for the Packers or any other team. But couldn't he offer the Packers more than what Hundley is currently providing? As with the Texans and Broncos—less so the Colts—there's a sense that certain NFL teams may be prepared to let potential Super Bowl–winning seasons slide into the ether, all for the sake of not hiring Kaepernick. McCarthy still has a chance to buck that trend. No one is holding their breath, though.