Brett Kavanaugh Accusations: Deborah Ramirez Allegation Further Imperils Confirmation of Trump's Supreme Court Nominee
A second woman has accused Supreme Court nominee Brett Kavanaugh of sexual misconduct, throwing his ascension to the highest court in the land into further doubt. Deborah Ramirez said she attended a dorm room party with Kavanaugh in the early 1980s, when both were studying at Yale University. There, she said in an interview with The New Yorker published Sunday, Kavanaugh exposed himself to her and thrust his penis into her face, causing her to touch it.
"I wasn't going to touch a penis until I was married," Ramirez told the magazine. "I was embarrassed and ashamed and humiliated."
She continued: "Brett was laughing. I can still see his face, and his hips coming forward, like when you pull up your pants."
Kavanaugh has denied the allegation, but Senate Democrats are now investigating. In previous conversations with The New Yorker, Ramirez was reportedly reluctant to speak of Kavanaugh's role in the incident with certainty. But she has now suggested that she has little doubt it was the Supreme Court nominee who was responsible.
"Somebody yelled down the hall, 'Brett Kavanaugh just put his penis in Debbie's face,'" she said. "It was his full name. I don't think it was just 'Brett.' And I remember hearing and being mortified that this was out there."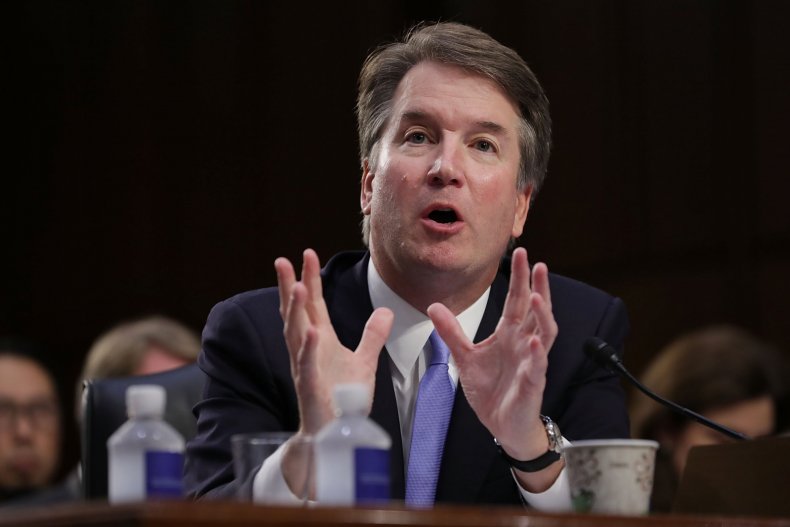 Last week, Kavanaugh's once all-but-certain confirmation to the Supreme Court was thrown into jeopardy when California professor Christine Blasey Ford alleged that he assaulted her at a high school party, pushing her onto a bed, groping her, trying to remove her clothes and putting his hand over her mouth to prevent her from screaming.
Kavanaugh has forcibly denied that allegation, and did the same with the new accusation Sunday night.
"This alleged event from 35 years ago did not happen," he said in a statement. "The people who knew me then know that this did not happen, and have said so. This is a smear, plain and simple. I look forward to testifying on Thursday about the truth, and defending my good name—and the reputation for character and integrity I have spent a lifetime building—against these last-minute allegations."
The White House said its support for the nominee was unwavering.
"This 35-year-old, uncorroborated claim is the latest in a coordinated smear campaign by the Democrats designed to tear down a good man," White House spokesperson Kerri Kupec said. "This claim is denied by all who were said to be present and is wholly inconsistent with what many women and men who knew Judge Kavanaugh at the time in college say. The White House stands firmly behind Judge Kavanaugh."
After much negotiation and public debate, Ford and Kavanaugh were due to testify before the Senate Judiciary Committee on Thursday. However, following the second allegation of sexual misconduct, the top Democrat on the committee has called for proceedings to be halted.
"I am writing to request an immediate postponement of any further proceedings related to the nomination of Brett Kavanaugh," Senator Dianne Feinstein wrote in a letter to Senate Judiciary Chairman Chuck Grassley.