Brett Kavanaugh Confirmation Vote Count: Here's How Every Senator Voted on Supreme Court Nominee
Senators reconvened Saturday afternoon for a final vote on President Donald Trump's Supreme Court nominee Brett Kavanaugh, confirming the judge with a final tally of 50-48.
With Kavanaugh's presence on the bench, the high court will have a solid conservative majority for the first time in 50 years. The final vote tally meant that Kavanaugh received the fewest votes for any confirmed Supreme Court justice since the Senate moved to 100 members almost half-a-century ago.
Republican Senator Lisa Murkowski, who was set to vote "no," ended up voting "present" to keep the margin the same due to her Republican colleague Steve Daines being at his daughter's wedding and unable to cast his "yes vote."
At one point it looked like Vice President Mike Pence might be needed to cast a tie-breaking vote, as on Friday afternoon the outcome for Kavanaugh and the future of the Supreme Court remained as undecided as ever. But then a handful of senators from both sides of the aisle who were previously on the fence gave last-minute announcements on how they would be voting for the nominee.
Senator Murkowski of Alaska had announced earlier on Friday that she would not be supporting the nominee, making her the first Republican lawmaker to outrightly oppose Kavanaugh. She had been undecided about the judge throughout the confirmation process, but was most conflicted after allegations of sexual misconduct were brought against Kavanaugh by three women.
At the cloture motion, Murkowski stunningly voted no on ending debate on the nominee and bringing forth a final vote. After she announced that she believed that Kavanaugh was a "good man" but "not the right man for the court at this time."
Her rebuke of Kavanaugh, which foreshadowed a possible 50-50 tie in the chamber, was almost immediately followed by Senators Susan Collins and Joe Manchin announcing that they would be voting "yes" on the judge.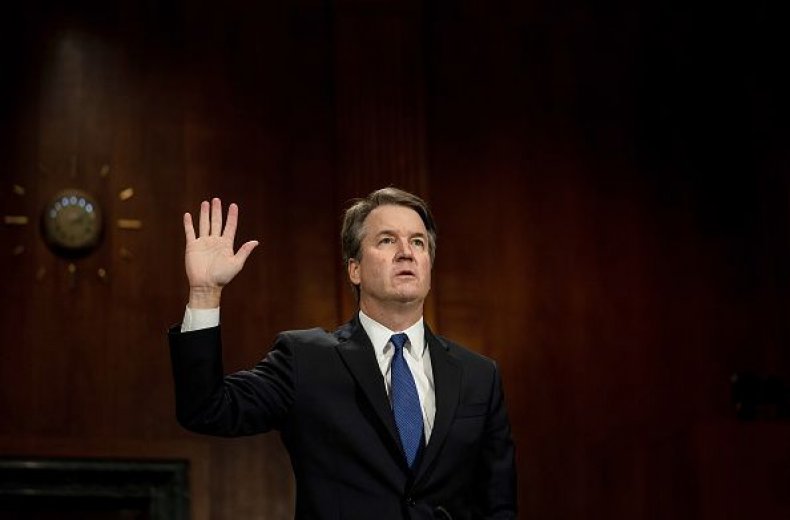 "Our Supreme Court confirmation process has been in steady decline for more than 30 years. One can only hope that the Kavanaugh nomination is where the process has finally hit rock bottom," she said in a 45-minute speech on the Senate floor Friday afternoon.
Collins went on to praise Kavanaugh's track record and rulings as a federal judge and slam Democrats for disregarding the presumption of innocent until proven guilty. The senator explained that her vote does not mean that she does not support or believe survivors of sexual assault.
"The Me Too movement is real," she said. "It matters, it is needed and it is long overdue."
Minutes after Collins's speech had ended, Democrat Joe Manchin released a statement saying that he, too, would be supporting Kavanaugh in the confirmation vote. The West Virginia Democrat is facing a tough re-election bid in staunchly pro-Trump territory.
Jeff Flake, who gave Democrats some hope when he stunned Republicans and requested the FBI investigate the accusations made against Kavanaugh, said he will vote "yes" on the nominee.
"Unless something big were to change. I don't see what would," Flake told reporters on Friday.
President Trump remained supportive of his nominee throughout the process and doubled down on the judge's "good" character even in the face of allegations of sexual misconduct. The president said that he believed Christine Blasey Ford, the woman who first accused Kavanagh of sexual assault, was a "credible" person but then mocked her testimony at a rally in Mississippi.
On Friday morning he wrote on Twitter that he was "proud" of the Senate for advancing Kavanaugh's confirmation.
Here's how every senator voted in Saturday's final confirmation vote of Brett Kavanaugh:
Yes
Lamar Alexander (R-TN)
John Barrasso (R-WY)
Roy Blunt (R-MO)
John Boozman (R-AR)
Richard Burr (R-NC)
Shelley Moore Capito (R-WV)
Bill Cassidy (R-LA)
Susan Collins (R-ME)
Bob Corker (R-TN)
Tom Cotton (R-AR)
John Cornyn (R-TX)
Mike Crapo (R-ID)
Ted Cruz (R-TX)
Mike Enzi (R-WY)
Joni Ernst (R-IA)
Deb Fischer (R-NE)
Jeff Flake (R-AZ)
Cory Gardner (R-CO)
Lindsey Graham (R-SC)
Chuck Grassley (R-IA)
Orrin Hatch (R-UT)
Dean Heller (R-NV)
John Hoeven (R-ND)
Cindy Hyde-Smith (R-MS)
Jim Inhofe (R-OK)
Johnny Isakson (R-GA)
Ron Johnson (R-WI)
John Kennedy (R-LA)
James Lankford (R-OK)
Mike Lee (R-UT)
Mitch McConnell (R-KY)
Jerry Moran (R-KS)
Rand Paul (R-KY)
David Perdue (R-GA)
Rob Portman (R-OH)
Jim Risch (R-ID)
Pat Roberts (R-KS)
Mike Rounds (R-SD)
Marco Rubio (R-FL)
Ben Sasse (R-NE)
Tim Scott (R-SC)
Richard Shelby (R-SC)
Dan Sullivan (R-AK)
John Thune (R-SD)
Tim Tillis (R-NC)
Pat Toomey (R-PA)
Roger Wicker (MS)
Todd Young (R-IN)
John Kyl (R-AZ)
Joe Manchin (D-WV)
Present
Lisa Murkowski (R-AK)
Absent
Steve Daines (R-MT)
No
Catherine Cortez Masto (D-NV)
Tammy Duckworth (D-IL)
Joe Donnelly (D-IN)
Jon Tester (D-MT)
Heidi Heitkamp (D-ND)
Doug Jones (D-AL)
Bill Nelson (D-FL)
Cory Booker (D-NJ)
Ben Cardin (D-MD)
Tom Carper (D-DE)
Dick Durbin (D-IL)
Diane Feinstein (D-CA)
Kirsten Gillibrand (D-NY)
Kamala Harris (D-CA)
Richard Blumenthal (D-CT)
Mazie Hirono (D-HI)
Chris Van Hollen (D-MD)
Bob Menendez (D-NJ)
Michael Bennet (D-CO)
Tom Udall (D-NM)
Mark Warner (D-VA)
Chris Coons (D-DE)
Tina Smith (D-MN)
Amy Klobuchar (D-MN)
Brian Schatz (D-HI)
Jeanne Shaheen (D-NH)
Ron Wyden (D-OR)
Bernie Sanders (I-VT)
Debbie Stabenow (D-MI)
Martin Heinrich (D-NM)
Sheldon Whitehouse (D-RI)
Patrick Leahy (D-VT)
Tammy Baldwin (D-WI)
Edward Markey (D-MA)
Sherrod Brown (D-OH)
Maria Cantwell (D-WA)
Maggie Hassan (D-NH)
Gary Peters (D-MI)
Jack Reed (D-RI)
Jeff Merkley (D-OR)
Patty Murray (D-WA)
Bob Casey (D-PA)
Tim Kaine (D-VA)
Angus King (I-ME)
Claire McCaskill (D-MO)
Chris Murphy (D-CT)
Elizabeth Warren (D-MA)