Supreme Court nominee Brett Kavanaugh "cried like a baby" and "raged" when he testified before the Senate Judiciary Committee last week to defend himself from sexual assault allegations, a host of MSNBC's Morning Joe said Friday morning.
Mika Brzezinski said that Kavanaugh, who is moving forward to the final vote for his confirmation after a 51-49 vote by senators to end his nomination debate, had two opportunities to shine in the face of adversity.
"One, in that hearing where he raged, defended himself, cried like a baby, and basically said it was everyone else's fault but his own what was going on," Brzezinski said, "And secondly in this op-ed, where he could have called out the president, he could have called out the people that were mocking Christine Blasey Ford and said, 'Don't mock her. Don't mock her. Leave her alone.'"
Brzezinski was referring to Kavanaugh's op-ed in The Wall Street Journal on Thursday in which he defended his "very emotional" testimony the previous week.
"I might have been too emotional at times. I know that my tone was sharp, and I said a few things I should not have said. My hearing testimony was forceful and passionate," Kavanaugh wrote. "That is because I forcefully and passionately denied the allegation against me.
"At times, my testimony—both in my opening statement and in response to questions—reflected my overwhelming frustration at being wrongly accused, without corroboration, of horrible conduct completely contrary to my record and character," the judge continued.
Brzezinski compared Kavanaugh's responses to those of political leaders whose actions she considered more respectable.
"I think about leaders like Ronald Reagan and how they handled adversity, or John McCain when that woman at the rally said something very disparaging about Obama," Brzezinski said. "You know, there is a moment where you can really show what you're made of."
Brzezinski's co-host Joe Scarborough also slammed Kavanaugh, who did not literally cry when he testified against sexual assault allegations by Christine Blasey Ford.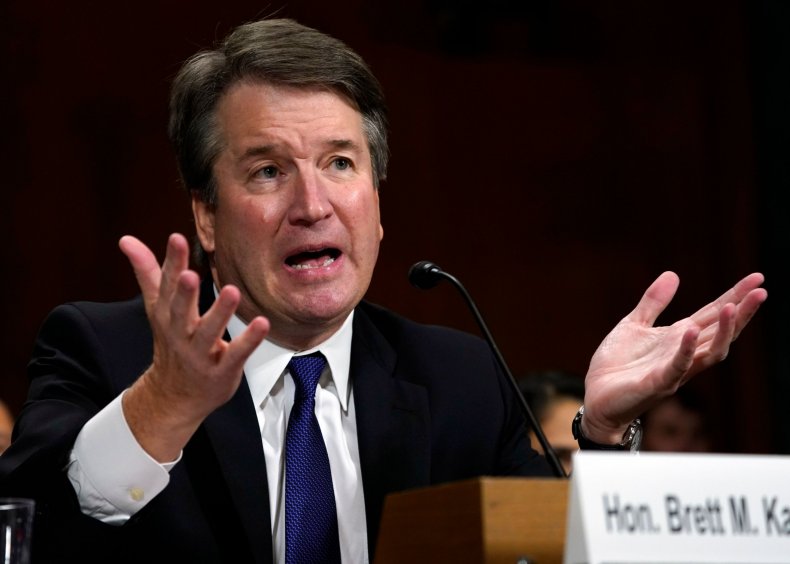 "It's so problematic to think about somebody like that sitting on the Supreme Court, where there's never going to be a decision that he makes that isn't tinted by partisanship," Scarborough said of Kavanaugh.
Scarborough added that federal judges had their own beliefs and opinions, but the ones he's known had shown "a lot of dignity."
"You can't get them to talk about politics, because they find it unbecoming," Scarborough said in a slight against Kavanaugh.