Brett Kavanaugh Denies Allegation He Forced Himself on Woman, Held Her Down, During High School Party
Supreme Court nominee Brett Kavanaugh denied on Friday a sexual misconduct allegation made against him relating to an alleged incident that occurred while he was in high school.
"I categorically and unequivocally deny this allegation," Kavanaugh told The New Yorker in a statement. "I did not do this back in high school or at any time."
Kavanaugh's denial comes a day after Democratic Senator Dianne Feinstein of California passed along a constituent letter to the FBI that reportedly accused Kavanaugh of sexual misconduct between him and a woman when they were both in high school. The Intercept first reported of the letter's existence on Wednesday.
The letter claims that when Kavanaugh was in high school in the early 1980s, he made unwanted advances on the unnamed woman in a separate room at a party, according to further details reported by The New Yorker. At one point, he allegedly held her down and covered her mouth with his hand to prevent her from making noise. At the same time, a fellow male classmate of Kavanaugh's turned up the music in the room so that others nearby would not hear, the letter reportedly claimed.
Kavanaugh attended Georgetown Preparatory School in Bethesda, Maryland, at the time. The woman attended a different high school nearby.
The woman was able to break free of Kavanaugh's hold, according to The New Yorker. Kavanaugh's male classmate who was in the room with him said he had "no recollection" of the woman's claims.
The woman reportedly declined a request for an interview. She said Kavanugh and his male classmate had been drinking at the party before the alleged incident occurred. All three were minors.
In the letter, the women reportedly said she underwent psychological treatment because of continued stress the memory of the incident gave her, even though it happened decades earlier.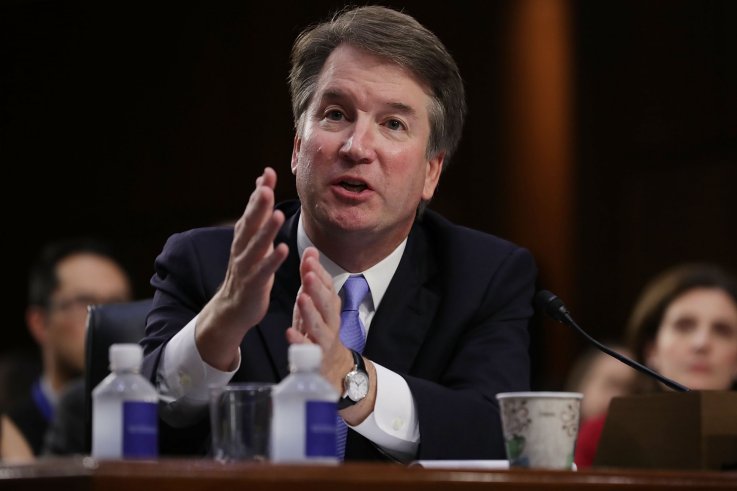 Feinstein's office released a statement Thursday morning after it had received "information from an individual concerning" Kavanaugh. The unnamed individual "strongly requested confidentiality [and declined] to come forward or press the matter further." After continued objections by her Democratic colleagues on the Senate Judiciary Committee, Feinstein briefed them on the letter before handing it over to the FBI.
Republican Senator Chuck Grassley of Iowa, who chairs the Senate Judiciary Committee of which Feinstein is the ranking minority member, released a letter on Friday signed by 65 women who knew Kavanaugh in high school. The letter from the women stated the now-Supreme Court nominee "behaved honorably and treated women with respect" during his time in high school.
"Through the more than 35 years we have known him, Brett has stood out for his friendship, character, and integrity," the letter read. "In particular, he has always treated women with decency and respect. That was true when he was in high school, and it has remained true to this day."
The letter suggested that Senate Republicans could have been aware of the sexual misconduct allegations for some time in order to prepare such a rebuttal. Judiciary Committee Republicans denied they previously knew about the substance of the letter and said the effort was "spearheaded by Kavanaugh's former law clerks" on Thursday. It was then provided to the commmittee on Friday.
Kavanaugh's Senate confirmation vote is set for September 20. He was expected to be confirmed in time for the next Supreme Court session that starts October 1.
Brett Kavanaugh Denies Allegation He Forced Himself on Woman, Held Her Down, During High School Party | U.S.