Watch: Brett Kavanaugh 'Took a Page From Donald Trump's Playbook' Against Accusers, Bernie Sanders Video Claims
Senator Bernie Sanders criticized President Donald Trump and Brett Kavanaugh on Monday by tweeting a video compilation that suggested the Supreme Court nominee reacted just as the president did when accused of sexual misconduct.
"When faced with allegations of sexual assault, Brett Kavanaugh took a page from Donald Trump's playbook," the independent from Vermont tweeted, along with a 90-second video.
The video, with a Sanders logo on the top right corner, juxtaposed statements by Trump and Kavanaugh, whose confirmation has been stymied by allegations of sexual assault by Christine Blasey Ford and further accusations of sexual misconduct by two other women.
Sanders, who ran for the Democratic nomination for president in 2016, tried to make the point that Kavanaugh echoed Trump, who has continued to defend his nominee, in his denials of sexual misconduct allegations.
"These vicious claims about me of inappropriate conduct with women are totally and absolutely false," Trump, who has been accused of sexual misconduct by more than a dozen women, says in one clip.
"My family and my name have been totally and permanently destroyed by vicious and false additional accusations," Kavanaugh says in a clip from his testimony before the Senate Judiciary Committee Thursday.
Sanders's video also featured Kavanaugh stating, "This whole two-week effort has been a calculated and orchestrated political hit fueled with apparent pent-up anger about President Trump and the 2016 election, revenge on behalf of the Clintons."
Then Trump, who has often attacked his 2016 opponent Hillary Clinton, is heard saying, in a clip taken from a press conference last week, "I was accused by four or five women who got paid a lot of money to make up stories about me."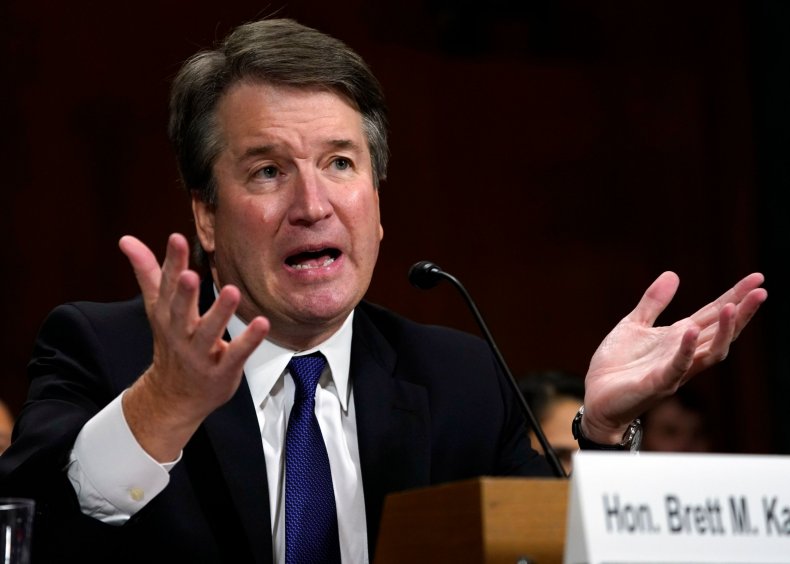 The Senate Judiciary Committee on Friday voted to advance Kavanaugh's nomination to the Senate floor but to hold off on voting for a week as the FBI looked into the allegations against Kavanaugh. Ford claimed that Kavanaugh pinned her to a bed during a house party when they were teens, groped her, tried to take off her clothes and put his hand on her mouth to prevent her from screaming.
Sanders has attacked Kavanaugh with numerous tweets. On Friday, Sanders tweeted: "A man who uses the same hostile and aggressive tactics as Donald Trump when faced with credible allegations of sexual assault does not deserve a lifetime seat on the Supreme Court."
Kavanaugh shocked many with his response to Ford's allegations in Thursday's hearing, angrily claiming that the allegations against him were part of a liberal conspiracy to halt his confirmation.
Sanders on Thursday tweeted that Kavanaugh should demand an FBI investigation if he wanted to clear his name of the accusations—and that if he did not, "the Senate must reject his nomination."