Brett Kavanaugh Could Rescue Donald Trump, Republicans in Midterm Elections, Polls Suggest
Republicans may vigorously oppose the left and the Me Too movement's efforts to prevent the confirmation of President Donald Trump's Supreme Court nominee Brett Kavanaugh, but the debate has brought a surprising silver lining.
GOP supporters backing Kavanaugh as he faces sexual assault allegations from three women are also growing more enthusiastic about going to the polls, a good sign for Republicans ahead of the November midterm elections that Democrats previously appeared to have an edge on, various poll show.
"The Kavanaugh debate has dropped a political grenade into the middle of an electorate that had been largely locked in Democrats' favor for the past six months," Josh Holmes, a former top aide to Senate Majority Leader Mitch McConnell, told Axios on Thursday.
Private polling has indicated that the enthusiasm shift is "unmistakable" in Montana, Indiana, Missouri, Tennessee and West Virginia, red states that will determine whether Republicans keep control of the Senate, Holmes said.
An NPR/PBS NewsHour/Marist poll released Wednesday indicated that 82 percent of Democrats think the midterm elections are "very important," while 80 percent of Republicans said the same. The statistical tie is a major shift from July, when more Democrats said the elections were very important by a 10-point gap.
"Just over a month away from critical elections across the country, the wide Democratic enthusiasm advantage that has defined the 2018 campaign up to this point has disappeared," the NPR report stated.
Democrats have been fired up about the midterms for months, but a hearing last week in which Christine Blasey Ford alleged Kavanaugh sexually assaulted her at a high school party in 1982 has rallied GOP members who want him confirmed. Following Ford's testimony, Kavanaugh appeared before the committee and offered a furious rebuke of the allegations, invoking conspiracy theories about a liberal plot for revenge.
"The result of hearings, at least in the short run, is the Republican base was awakened," Lee Miringoff, director of the Marist Institute for Public Opinion, told NPR.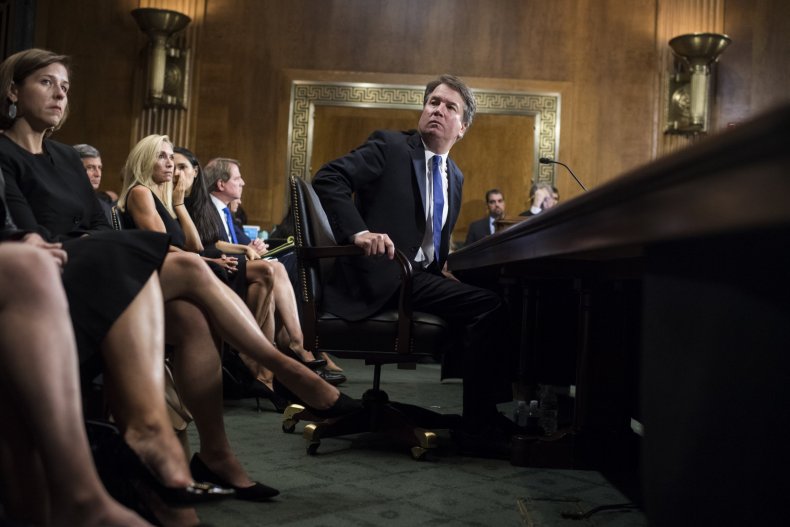 A Fox News poll published Wednesday indicated that in North Dakota, Republican challenger Kevin Cramer's lead over Democratic Senator Heidi Heitkamp widened to 12 points, up from four points in August.
The race in North Dakota "now appears out of reach entirely for Democrats," Holmes opined.
House Majority Leader Kevin McCarthy appeared Wednesday on Fox News to talk up the move toward the GOP.
"Prior to the Kavanaugh hearing, the intensity level was really on the Democratic side," McCarthy said. "But in the last week there has been a fundamental shift."
Trump is regularly holding rallies to encourage Republicans to vote ahead of the midterms. If Democrats take control of the Senate or House, the president will be in greater jeopardy of facing impeachment proceedings and having his agenda stymied.