Brett Kavanaugh: Trump's Top Court Nominee Wanted to Ask Bill Clinton These Explicit Questions
While working as an attorney for special prosecutor Ken Starr, Brett Kavanaugh came up with a list of very explicit, highly specific questions to put maximum pressure on the then-President Bill Clinton over his affair with White House intern Monica Lewinsky.
Kavanaugh is President Donald Trump's nominee for the Supreme Court, to replace retiring Associate Justice Anthony Kennedy. He currently serves as a judge on the D.C. Circuit of the U.S. Court of Appeals.
Back in the late 1990s, Kavanaugh was working with Starr to prosecute Clinton over the Lewinsky scandal and accusations of sexual harassment brought by Paula Jones, an Arkansas state employee. And he came up with a list of 10 searching questions he believed Clinton should be asked about his sexual activities with an intern nearly 30 years his junior.
Three of those questions appeared in a 2010 book titled The Death of American Virtue: Clinton vs. Starr, by lawyer and academic Ken Gormley. The excerpt was highlighted by Vox journalist Dylan Matthews on Twitter.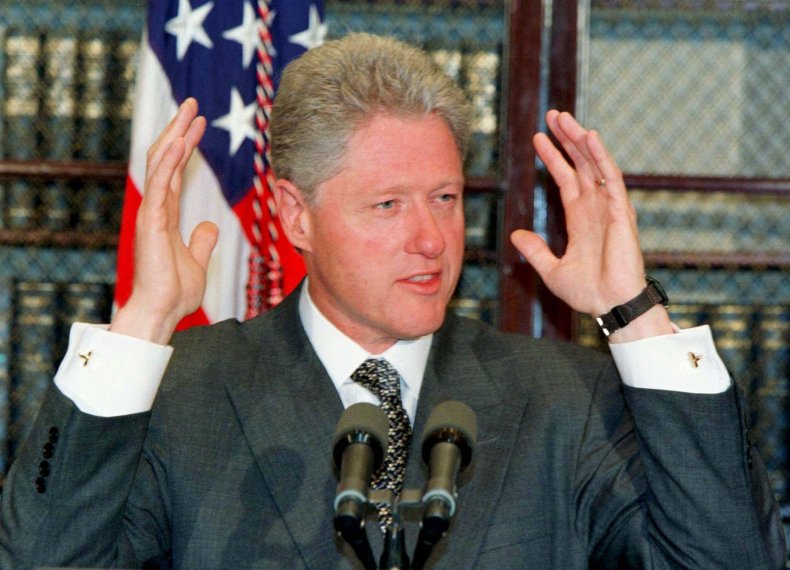 Gormley describes Kavanaugh as one of Starr's "intellectual heavy-lifters," adding that he "pushed hardest to confront Clinton with some of the dirtiest facts linked to his sexual indiscretions with Lewinsky."
He then cites parts of a memo sent by Kavanaugh two days before Clinton was due to face a grand jury on August 17, 1998, accused by Starr of perjury and obstructing justice by lying about his affair with Lewinsky.
"After reflecting this evening, I am strongly opposed to giving the President any 'break'...unless before his questioning on Monday, he either i) resigns or ii) confesses perjury and issues a public apology to you," Kavanaugh wrote to Starr.
"I have tried to bend over backwards and to be fair to him.... In the end, I am convinced that there really is [no reasonable defense]. The idea of going easy on him at the questioning is thus abhorrent to me."
Kavanaugh then gave 10 sample questions, three of which are reproduced by Gormley—and they are very graphic. Kavanaugh wanted Starr to ask Clinton:
"If Monica Lewinsky says that you ejaculated into her mouth on two occasions in the Oval Office area, would she be lying?
"If Monica Lewinsky says that on several occasions you had her give [you] oral sex, made her stop and then ejaculated into the sink in the bathroom off the Oval Office, would she be lying?"
"If Monica Lewinsky says that you masturbated into a trashcan in your secretary's office, would she [be] lying?"
In the end, those three questions were not asked, though Clinton was asked about touching Lewinsky's breasts and "using a cigar as a sexual aid." Clinton's presidency survived the grand jury and impeachment in the House.
In a 2012 article for the Minnesota Law Review, Kavanaugh reflected on his five years working for the George W. Bush White House in the early 2000s. He said he now believes presidents should have immunity while in office because of the pressure and importance of their job.
"Looking back to the late 1990s, for example, the nation certainly would have been better off if President Clinton could have focused on Osama bin Laden without being distracted by the Paula Jones sexual harassment case and its criminal investigation offshoots," Kavanaugh wrote.