Brett Kavanaugh Should Face Perjury Investigation For Confirmation Testimony, Liberal Groups Tell Democrats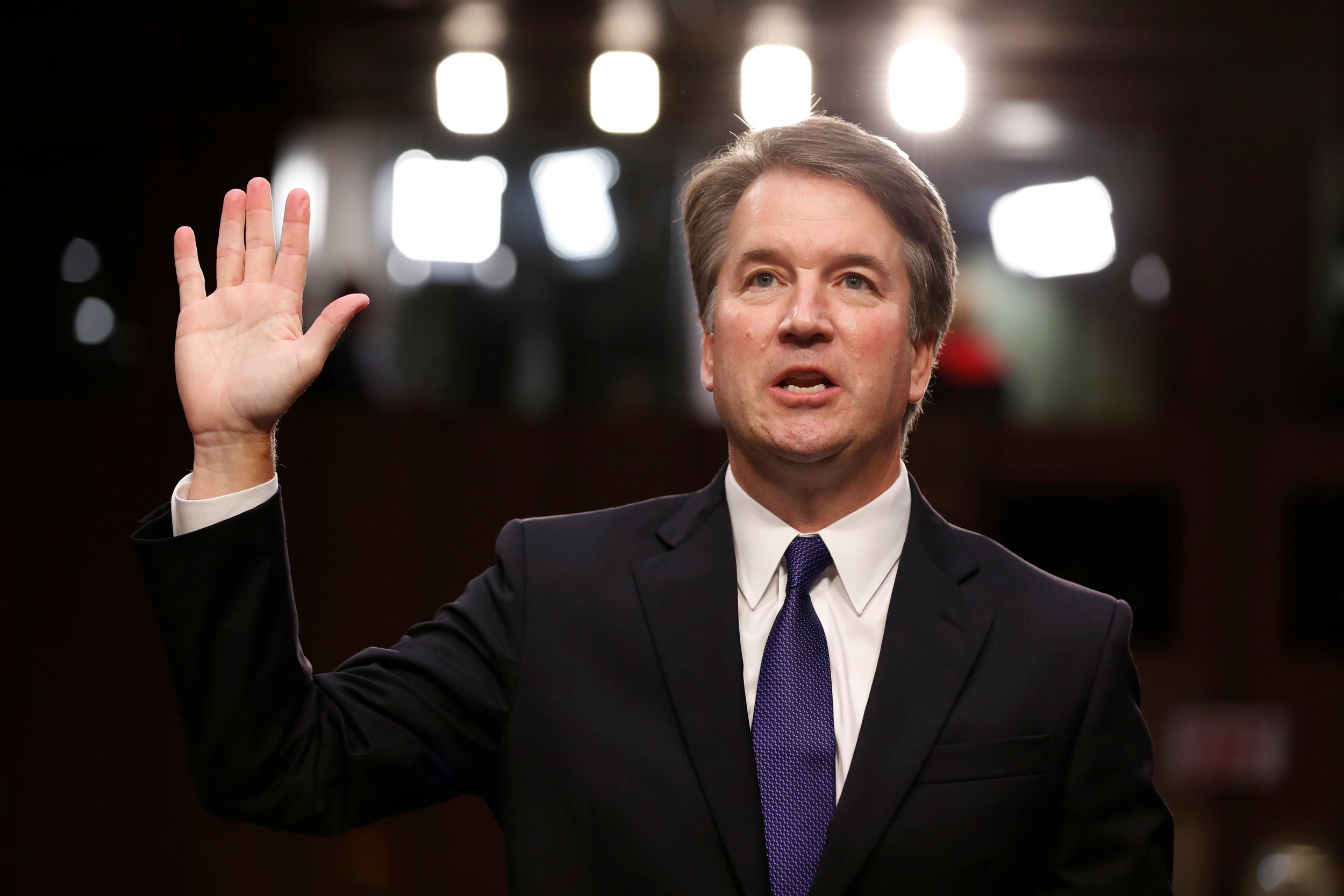 Several prominent liberal groups are convinced that Donald Trump's Supreme Court nominee Brett Kavanaugh may have committed perjury during his confirmation hearing on Capitol Hill and are now urging Democrats to launch an investigation.
The advocacy organizations detailed in a letter that they have found many inconsistencies in Kavanaugh's testimony and claim that the party's senators need to "immediately refer this matter to the Department of Justice for criminal investigation and potential criminal charges."
The three groups, Demand Justice, MoveOn, and NARAL Pro-Choice America, detailed the instances in the confirmation hearing where Kavanaugh may have committed perjury before the Senate Judiciary Committee.
The groups say that the judge made varying statements in at least five topics that ""appear to rise to the level of perjury." Many of those topics come from the Kavanaugh's time in the George W. Bush administration, a stretch of his career that senators have very little access to and knowledge of due to the fact that the documents are considered classified.
Kavanaugh may have committed perjury in his confirmation hearing when discussing his involvement in the judicial nominations of William Pryor and Charles Pickering during his time in the Bush White House.
During Kavanaugh's first confirmation hearing in the mid-2000s, the judge had said that he was not involved in any way in the handling of the nomination of the two judges while working in the White House counsel office during the Bush administration.
But emails obtained by the Senate Judiciary Committee show that Kavanaugh had discussed the nomination process of Pryor with another colleague. When explaining the emails to senators, Kavanaugh said that he was just "interested in" the Pryor nomination but was not the "primary person" assigned to the process.
The groups are also speculative of the extent of Kavanaugh's knowledge about the Bush administration's warrantless wiretapping program. The judge said that he first learned of the program from a New York Times article in 2005.
But Senator Patrick Leahy pressed Kavanaugh further, claiming that a "committee confidential" email may show that Kavanaugh had asked a Justice Department lawyer to answer questions about the constitutionality of warrantless surveillance.
The liberal groups also claim that Kavanaugh may have lied about his role in the Bush-era detainee policy, which the judge claims he was "not involved" with.
The contentious confirmation hearing began with controversy, as Democratic senators called for the hearing to be dismissed after over 40,000 documents were made available to the committee just hours before the testimony began. Hundreds of protesters were also arrested in the four-day hearing in Washington D.C.
But with a Republican majority in the House of Representatives and the Senate, Kavanaugh is expected to be confirmed.