Brett Kavanaugh's Yale Friends: Nominee Doesn't Tell the Truth or Embody Courage, Don't Confirm Him
Three former "drinking buddies" of Brett Kavanaugh said Thursday he was unfit to serve on the Supreme Court and that he had lied to the Senate Judiciary Committee about his drinking habits and about never "blacking out" while drinking.
Former Yale University classmates Charles Ludington, Lynne Brooks and Elizabeth Swisher each said that Kavanaugh had uttered falsehoods about his alcohol use in college.
"We each asserted that Brett lied to the Senate by stating, under oath, that he never drank to the point of forgetting what he was doing," the three wrote in an op-ed published by The Washington Post. "We said, unequivocally, that each of us, on numerous occasions, had seen Brett stumbling drunk to the point that it would be impossible for him to state with any degree of certainty that he remembered everything that he did when drunk."
Each of Kavanaugh's former classmates said they had faced threats, "intense media interest," hate mail and that one of them had a work computer server hacked after speaking out against the nominee. But they emphasized that they continued to believe it was their "civic duty" to come forward.
"By coming forward, each of us has disrupted our own lives and those of our families," the op-ed read. "As well as navigating the intense media interest, including having news vans and reporters set up in front of the home of one of us, we have received large amounts of hate mail, including threats of violence. We have lost friendships. The work servers of one of us were hacked."
They also said Kavanaugh's lack of truthfuless should disqualify him from the Supreme Court.
"All of us went to Yale, whose motto is "Lux et Veritas" (Light and Truth). Brett also belonged to a Yale senior secret society called Truth and Courage. We believe that Brett neither tells the former nor embodies the latter. For this reason, we believe that Brett Kavanaugh should not sit on the nation's highest court," his classmates wrote.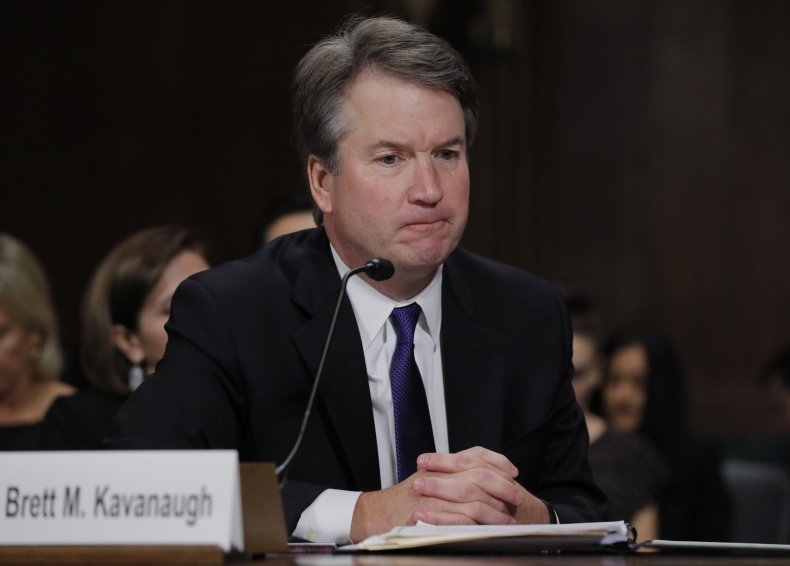 Kavanaugh admitted during his testimony before the Senate Judiciary Committee last week that he perhaps drank too much, but that he had never drunk to the point that he could not remember what happened the evening before.
Still, Kavanaugh's alleged habits in high school and college became intense points of interest during his confirmation process.
Christine Blasey Ford testified to the Senate Judiciary Committee that Kavanaugh had sexually assaulted her while he was drunk during a party in the early 1980s.
Kavanaugh firmly denied that any assault ever took place, against Ford or anyone else, during fiery testimony before the committee last week. Often appearing emotional and angry, Kavanaugh said he believed his contentious and controversial confirmation ordeal was the work of Democrats seeking revenge for his investigations of Bill and Hillary Clinton, and forPresident Donald Trump's election victory in 2016.
In an op-ed he wrote for The Wall Street Journal published on Thursday, Kavanaugh attributed the tone of his testimony to the fact that he was speaking with his family in mind, and insisted he would be a nonpartisan justice
"I was very emotional last Thursday, more so than I have ever been. I might have been too emotional at times," Kavanaugh wrote. "I know that my tone was sharp, and I said a few things I should not have said. I hope everyone can understand that I was there as a son, husband and dad. I testified with five people foremost in my mind: my mom, my dad, my wife, and most of all my daughters."