Brett Kavanaugh Accused of Drugging Women, Participating in 'Gang Rapes' by Michael Avenatti Client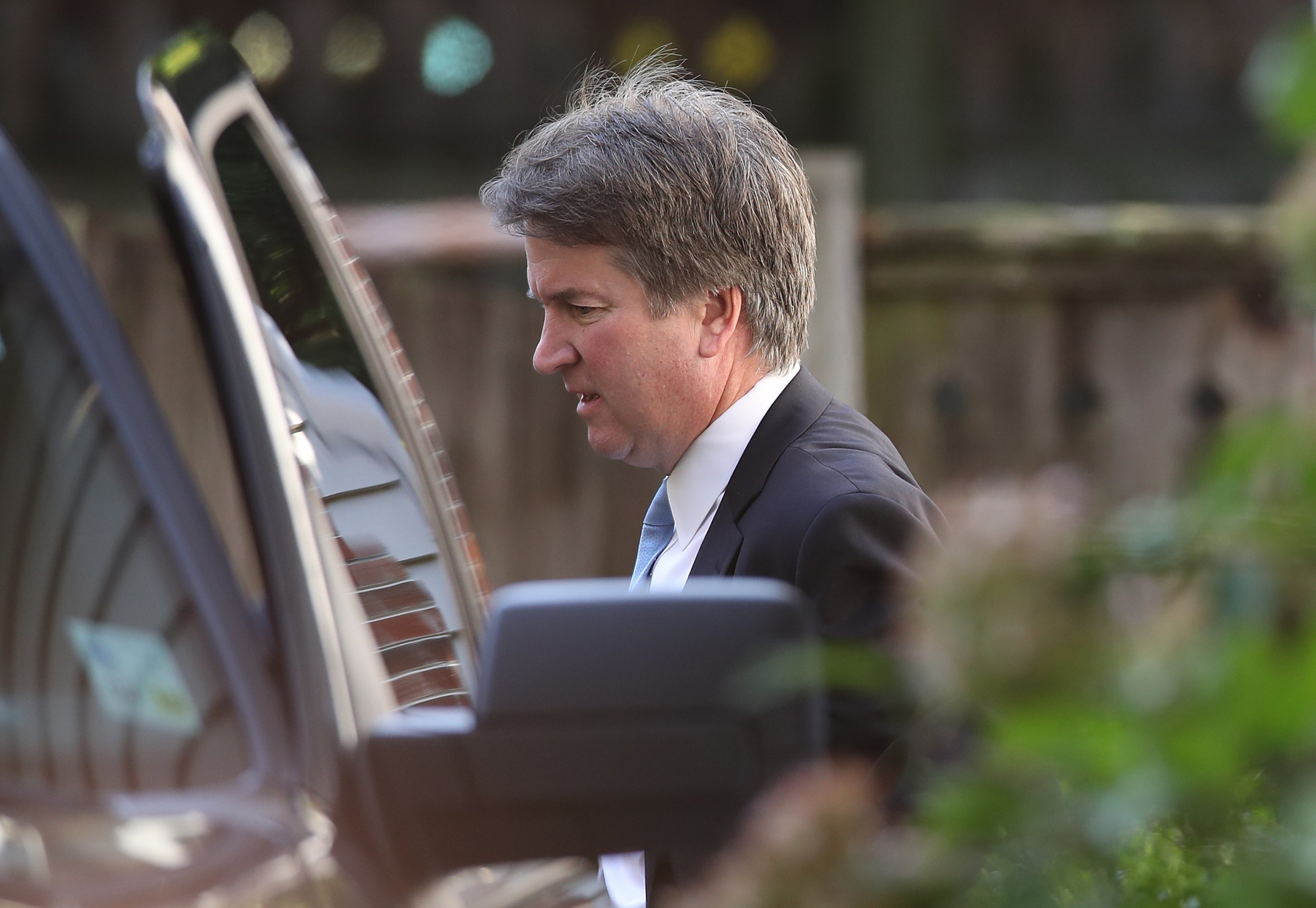 A third woman accused Brett Kavanaugh Wednesday of sexual misconduct, claiming he spiked drinks to "cause girls to become inebriated" and was part of gang rapes that occurred at high school parties in the early 1980s.
Julie Swetnick alleged in a statement released by her lawyer, Michael Avenatti, that Kavanaugh and his friend Mark Judge used to spike the punch at house parties where women were sexually assaulted and raped.
"I have a firm recollection of seeing boys lined up outside rooms at many of these parties waiting for their 'turn' with a girl inside the room," she said. "These boys included Mark Judge and Brett Kavanaugh."
The alleged incidents happened during the years of 1981 and 1982, she said. At the time, Kavanaugh was a student at Georgetown Preparatory School in the suburbs of Washington, D.C.
Swetnick said she became a victim of one of these rapes in 1982. She did not allege that Kavanaugh and Judge engaged in the rape, but she said they were present.
"During the incident, I was incapacitated without any consent and unable to fight off the boys raping me. I believe I was drugged with quaaludes or something similar placed in what I was drinking," she said.
After the alleged rape, Swetnick said she confided in at least two people about what had happened.
Avenatti made these allegations public Wednesday, posting the correspondence between him and Mike Davis, the chief counsel for nominations for the Senate Judiciary Committee, on Twitter.
Avenatti revealed his client's identity in a Twitter post, writing: "Here is a picture of my client Julie Swetnick. She is courageous, brave and honest. We ask that her privacy and that of her family be respected." A headshot photo of Swetnick is included in the tweet.
Swetnick is now the third woman to come forward with allegations of sexual misconduct against Kavanaugh. Earlier this month, Christine Blasey Ford alleged that the judge pinned her down and groped her during a high school party while Judge watched.
This week, Kavanaugh's former Yale classmate Deborah Ramirez detailed to The New Yorker her experience with him. Ramirez claimed that Kavanaugh exposed himself and forced her to touch him without her consent when they both attended a dorm party during their freshman year.
Also in The New Yorker report, another woman, Elizabeth Rasor, shared a conversation she once had with Judge when they were classmates at Catholic University. Rasor recalled Judge telling her "ashamedly of an incident that involved him and other boys taking turns having sex with a drunk woman."
Rasor said that Judge seemed to regard those incidents as "fully consensual." He did not tell her who else was involved and if Kavanaugh had participated.
Kavanaugh has denied the sexual misconduct allegations, and in an interview with Fox News on Monday, the judge said he has never sexually assaulted anyone and was a virgin throughout high school and "many years thereafter."
Avenatti is demanding that the FBI launch an investigation into Swetnick's allegations, adding that "under no circumstances should Brett Kavanaugh be confirmed absent a full and complete investigation."
During an appearance on MSNBC shortly after releasing Swetnick's identity and allegations, Avenatti said that she is "100 percent absolutely" ready to testify before the Senate Judiciary Committee.
Kavanaugh responded to the allegations in a statement, writing: "This is ridiculous and from the Twilight Zone. I don't know who this is and this never happened."