Amid Brett Kavanaugh Accusations, Empire State and More Buildings to Dim Their Lights for Gender Equality
As U.N. General Assembly members stroll around New York City Monday night, they might notice that the Empire State Building is only half lit. It's not a power outage. The dark side is a deliberate visual metaphor about gender inequality, part of a global campaign aimed at involving more men in efforts for equal pay and reducing violence against women.
The Empire State Building will be among 20 iconic towers around the globe, including the Burj Khalifa in Dubai, United Arab Emirates, to cut their lights by half Monday or Tuesday night to attract attention to the HeForShe campaign.
At the Empire State Building Monday morning, Riverdale cast member Mark Consuelos, a HeForShe spokesman, explained the significance of the light dimming. "The world loses half its power by excluding women and their ideas and their voices," he said. "The Empire State Building is joined by some of the most iconic buildings in the world to demonstrate that power loss."
Tia T. Gordon, chief of advocacy and communication for the U.N. Entity for Gender Equality and the Empowerment of Women (aka U.N. Women), said the drama in Washington this week, with Supreme Court nominee Brett Kavanaugh accused of sexual assault and the GOP-dominated Senate Judiciary Committee set to question one of his accusers, is further evidence of the need for men to stand with women.
"We are still striving for gender equality when it comes to our community, equal pay, society in general," she said. "We want to recognize those men and boys who stand with us. This moment is bringing attention to the issues. We do see men stepping up to the plate in terms of supporting us."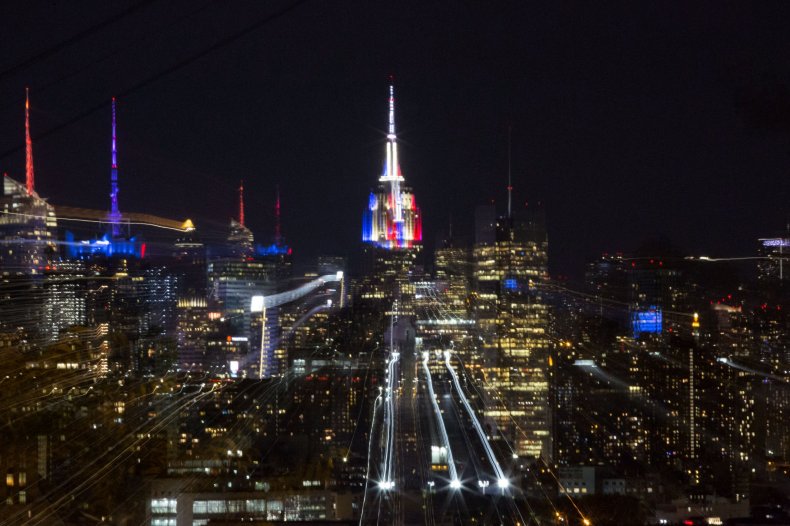 Besides the Empire State Building and the Burj Khalifa, the John Hancock Center in Chicago, the Miami Tower in Miami, the U.S. Bank Tower in Los Angeles, Dublin City Hall, Tel Aviv City Hall, the CN Tower in Toronto and 12 towers around Australia will participate in the light dimming.
The HeForShe campaign was organized by U.N. Women and kicked off four years ago with a speech from Harry Potter actress Emma Watson. "We don't often talk about men being imprisoned by gender stereotypes, but I can see that they are and that when they are free, things will change for women as a natural consequence," she said.
"If men don't have to be aggressive in order to be accepted, women won't feel compelled to be submissive. If men don't have to control, women won't have to be controlled," she added.
On Wednesday, heads of state from 10 nations in Europe and Asia, as well as academic and corporate leaders, will convene in New York City to discuss the progress of a HeForShe initiative in which businesses and governments have pledged to track gender equality. Among the leaders associated with the HeForShe campaign is Canadian Prime Minister Justin Trudeau, who gave an ardent speech about feminism during the General Assembly week in New York last year.
"It is really a question of what we are willing to accept," said Consuelos, who is married to Kelly Ripa. He was referring to the similarities between this week's Senate hearing and Anita Hill's appearance before the same committee 27 years ago.
"Is what we are willing to accept now any different than what we accepted then?" Consuelos continued. "I think we have a long way to go. And I think this week is a watershed moment. What are those men going to do? They can easily say no to giving a week or two to have a proper investigation. Or they can respect that these voices should be heard."