Christine Blasey Ford said Thursday that her most vivid memory of her alleged sexual assault by Supreme Court nominee Brett Kavanaugh and his friend Mark Judge was "the laughter."
When asked by Democratic Senator Patrick Leahy of Vermont what she remembered most clearly of the night in 1982, she said, "the laughter." Choking back tears, she continued, "the uproarious laughter between the two, and their having fun at my expense. I was underneath one of them as they laughed, two friends having a really good time with one another."
Ford told her story while testifying in front of the Senate Judiciary Committee Thursday morning. She recalled, in detail, her alleged attempted rape by Kavanaugh during a high school party in the suburbs of Washington D.C.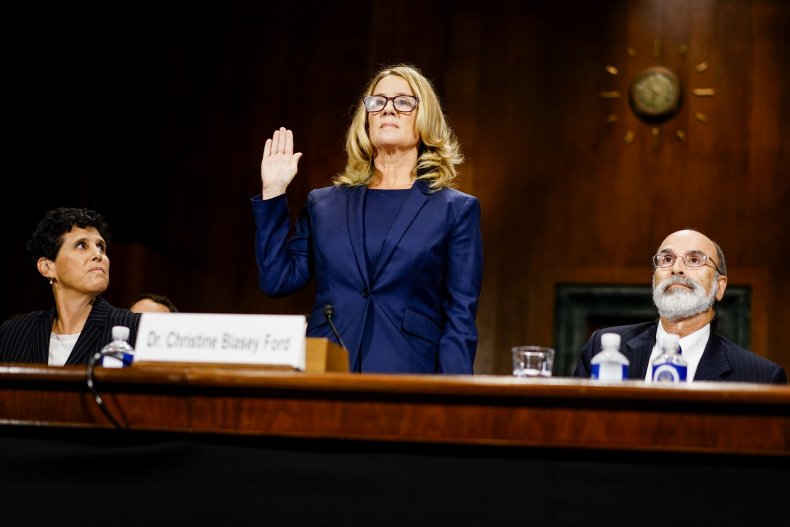 The Stanford and Palo Alto University professor affirmed at least three times during the trial that she is certain it was Kavanaugh who was her abuser and that it is "absolutely not" possible that she mistook his identity.
Ford also explained why she chose to come forward with her accusations now, 36 years after they occurred.
After Kavanaugh was nominated, she said she was "calculating daily the risk benefit" of coming forward publicly. She worried that if she did she would be "jumping in front of a train that was headed to where it was headed anyway" and could be "personally annihilated."
But once reporters started calling her and her colleagues and camping out in front of her home "I thought enough was enough," Ford said. "The mounting pressure seemed like it was time to just say what I needed to say."
During a break in the hearing, Republican Senator Chuck Grassley, who previously cast doubts on the veracity of Ford's accusations, said that he would like to sleep on what he heard. "I don't think I can make any comments at all today, maybe it's something I ought to sleep on," he said. "This is pretty important. We ought to be thinking about it a lot and not making hasty comments." His comments seemed to echo the general strategy of the White House, which has been to ignore the emotional response to the testimony and focus on facts.
Senator Kirsten Gillibrand said that she did not understand how Republicans can vote for Kavanaugh after hearing Ford's testimony. "I don't know how they could hear her testimony and watch her testify so authentically and so honestly from the heart and not believe her—and still vote for Brett Kavanaugh. I just don't know how they could do it," she said.
President Donald Trump, who said yesterday that he would be following the hearing closely, watched live coverage of the hearing on a slight delay from Air Force One. The president has not spoken to Kavanaugh in the past few days, White House press secretary Sarah Huckabee Sanders said.