NRA Celebrates Brett Kavanaugh's Nomination by Donald Trump—and With Good Reason
Just minutes after President Donald Trump announced Judge Brett Kavanaugh as his nominee for the Supreme Court, the executive director of the National Rifle Association, Chris Cox, shared the thoughts of the powerful gun lobby.
"President Trump has made another outstanding choice in nominating Brett Kavanaugh for the U.S. Supreme Court," said Cox. "He has an impressive record that demonstrates his strong support for the Second Amendment.
"On behalf of our six million members, the NRA strongly supports Judge Brett Kavanaugh's confirmation to the U.S. Supreme Court," Cox added.
The organization's excitement surrounding Kavanaugh isn't unfounded.
"If I represented the NRA, I would tell them they could not have done much better," Renato Mariotti, a former federal prosecutor told Newsweek of Kavanaugh's nomination. "He's the sort of guy who is going to aggressively move the Constitution in that direction."
Kavanaugh's long legal history has shown a consistently conservative record, and his decisions on guns are no exception.
In 2011, Kavanaugh wrote a dissenting opinion in Heller v. District of Columbia, a landmark Second Amendment case that upheld Washington D.C.'s ban on most semi-automatic rifles.
His dissent featured opinions that give the NRA good reason to support him, including his view that Second Amendment rights need to extend to semi-automatic rifles in the same way they apply to handguns.
"Semi-automatic rifles, like semi-automatic handguns, have not traditionally been banned and are in common use by law-abiding citizens for self-defense in the home, hunting and other lawful uses," he said. "There is no meaningful or persuasive constitutional distinction between semi-automatic handguns and semi-automatic rifles."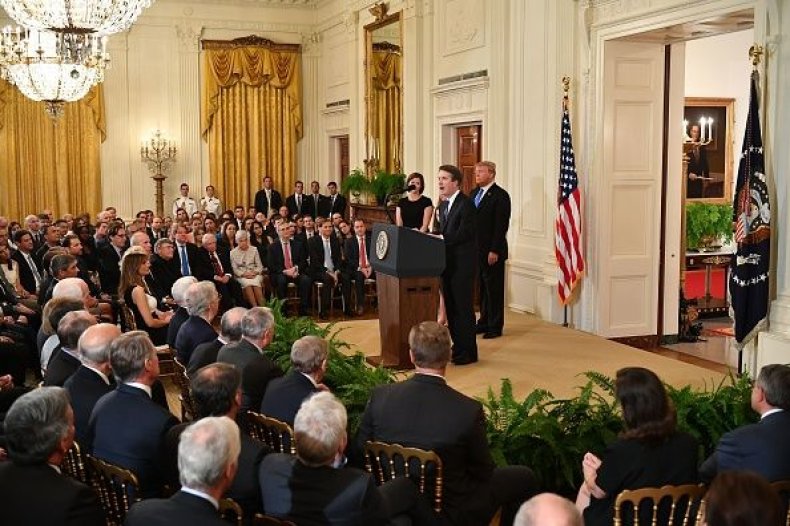 If Kavanaugh is confirmed by the Senate, the Supreme Court will likely settle into a comfortably conservative tilt, and with that, the possibility that more Second Amendment cases will reach the court.
"Many cases that reached the Supreme Court were engineered by legal groups," Richard Primus, a constitutional law professor at the University of Michigan said. But in the case of Kavanaugh, he warned, there shouldn't be an expectation that more Second Amendment cases will reach the Supreme Court.
"Gun rights advocates had a friendly bench with Kennedy and have a friendly bench with Kavanaugh," he said.
The Supreme Court has previously defined the scope of the Second Amendment in Heller v. District of Columbia and more recently in McDonald v. City of Chicago, where the court ruled that the right to bear arms applies to state and local governments the same way it applies to the federal government.
Primus added that with Kavanaugh in place these decisions will be "safe" from being overturned.
While no Second Amendment cases are scheduled for the Supreme Court, renewed calls for a federal ban on military-style weapons and high-capacity ammunition clips have gained momentum among gun control activists in the wake of the Marjory Stoneman Douglas high school shooting in February that left 17 dead.
As Kavanaugh waits for his Senate confirmation hearing, senators who pore through his legal history can expect at least one consistent trend. "Kavanaugh was arguably the most conservative choice," Mariotti said. "[He's] consistently been very much on the right."