Brett Kavanaugh Committed Perjury by Lying Under Oath During Hearing, Senate Judiciary Committee Democrat Says
Democrat Patrick Leahy, a member of the Senate Judiciary Committee, said Monday that he believed Supreme Court nominee Brett Kavanaugh lied under oath during his confirmation hearings. Leahy's committee voted to approve Kavanaugh's nomination and send it to the Senate floor for a vote Friday, a day after the nominee and a woman who has accused him of sexual assault, Christine Blasey Ford, appeared before the committee.
Kavanaugh's nomination was approved along party lines after Republican Senator Jeff Flake said he would vote yes on the understanding that an FBI investigation be conducted this week before a full vote was held.
Leahy's questions about Kavanaugh's truthfulness, though, date back to his confirmation hearing early last month. Kavanaugh was asked during the heated hearings, as he was during confirmation hearings to become a federal judge in both 2004 and 2006, whether he knew that he had received documents that Leahy alleged was stolen from Democrats, including himself. Kavanaugh answered "no" during last month's testimony.
Leahy said Monday that Kavanaugh had provided "misleading testimony" about the documents, according to the Burlington Free Press. "These are emails and tapes stolen from Democratic members on the Senate Judiciary Committee."
Asked whether he believed Kavanaugh had lied under oath, Leahy responded: "I want the rest of the records. I wonder why they are hiding 90 percent of his records because they would show whether he has or not. I feel he has."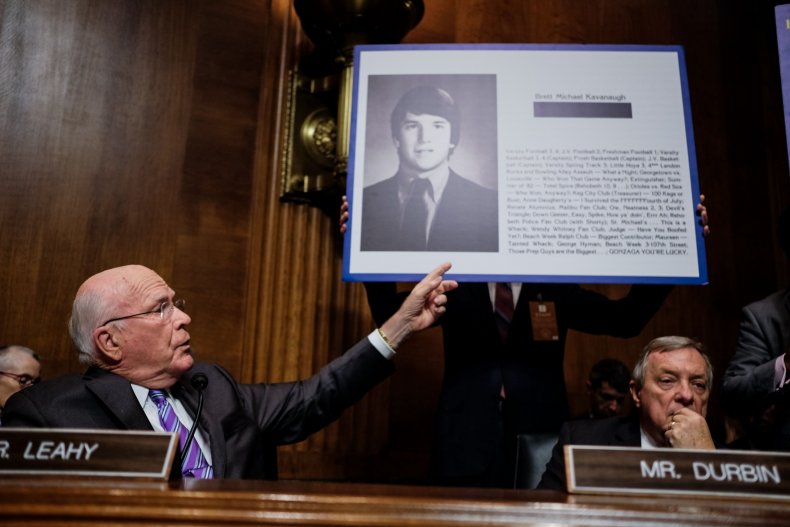 An already contentious confirmation battle escalated further in recent weeks amid three women accusing Kavanaugh of sexual misconduct. After a request from Flake and the Senate Judiciary Committee, the FBI is now conducting a supplemental investigation into the allegations. After reports initially claimed that the White House had limited the investigation to interviews with just four witnesses, President Donald Trump said Monday that he was in favor of a "comprehensive" probe.
"The FBI should interview anybody that they want within reason, but you have to say within reason," Trump said at a press conference. "But they should also be guided, and I'm being guided, by what the senators are looking for."
Leahy, who said he had "never seen anything like this," referring to the battle over Kavanaugh's confirmation, said that the FBI investigation "will have no restrictions."
The Senator from Vermont voted against approving Kavanaugh's nomination Friday and the judge's confirmation is likely to come down to votes from three Republican senators—Flake, Lisa Murkowski and Susan Collins.