Brett Kavanaugh's Yale Roommate Says Nominee Was 'Capable' of Sexual Misconduct, Was 'Aggressive' When Drunk
Brett Kavanaugh's roommate during his freshman year at Yale University said Monday that the Supreme Court nominee and his social circle were "capable" of the actions described by fellow Yale student Deborah Ramirez. James Roche released a statement the day after Ramirez became the second woman to accuse Kavanaugh of sexual misconduct, throwing his confirmation to the highest court in the land into further doubt.
Ramirez, speaking to The New Yorker in a story published Sunday, said Kavanaugh exposed himself to her at a college party, thrusting his penis into her face and causing her to touch it. Roche said he became close friends with Ramirez and had no reason to doubt her allegations. His impression of Kavanaugh, he said, lined up with Ramirez's description of the nominee's drunken behavior involving a group of young men during a college party.
"Based on my time with Debbie, I believe her to be unusually honest and straightforward and I cannot imagine her making this up," Roche said. "Based on my time with Brett, I believe that he and his social circle were capable of the actions that Debbie described."
Roche, now the CEO of a software company in San Francisco, said that he and Kavanaugh did not socialize but that he saw enough of his roommate's behavior to conclude that he was a "notably heavy drinker, even by the standards of the time." Kavanaugh, Roche added, "became aggressive and belligerent when he was drunk." While he did not observe the incident Ramirez described, Roche said he did remember Kavanaugh "frequently drinking excessively and becoming incoherently drunk."
Kavanaugh has strenuously denied the allegation, as he has with a previous accusation of sexual assault. Last week, California professor Christine Blasey Ford went public with her claim that Kavanaugh sexually assaulted her when he was 17 and she 15. Kavanaugh, Ford said, had pushed her onto a bed during a party, before groping her, trying to remove her clothes and putting his hand over her mouth to prevent her from screaming.
After days of public negotiations, Ford is scheduled to testify, along with Kavanaugh, before the Senate Judiciary Committee on Thursday. Senate Republicans and the White House have continued to fiercely stand behind the nominee and have claimed that the allegations are a part of a Democratic plan to delay and obstruct the confirmation process.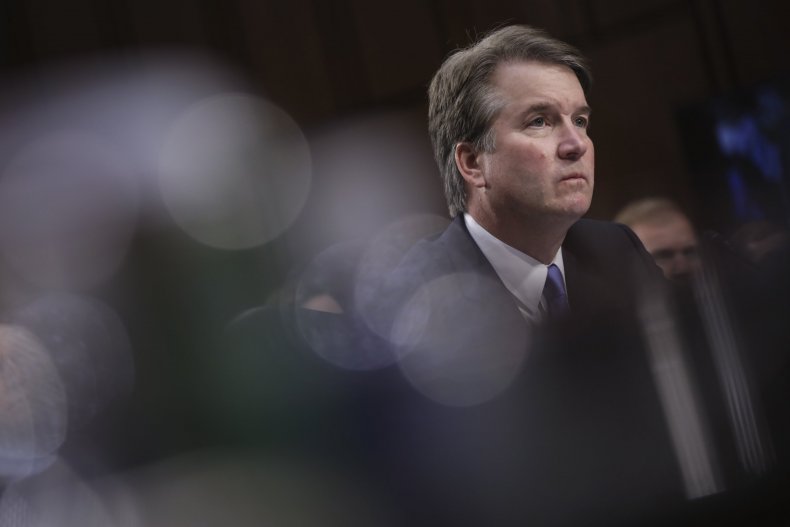 Kavanaugh, who has claimed that everyone who knew him during college would find the allegations against him "inconceivable," appeared alongside his wife, Ashley, to once again deny the allegations during a Fox News interview Monday night.
"Yes, there were parties and the drinking age was 18 and yes, the seniors were legal and had beer there," he said. "And yes, people might have had too many beers on occasion…I think all of us have probably done things we look back on in high school and regret or cringe a bit. But that's not what we're talking about. We're talking about an allegation of sexual assault. I've never sexually assaulted anyone."