Will Brett Kavanaugh SCOTUS Hearings Be Postponed? Democrats Demand Delay After Cohen Guilty Plea
Several top Democratic senators said they will not meet with President Donald Trump's Supreme Court nominee, Brett Kavanaugh, after Trump's former lawyer, Michael Cohen, pleaded guilty to federal charges Tuesday.
Senate Democrats took to Twitter and told various news outlets Kavanaugh's confirmation hearings should be postponed because Trump is an "unindicted co-conspirator" to federal crimes who should not be placing a person on the SCOTUS bench. Cohen pleaded guilty Tuesday to violating campaign finance laws and said he committed said crimes "at the direction of a candidate for federal office," almost certain to be Trump himself.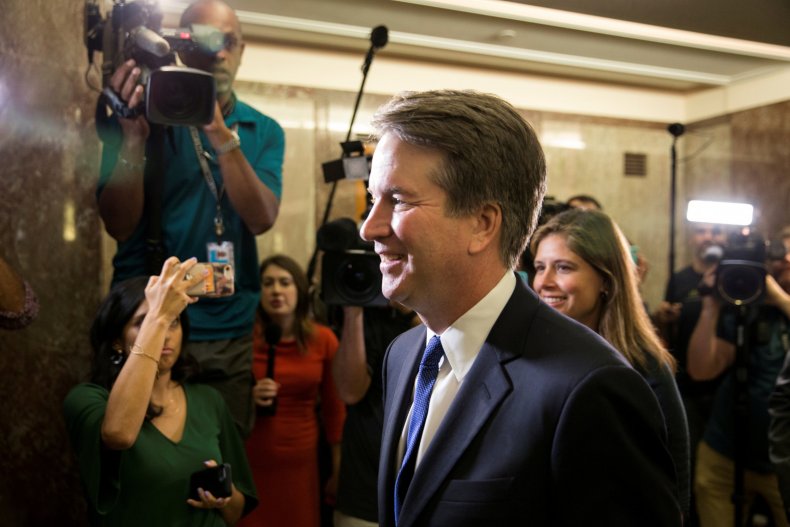 Kavanaugh's hearing is currently set to begin on September 4, and Republicans have provided no indication they plan to delay his confirmation meeting. Senate Minority Leader Chuck Schumer spoke on the Senate floor Wednesday, telling Judiciary Committee chair Chuck Grassley the hearing is "too soon" in light of the Cohen charges.
"It's a game changer," said Schumer. "It should be.... In my view, the Senate Judiciary Committee should immediately pause the consideration of the Kavanaugh nomination."
Multiple Democrats said Kavanaugh's expansive view on executive authority may just be a ploy by Trump to protect him from special counsel Robert Mueller's election-meddling investigation. This is Trump's second Supreme Court justice nominee of his presidency, with Neil Gorsuch having been picked to replace the late Antonin Scalia last year.
"I will not take a meeting with Brett Kavanaugh. He has been nominated by someone implicated, and all but named as a co-conspirator, in federal crimes. His nomination is tainted and should be considered illegitimate," Massachusetts Senator Ed Markey told NBC News.
"I have canceled my meeting with Judge Kavanaugh," said Hawaii Democratic Senator Mazie Hirono, noting that Trump "does not deserve the courtesy" as an "unindicted co-conspirator in a criminal matter."
New Hampshire Democratic Senator Shaheen echoed a similar sentiment, telling NBC, "In light of yesterday's events, the Senate should delay hearings on Kavanaugh's nomination to the Supreme Court. There must be checks and balances on this president."
Schumer said Cohen's guilty plea in addition to Kavanaugh's refusal to say whether a sitting president could be subpoenaed made his nomination a potential "danger" moving forward.
"At the very least, the very least, it is unseemly for the president of the United States to be picking a Supreme Court justice who could soon be effectively a juror in a case involving the president himself," added Schumer.