Republican Congressman Celebrates Roe v. Wade Soon Being Overturned After Brett Kavanaugh Supreme Court Confirmation
Republican Congressman Steve King immediately celebrated the confirmation of Brett Kavanaugh to the Supreme Court by suggesting that the landmark ruling legalizing abortion will soon be overturned.
"Soon, babies like this little angel will be protected in the womb by law," the Representative from Iowa tweeted Saturday evening, together with a picture of a sleeping baby.
The tweet came swiftly on the heels of Kavanaugh controversially being confirmed to the Supreme Court by the Senate by a narrow margin of 50-48. The judge was almost immediately sworn in to officially fill the vacancy on the high court left by Anthony Kennedy's retirement.
Kavanaugh's confirmation gave the Supreme Court a solid 5-4 conservative majority and has sparked hope among some and fear among others that Roe v. Wade, issued by the Supreme Court in 1973 to make abortion legal across the United States, could be overturned.
Before sexual assault allegations shrouded his nomination, the issue of abortion rights was at the forefront during Kavanaugh's confirmation hearings last month. Asked specifically about the law, Kavanaugh responded by citing legal precedent.
"I understand the importance of the precedent set forth in Roe v. Wade," he said. "It has been reaffirmed many times over the past 45 years."
Pressed again on a woman's right to choose, Kavanaugh answered: "I understand the importance of the precedent set forth in Roe v. Wade. It has been reaffirmed many times over the past 45 years."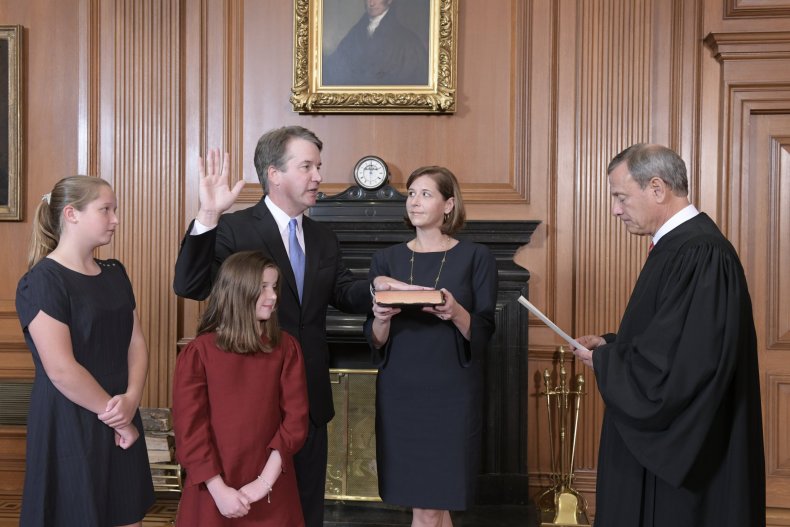 Kavanaugh's confirmation to the court was ultimately decided Friday when Republican Senator Susan Collins announced that she would become the all-important 50th "yes" vote in the Senate. In a long floor speech explaining her decision, Collins, who has said she would not support a nominee who she believed would seek to overturn Roe v. Wade, explained that, based on her conversations with Kavanaugh, she was confident that he would rule to keep the law in place.
"Noting that Roe v. Wade was decided 35 years ago and reaffirmed 19 years later in Planned Parenthood v. Casey, I asked Judge Kavanaugh whether the passage of time is relevant to following precedent," Collins said. "He said decisions become part of our legal framework with the passage of time and that honoring precedent is essential to maintaining public confidence."
Still, King is far from alone in thinking that abortion could be one of the first major issues targeted by a conservative Supreme Court. President Donald Trump had, after all, vowed during his 2016 election campaign to only nominate Supreme Court justices who would overturn Roe v. Wade.
Trump's opponent in 2016, Hillary Clinton, tweeted last month: "If Brett Kavanaugh becomes a Supreme Court justice, will he help gut or overturn Roe v. Wade, which legalized abortion in America? Yes, of course he will."