Brett Kavanaugh Swearing-In Ceremony Live Stream: When, How to Watch Donald Trump Welcome New Supreme Court Justice
President Donald Trump will conduct a ceremonial swearing-in of new Supreme Court Justice Brett Kavanaugh on Monday at 7 p.m. at the White House. The ceremony can be watched on C-Span and via a live stream below.
Kavanaugh was officially sworn-in by Chief Justice John Roberts on Saturday, just hours after the Senate voted to confirm him to the high court by a vote of 50-48. The figure represented the lowest number of votes for a confirmed Supreme Court justice since the Senate moved to 100 members almost half a century ago.
Already a controversial nominee due to fears that he could be a decisive vote to overturn the landmark ruling legalizing abortion, Roe v. Wade, Kavanaugh's confirmation was thrown into disarray following accusations of sexual assault made against him by three women. But Trump remained staunchly behind his nominee, even after one of the accusers, Christine Blasey Ford, testified before the Senate Judiciary Committee that she was "100 percent" sure that Kavanaugh had sexually assaulted her at a high school party in 1982.
Speaking earlier on Monday, Trump continued his defense, claiming that Kavanaugh was "caught up in a hoax set up by the Democrats."
"The things they said about him, I don't even think he ever heard of the words," Trump told reporters outside the White House. "It was all made up. It was fabricated and it's a disgrace and I think it's gonna really show you something come November 6th."
Later in the day, the president claimed that the allegations were a "disgraceful situation, brought about by people that are evil."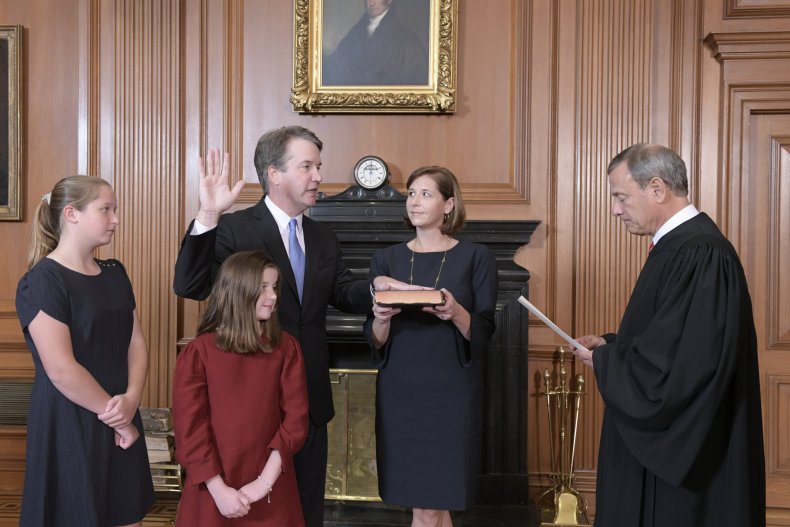 While Kavanaugh's confirmation hung in the balance for several weeks, it was ultimately secured when Republican Senator Susan Collins announced Friday that she would be voting in favor following a supplementary FBI investigation. Following Collins's announcement, Democratic Senator Joe Manchin, who will vie for re-election next month in a state that Trump won by 42 points in 2016, also revealed his support.
Still, Kavanaugh's confirmation was accompanied by massive protests both inside and outside the Senate building.
Kavanaugh has become the second Supreme Court justice that Trump has got confirmed to the Supreme Court in less than two years in office. With Kavanaugh in place, the court now has a solid 5-4 conservative majority following the retirement of Justice Anthony Kennedy earlier this year. Kennedy often acted as a vital swing-vote on the bench.