Brett Kavanaugh Vote Count: Here's How Every Senator Voted on Cloture and What It Means for Confirmation
The Senate will move forward with Donald Trump's Supreme Court nominee Brett Kavanaugh after moving to end all debate on the judge and hold a final confirmation vote Saturday.
The chamber gathered on Friday morning for a cloture vote, a process that allows Majority Leader Mitch McConnell to nix any chances for Democratic lawmakers to filibuster and delay the final tally on whether Kavanaugh should be appointed to the Supreme Court.
The Senate decided to move onto the final step of the confirmation process with a vote of 51-49.
Senator Lisa Murkowski was the only Republican who voted no on the cloture motion, while Joe Manchin was the only Democrat to vote yes in support of moving to the last confirmation vote.
Now the lawmakers were expected to cast their final vote on Kavanaugh on Saturday. Kavanaugh needs at least 51 votes to be placed on the high court as an associate justice. If confirmed, he will replace retiring Justice Anthony Kennedy on the bench.
Republicans hold a 51 to 49 majority in the chamber, but several conservative lawmakers remained on the fence on whether or not Kavanaugh should be on the Supreme Court.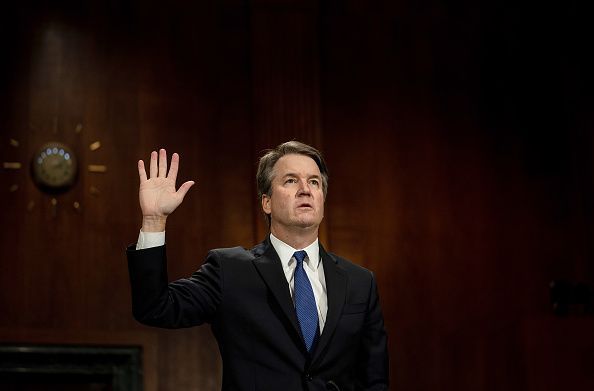 Senators Murkowski and Susan Collins were seen as the two most likely Republican lawmakers to oppose Kavanaugh's confirmation. Neither lawmaker had hinted about how they might vote on the judge, though Collins had announced that she will discuss how she plans to vote on Friday at 3 p.m., after the cloture procedure. Murkowski voted against the cloture, suggesting that she is unlikely to vote for full confirmation on Saturday.
Republican Jeff Flake, who stunned conservatives when he requested an FBI investigation into allegations of sexual misconduct against Kavanaugh, is now seen as a likely supporter of the judge. After the bureau's report was released this week, Flake said that there was no corroborating evidence to support the accusations.
Kavanaugh's confirmation process has been clouded by allegations of sexual misconduct brought forward by three women—Christine Blasey Ford, Deborah Ramirez and Julie Swetnick. Ford, Kavanaugh's first accuser, testified in front of the Senate Judiciary Committee last week.
Here's how every senator voted on Friday morning:
Yes
Lamar Alexander (R-TN)
John Barrasso (R-WY)
Roy Blunt (R-MO)
John Boozman (R-AR)
Richard Burr (R-NC)
Shelley Moore Capito (R-WV)
Bill Cassidy (R-LA)
Susan Collins (R-ME)
Bob Corker (R-TN)
Tom Cotton (R-AR)
John Cornyn (R-TX)
Mike Crapo (R-ID)
Ted Cruz (R-TX)
Steve Daines (R-MT)
Mike Enzi (R-WY)
Joni Ernst (R-IA)
Deb Fischer (R-NE)
Jeff Flake (R-AZ)
Cory Gardner (R-CO)
Lindsey Graham (R-SC)
Chuck Grassley (R-IA)
Orrin Hatch (R-UT)
Dean Heller (R-NV)
John Hoeven (R-ND)
Cindy Hyde-Smith (R-MS)
Jim Inhofe (R-OK)
Johnny Isakson (R-GA)
Ron Johnson (R-WI)
John Kennedy (R-LA)
James Lankford (R-OK)
Mike Lee (R-UT)
Mitch McConnell (R-KY)
Jerry Moran (R-KS)
Rand Paul (R-KY)
David Perdue (R-GA)
Rob Portman (R-OH)
Jim Risch (R-ID)
Pat Roberts (R-KS)
Mike Rounds (R-SD)
Marco Rubio (R-FL)
Ben Sasse (R-NE)
Tim Scott (R-SC)
Richard Shelby (R-SC)
Dan Sullivan (R-AK)
John Thune (R-SD)
Tim Tillis (R-NC)
Pat Toomey (R-PA)
Roger Wicker (MS)
Todd Young (R-IN)
John Kyl (R-AZ)
Joe Manchin (D-WV)
No
Lisa Murkowski (R-AK)
Catherine Cortez Masto (D-NV)
Tammy Duckworth (D-IL)
Joe Donnelly (D-IN)
Jon Tester (D-MT)
Heidi Heitkamp (D-ND)
Doug Jones (D-AL)
Bill Nelson (D-FL)
Cory Booker (D-NJ)
Ben Cardin (D-MD)
Tom Carper (D-DE)
Dick Durbin (D-IL)
Diane Feinstein (D-CA)
Kirsten Gillibrand (D-NY)
Kamala Harris (D-CA)
Richard Blumenthal (D-CT)
Mazie Hirono (D-HI)
Chris Van Hollen (D-MD)
Bob Menendez (D-NJ)
Michael Bennet (D-CO)
Tom Udall (D-NM)
Mark Warner (D-VA)
Chris Coons (D-DE)
Tina Smith (D-MN)
Amy Klobuchar (D-MN)
Brian Schatz (D-HI)
Jeanne Shaheen (D-NH)
Ron Wyden (D-OR)
Bernie Sanders (I-VT)
Debbie Stabenow (D-MI)
Martin Heinrich (D-NM)
Sheldon Whitehouse (D-RI)
Patrick Leahy (D-VT)
Tammy Baldwin (D-WI)
Edward Markey (D-MA)
Sherrod Brown (D-OH)
Maria Cantwell (D-WA)
Maggie Hassan (D-NH)
Gary Peters (D-MI)
Jack Reed (D-RI)
Jeff Merkley (D-OR)
Patty Murray (D-WA)
Bob Casey (D-PA)
Tim Kaine (D-VA)
Angus King (I-ME)
Claire McCaskill (D-MO)
Chris Murphy (D-CT)
Elizabeth Warren (D-MA)
Brett Kavanaugh Vote Count: Here's How Every Senator Voted on Cloture and What It Means for Confirmation | U.S.