Supreme Court nominee Brett Kavanaugh may have secured the needed votes to join the highest court in the land following comments made by Senators Susan Collins and Jeff Flake after they reviewed materials from the FBI's supplemental investigation into claims of sexual assault made against the nominee.
Collins said the FBI's investigaion appeared to be "very thorough," while Flake told reporters: "We've seen no additional corroborating information" on the assault allegations made by Christine Blasey Ford and Deborah Ramirez.
If either statement results in Collins and Flake casting "yes" votes for Kavanaugh, the current vote tally as of Thursday afternoon would stand at 50-48, just enough for the federal judge to take a seat on the country's most esteemed court.
If the three remaining undecided senators were to vote "no," a tie would turn the matter over to Vice President Mike Pence, who would break the tie in Kavanaugh's favor and deliver to President Donald Trump his second Supreme Court appointment of his first term.
The vote on Kavanaugh was largely expected to fall along partisan lines, with Collins, Flake and three others serving as the deciding votes. Currently, Senator Joe Manchin — a Democrat up for re-election next month a state that Trump won handily in 2016—and Republicans Lisa Murkowski and Jon Kyl have yet to state publicly how they intend to vote.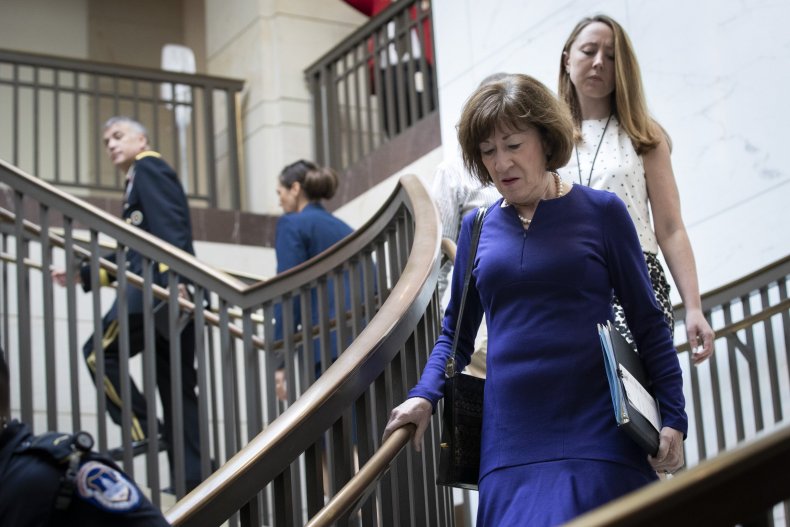 Senator Heidi Heitkamp of North Dakota, who faced a similar predicament as Manchin, announced to WDAY ABC that she planned to vote against Kavanaugh despite the "bad" confirmation process.
Manchin may vote "no," which pushes the tally to 50 Republicans for and 49 Democrats and two independents against Kavanaugh's confirmation. Kyl, who took over for the late Senator John McCain, was expected to cast a "yes" vote for Kavanaugh, so he should be counted in the 50 potential "yes" votes.
In that scenario, Murkowski ultimately would stand alone.
The FBI was tasked by Trump after Flake insisted last Friday that the agency investigate the accusations of sexual assault made by Ford and Ramirez. On Wednesday night, the FBI handed over the results of its interviews with nine potential witnesses to the Senate. Senators were then allowed to review materials in a secure area.
Democrats and Ford's attorneys have criticized the FBI's investigation, claiming the White House limited the time and scope of the probe.
Even as the FBI investigated the allegations, Senate Majority Leader Mitch McConnell was vehemently pushing for a vote to confirm Kavanaugh. The Kentucky Republican filed cloture, or a move to end debate, on Wednesday, setting up a potential final vote on Kavanaugh for as early as Saturday.
Update: This story was updated to include comments from Senator Heidi Heitkamp.