Brett Kavanaugh, Yale and Sexual Misconduct: Here's Why Students Are Protesting at Law School
The controversy surrounding Supreme Court nominee Brett Kavanaugh has spilled over into the halls of his alma mater: Yale University.
The Ivy League college has come into the national spotlight as Kavanaugh, who graduated from the law school in 1990, has been accused of sexual misconduct by two women. One of his accusers, Deborah Ramirez, was a former classmate of Kavanaugh's at Yale during their undergraduate years. Ramirez told The New Yorker the judge exposed himself to her and forced her to touch him during a "drunken dormitory" party their freshman year.
Kavanaugh has denied the allegations, but his former Yale roommate James Roche said he believes Ramirez. "Based on my time with Debbie, I believe her to be unusually honest and straightforward, and I cannot imagine her making this up," Roche said in a statement. "Based on my time with Brett, I believe that he and his social circle were capable of the actions that Debbie described."
Kavanaugh was a member of the Delta Kappa Epsilon fraternity, known for its aggressive party antics. In an old photograph published in the school's daily newspaper, DKE brothers are seen parading through the campus with a flag made from women's underwear. The judge also belonged to an all-male secret society at Yale called Truth and Courage—a group more popularly known among their classmates as "Tit and Clit."
But some administrators at Yale University and Yale Law School have remained staunch supporters of their accomplished alum, even in light of the recent allegations, causing students to protest the institution.
Over 400 Yale community members traveled to Washington, D.C., to protest the confirmation of Kavanaugh on Monday, resulting in the arrests of two law students. Along with the demonstration in the Capitol, students held a sit-in at the school's campus in New Haven, Connecticut, calling for the university's administration to condemn Kavanaugh's nomination to the high court.
Fifty Yale Law School faculty members wrote an open letter to the Senate Judiciary Committee last week, urging them to conduct a "fair and deliberate confirmation process." Nowhere in the letter did they criticize Kavanaugh.
But the issue of sexual misconduct may run deeper than just Kavanaugh at Yale University.
Amy Chua, a top professor at Yale Law School, emphatically endorsed Kavanaugh as a "mentor to women." In a report by The Guardian, it was claimed that Chua told female students that they had to look a certain way in order to be a law clerk for Kavanaugh. It was "not an accident" that the judge's female clerks looked "like models," the professor privately told the group.
Chua has denied the allegations that she instructed her female students to have a "certain look" when interviewing for coveted clerkships with Kavanaugh.
A recent graduate of Yale Law School says Chua's denials are false, telling The Huffington Post last week, "She's lying." A current law student also told the news outlet that she's "personally heard" the professor make those remarks. "So I personally know that for her to say the allegations are 100 percent false is a lie," the student added.
On the same day the article was published, Yale Law School Dean Heather Gerken sent a statement to the community regarding the allegations of faculty misconduct, writing that the college has a "responsibility to provide a safe environment in which all of our students can live and learn in a community of mutual respect, free of harassment of any kind. I take this responsibility extraordinarily seriously."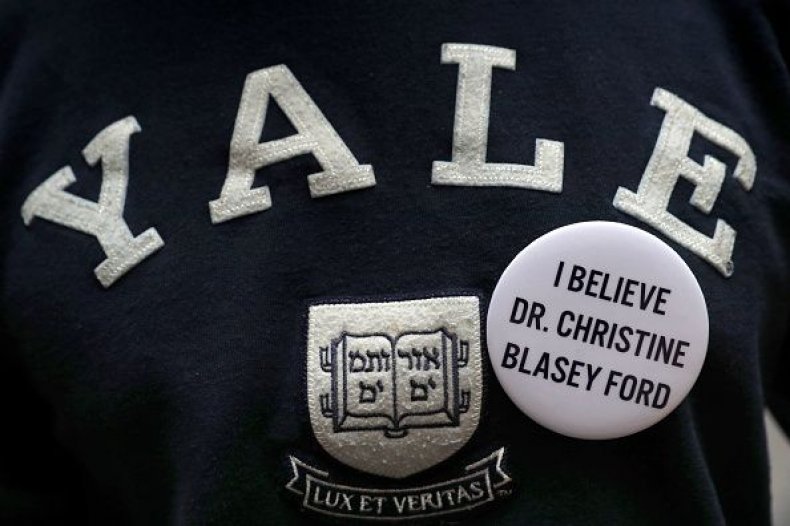 Another high-ranking judge Yale Law alum often worked for was Alex Kozinski, who resigned last year after being accused of sexual harassment. In light of the Kavanaugh allegations, students are now demanding to know if the administration knew about Kozinski's inappropriate behavior before the allegations were made public.
Doug Kysar, deputy dean of the law school, told students that he'd known of the judge's behavior since the late 1990s. He then backtracked, clarifying in an email sent to the student body that he was unaware of the sexual misconduct and had been referring to Kozinski acting "like an asshole."
When asked by Newsweek what the administration is doing to address student's concerns about sexual misconduct, the college's deputy director of communications pointed to several of Gerken's official statements from the past several weeks.
In response to the student-led protests in D.C. and on campus, Gerken wrote that as the dean, she cannot "take a position on the nomination" but that she is "so proud of the work our community is doing to engage with these issues."
None of Gerken's statements have spoken critically of Kavanaugh, though she did call for the Senate Judiciary Committee to use a "fair process, the rule of law and the integrity of the legal system."