Former State Department Official Blasts President's Syria Decision: 'Donald Trump is Not a Commander-in-Chief'
Brett McGurk, who served in senior national security positions under the past three presidents, including Donald Trump, wrote a scathing review of the administration's decision this weekend to pull back forces from Northern Syria before a planned Turkish military offense into the region.
The move represents a major shift in United States foreign policy in Syria and seemingly abandons Kurdish forces, a key partner in Washington's campaign against the Islamic State. Turkey's operation would effectively extend its border into Syria by about 30 kilometers, wiping out the US-backed Kurdish militia in the process, according to McGurk.
McGurk, who led U.S. policy in the campaign against ISIS in Iraq and Syria under Trump, said the announcement constitutes a "gift" to Russia, Iran and ISIS.
"Donald Trump is not a Commander-in-Chief," McGurk said in the now-viral Twitter thread, "He sends military personnel into harm's way with no backing. He blusters and then leaves our allies exposed when adversaries call his bluff, or he confronts a hard phone call."
McGurk added he resigned from the Trump administration in December over a similarly impulsive decision by the president. This go around, Trump made the call moments after talking with Turkish President Recep Tayyip Erdogan over the phone on Sunday -- blindsiding Pentagon and State Department officials who wanted to maintain the small U.S. presence in the region to bolster efforts against ISIS, according to recent reports.
Even Republican Senator Lindsey Graham called the move "impulsive" during a Fox & Friends segment Monday morning.
"I don't know all the details regarding President Trump's decision in northern Syria," Graham wrote on Twitter this morning. "If press reports are accurate, this is a disaster in the making."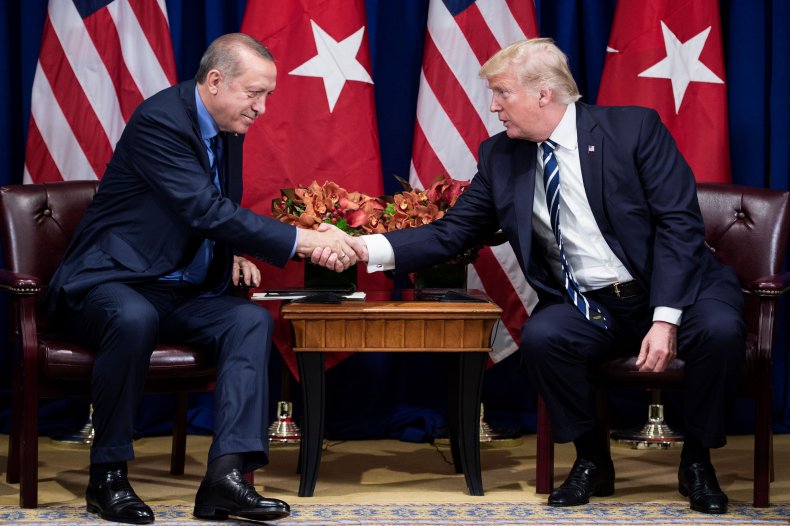 Also at issue are plans to release captured ISIS fighters to the Turkish government, according to a White House statement. The U.S. pressed France, Germany and other European nations to take the prisoners first, but they "did not want them and refused," the statement said.
"Turkey has neither the intent, desire, nor capacity to manage 60k detainees," McGurk continued in his heated Twitter statements. "Believing otherwise is a reckless gamble with our national security."
"There's a similar defect at the core of US foreign policies across the board: maximalist objectives for a minimalist president combined with no process to assess facts, develop options, or prepare contingencies," concluded McGurk, adding that Trump, after one phone call, provided a gift to Russia, Iran and ISIS.
At least one Trump voter responded in the thread.
"Voted for Trump because he was the least bad of a very bad lot, but I'm seriously considering not voting or voting dem despite how much I hate the Dem left. @realDonaldTrump is truly an abomination," wrote Charles Clark.
Other users posted a resurfaced tweet by Ivanka Trump that thanked Erdogan for attending the launch of one of Trump's major businesses in Turkey.
"Thank you Prime Minister Erdogan for joining us yesterday to celebrate the launch of #TrumpTowers Istanbul!" Ivanka wrote in April 2012. The construction constitutes one of seven current Trump Towers locations and many other conflicts of interests involving Turkey and the Trump family, according to reporting by Newsweek.