Brevard County Police Organization Encourages Disciplined Cops In Buffalo, Atlanta To Work In Florida
A Fraternal Order of Police (FOP) branch based near Orlando received backlash from local law enforcement in Brevard County on Monday, after the organization encouraged officers facing disciplinary action in New York and Georgia to apply for new positions in Florida over the weekend.
"Hey Buffalo 57... and Atlanta 6... we are hiring in Florida. Lower taxes, no spineless leadership, or dumb mayors rambling on a [sic] press conferences... Plus... we got your back! #lawandorderFlorida #movetowhereyouare," wrote Brevard County FOP in a message shared to Facebook on Saturday. Screenshots of the social media post circulated on Twitter after the group deleted it from Facebook.
The FOP organization's message addressed law enforcement presently or recently employed by Buffalo and Atlanta's city police departments, which respectively suspended and fired officers last week following reports of misconduct during rallies. Amid demonstrations taking place to protest police violence and racism following George Floyd's death in police custody on May 25, authorities in several U.S. cities have used force to disperse participants, many of whom rallied peacefully.
In Buffalo, two officers were charged with second-degree assault and suspended from the city's police department after a video of them shoving a 75-year-old protestor to the ground during a Thursday night demonstration went viral online. The Erie County Medical Examiner, responsible for the jurisdiction where Buffalo is located, later said the man shoved was in "stable but serious condition." On Friday, all 57 officers belonging to the Buffalo Police Department's Emergency Response team resigned from their positions.
Erie County District Attorney John Flynn addressed Thursday night's incident and outlined consequences to both officers during a news conference on Saturday, confirming both individuals were charged and arrested that morning.
"On Thursday night, we had two of our police officers cross a line," he said.
Several days earlier, on May 31, the Atlanta Police Department fired two former officers for use of excessive force while arresting two college students who were inside a vehicle stopped in traffic caused by protests. A video of the arrest confirmed the involvement of six officers, all of whom face criminal charges.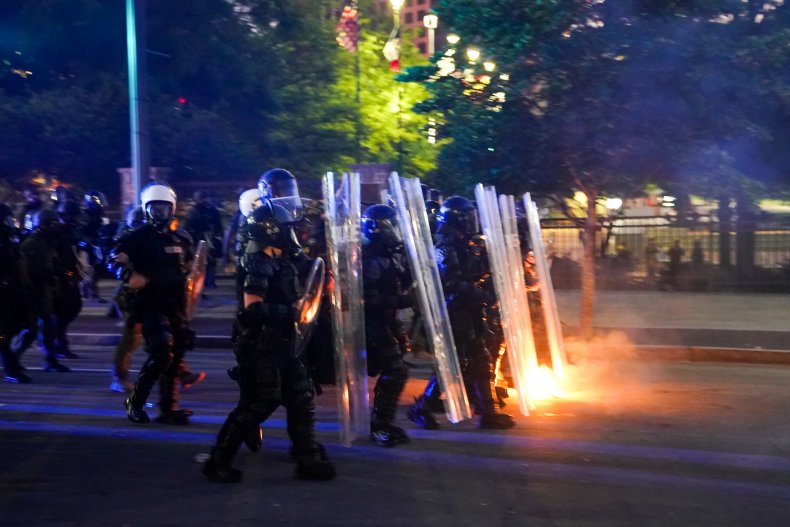 The Brevard County Sheriff's Office issued a response to Brevard County FOP's now-deleted Facebook post later on Monday, saying the fraternal organization is not associated with the local police department.
"Earlier today it came to my attention that an organization identified as 'Brevard County F.O.P.' had posted a comment on Facebook that was extremely distasteful and insensitive to current important and critical issues that are occurring across our country," Brevard County Sheriff Wayne Ivey wrote in the office's statement. Continuing, he said the organization's recruitment suggestion "was not authorized in any capacity" by the sheriff's office.
The person responsible for the Facebook post later identified himself as Brevard County FOP's president, Lt. Robert Gamin, who is employed by the sheriff's office. Addressing the post during a news conference on Tuesday, Ivey said Gamin had been suspended. The account associated with Brevard County FOP was removed from Facebook by Tuesday afternoon, but multiple outlets reported that Gamin posted an apology message later on Monday.
"This weekend, I made a posting on social media which was in poor taste and did not reflect the sentiment that I was trying to convey, nor that of the FOP," Gamin wrote, according to local news outlet WESH 2.
Newsweek reached out to Brevard County FOP as well as the Buffalo and Atlanta Police Departments for comments but did not receive replies in time for publication.
This story was updated to include information about Gamin's suspension and apology.