The Breville Joule Oven Air Fryer Pro Needs to Be Smarter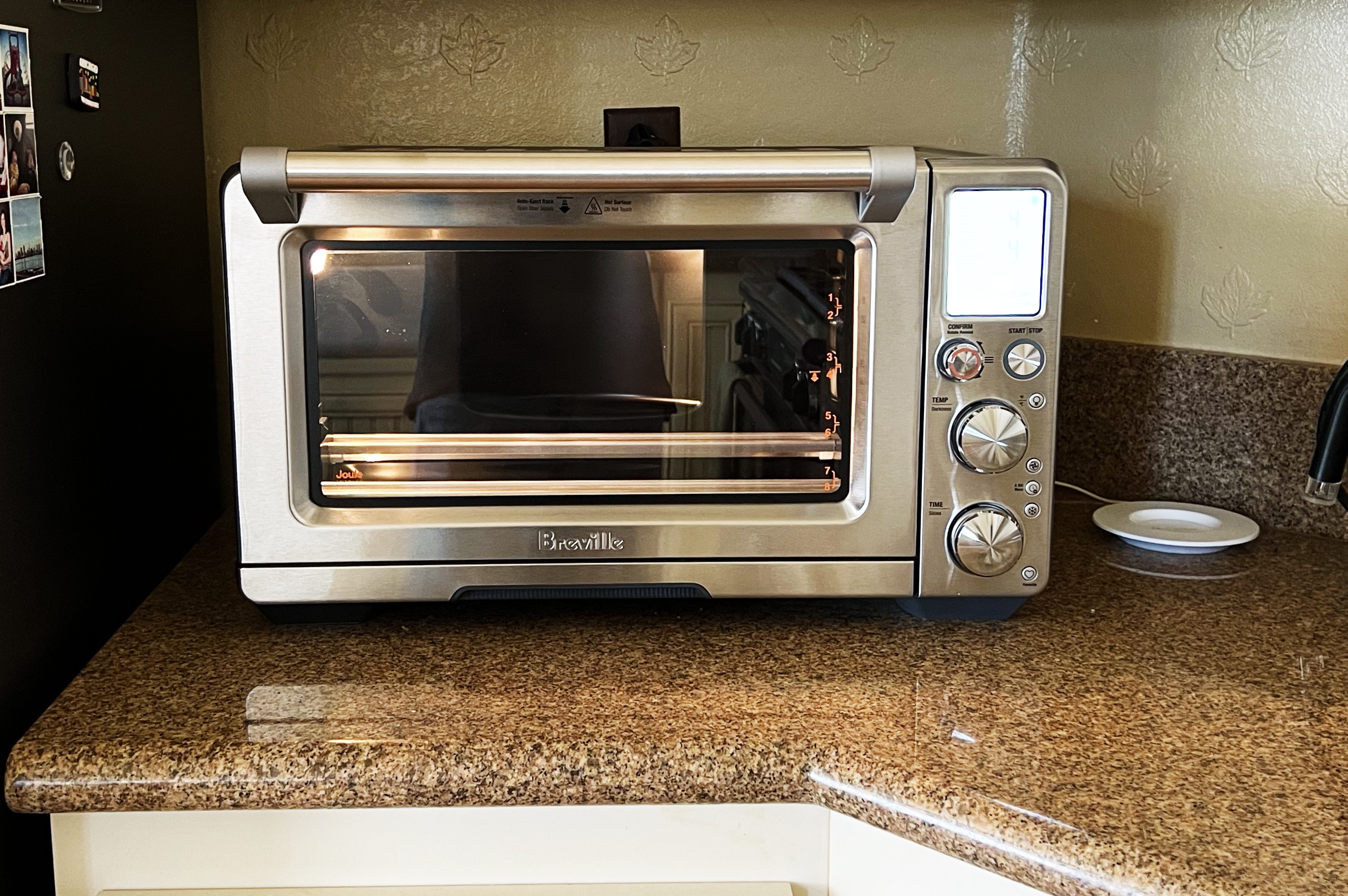 Breville has had a multifunction countertop oven around in some form for years. I've had one in my home for at least three. Because of its vast, 13 different cooking functions, including Toast, Air Fry and Broil, it has become my family's de facto oven. I couldn't have been more excited by the prospect of the new Breville Joule Oven Air Fryer Pro—essentially the same countertop oven, but with Wi-Fi and a connected app experience.
After setting up the Joule Over Air Fryer Pro, and navigating the app, it became clear that this oven was not what I was expecting. Based on the oven's advertisements, it looks like it's simply a connected appliance. But that's not the case.
In short, you can only perform its curated recipes wirelessly. You can't set the temperature or cook function through the app. Want to preheat the oven from upstairs before you head down and put the food in? That's not possible. Even worse, once you select a recipe, you still need to press the physical Start button on the oven itself for it to begin.
There are only a few things more disappointing than having something technologically capable but its being artificially limited. In this case, it's likely bound by an overabundance of safety concerns. Other appliances allow more app-based controls, however. Samsung, June, Brava, LG and others all allow app-based heating. There are ways to allow the functionality in a way that's also safe.
If you like your existing Breville oven but are eyeing a smart, Wi-Fi-connected option, you'll probably be as disappointed as I was with this product. If you're starting fresh in your search for a countertop oven that can do it all, you may love this model—but you'll still be disappointed with its technological aspects.
TL;DR
Pros:
Sleek, easy to use mobile app
Reliable cooking in lots of different modes
Cons:
Cannot control the oven through the mobile app
The display can get crowded with information
Buy at Breville.
A "Smart" Oven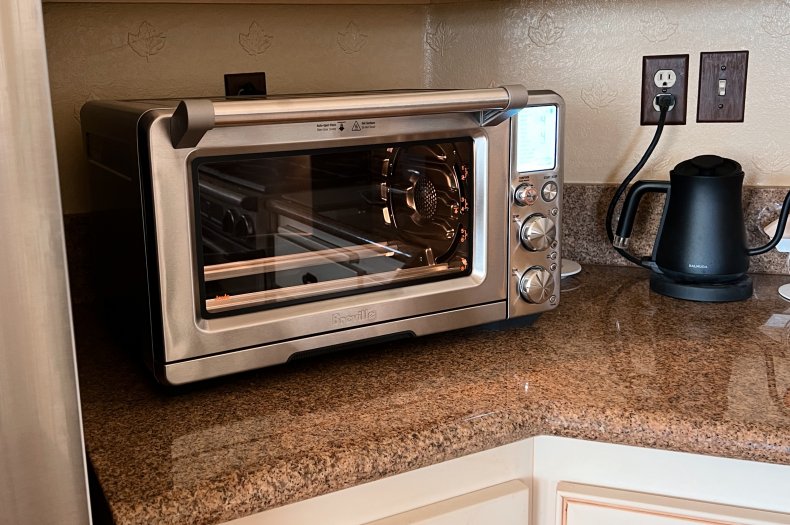 My family got a Breville Smart Oven Air Fryer Pro, or equivalent model, about three years ago and almost immediately turned it into our primary method for cooking meals. It preheats faster and has way more cooking functions than our other, more traditional Breville oven does. I'm extremely familiar with that model, and there are very few, if any, aspects of that product I would change. It has worked flawlessly for years.
There are things I would add to that oven, though: primarily internet-connected smarts that allow me to control it from my phone or maybe even my Apple Watch. The newest Joule Oven Air Fryer Pro is essentially the same appliance I've had on my counter, but it does add Bluetooth and Wi-Fi connectivity. And yet, for the $100 premium, it doesn't let me control it in the ways I want.
If you can't turn on the countertop oven to preheat it, pick a temperature or set it to one of the 13 cooking functions, then what can you do with it? The Breville mobile app presents curated recipes, a way to search for more recipes and a place to save recipes. (Are you seeing a theme?) In the top right corner, there's an icon to show that your oven is connected and ready to cook. If it is on, you can stop cooking at any time—but that's it.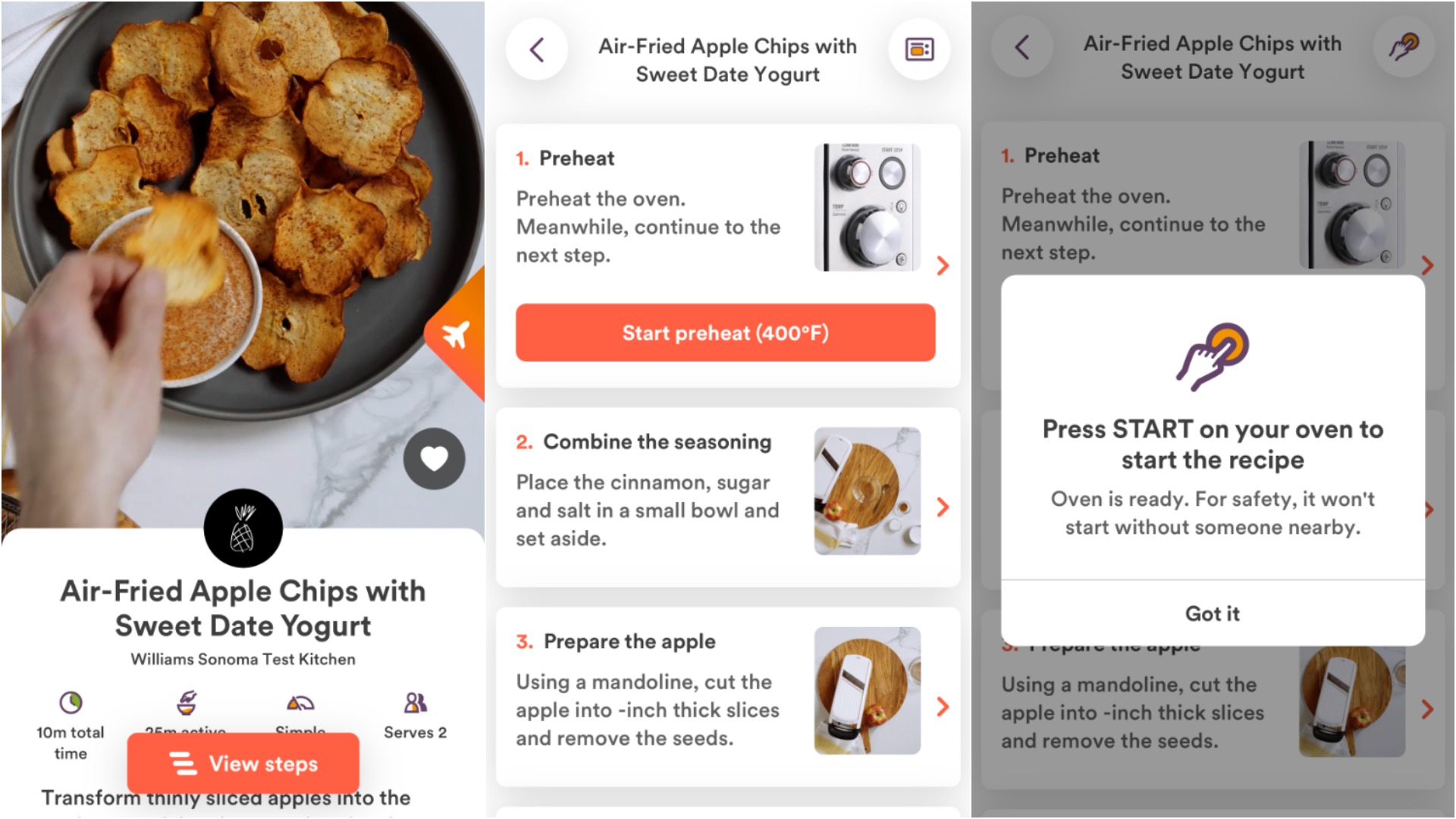 The idea that you select a recipe to help you make a meal and the oven gets all that information to be able to change temperatures or cook functions throughout the process is fantastic. For my first effort, I selected a recipe for air-fried apple chips, something I've never made, and it assisted me along the way. The problem is that this connected product is capable of doing so many more useful things and the only reason they are not possible in the app is that the company hasn't allowed it.
To give credit where it's due, the mobile app itself is well done. It's polished and easy to move through it without much friction. Recipes with video clips are easy to follow and genuinely help in the meal prep process too.
Cooking in the Joule Oven Air Fryer Pro
Despite the oven not allowing the wireless functions I would like, I did make a few meals from the available recipes in the Breville app. I wanted to get a feel for the experience the company envisioned by relying on the oven to guide me.
I started out easy with some air-fried apple chips. The app showed me how to cut the apples, season the pieces with cinnamon sugar, and lay them on the pan. It then cooked the apple slices at their preferred temperature and told me when to flip them over. And then, with little fanfare, they were done.
It's not that the connected oven isn't useful, but its usefulness is kept minimal by design. I'm not a cook in any sense, but I could have glanced at a website and then made apple chips without an internet-connected oven. It was painfully easy.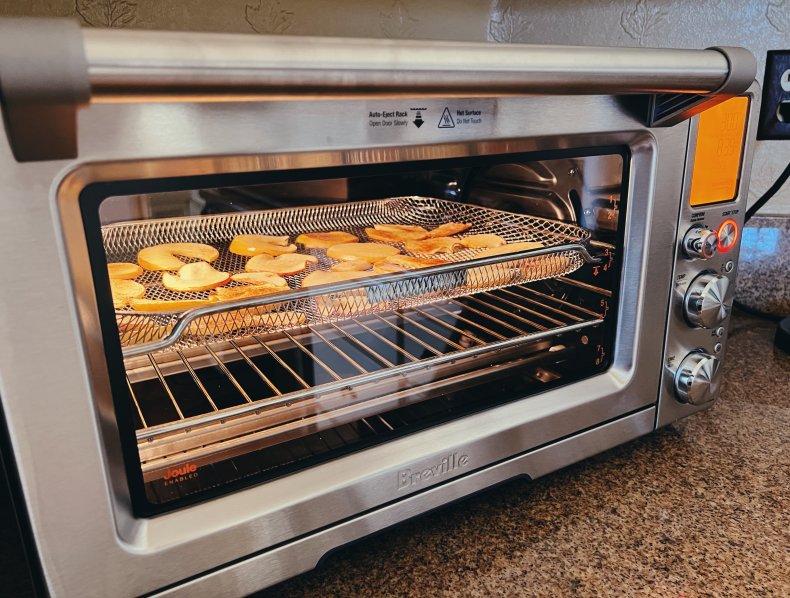 At the time of writing, there are only 116 recipes in the app to choose from. When you separate that number out into different categories such as snacks, entrees, desserts, beef, chicken and so on, the choices look sparse. It also assumes you'll have the necessary ingredients to make most of those recipes. I didn't.
Until I could get to the store for an app-specific recipe, I made meals like a pork roast with vegetables and a pizza, and this oven cooked them as wonderfully as my previous Breville oven. Without specific curated recipes in the app, however, there was nothing I could do from the app to make those meals more convenient to prepare. I got a notification on my phone when the oven, which I preheated in person, reached its temperature, but there were no actions I could take via the app.
The truth is that no matter how helpful the recipe function is through the app, it's not enough. That feature is absolutely helpful, but it can't be the sole focus of this product. I began to resent the fact that I couldn't do more with the connected oven. There are cars you can move, driverless, from your phone—I've tried it. So it feels a bit silly that I can't turn this oven on from my phone to get it started a few minutes before I walk downstairs to put some food in it.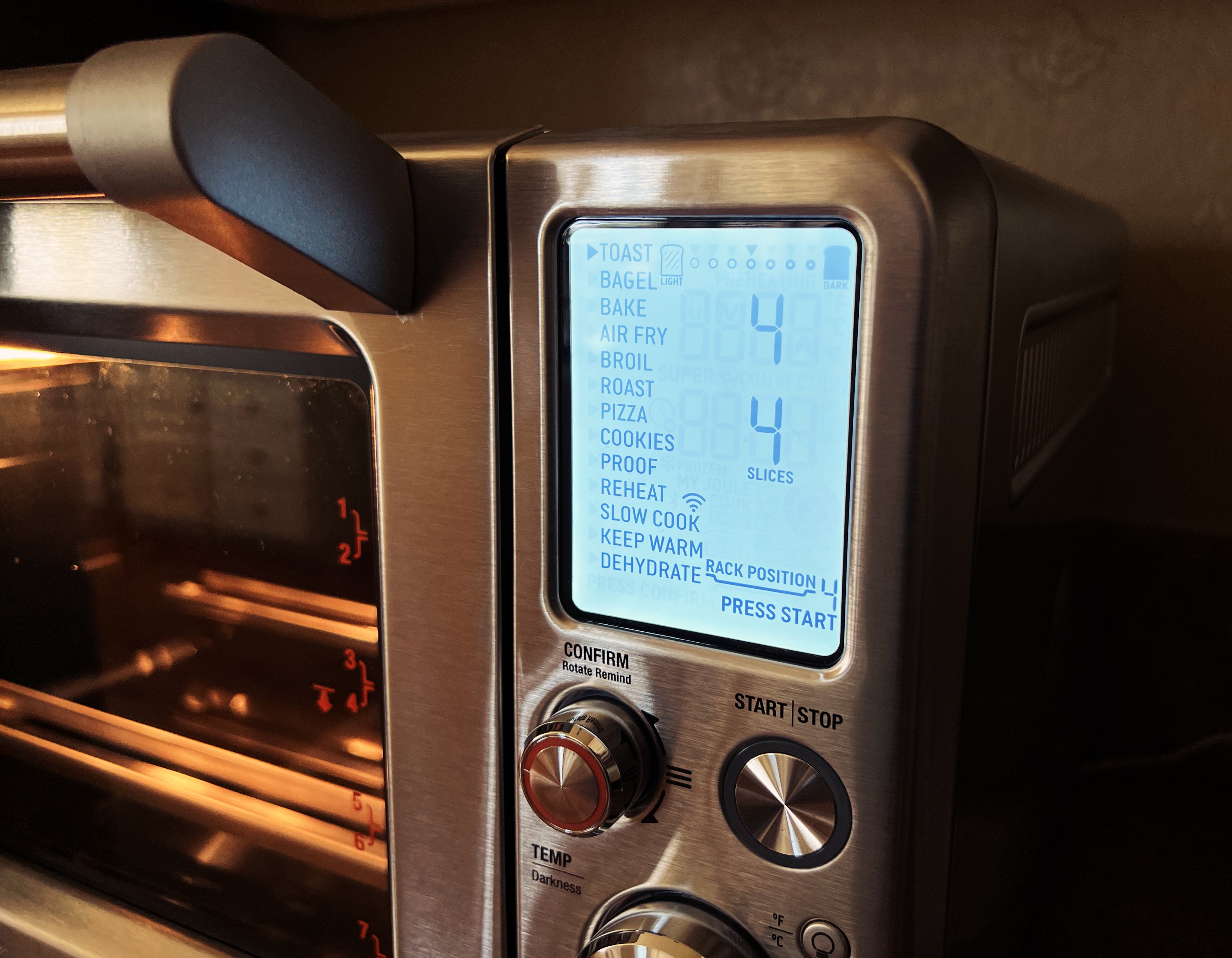 I would also love to be able to do things wirelessly from the app—like change the function or the amount of time the oven is cooking, or raise or lower the temperature.
Should You Buy the Breville Joule Oven Air Fryer Pro?
I'm a big fan of Breville's countertop ovens. There are a few different ones, and they provide more functionality as you go up the product line. This premium Joule Oven Air Fryer Pro is at the top, costing just about $500. I would save the money and pick one of the less expensive models, because this is not the smart, connected appliance you're probably expecting or even want.
The in-app recipe functionality to put meals on "autopilot" is interesting, but it's more of a side feature than the main draw. The autopilot function seems like it has a very narrow target audience: people who are willing to routinely plan their meals based on a limited number of available recipes.
What about the types of people who could benefit from a remote-controlled oven to allow them to be more efficient with the time they spend cooking? That's a much wider market that I hope Breville attempts to cater to soon. After all, the necessary hardware is in place in the Joule Oven; the software simply needs to be tweaked to allow the additional wireless control. If that ends up happening, this product could change dramatically for the better.
Buy at Breville for $499.95.
Newsweek may earn a commission from links on this page, but we only recommend products we back. We participate in various affiliate marketing programs, which means we may get paid commissions on editorially chosen products purchased through our links to retailer sites.