Is Brewer's Immigration Stance Bad for Business?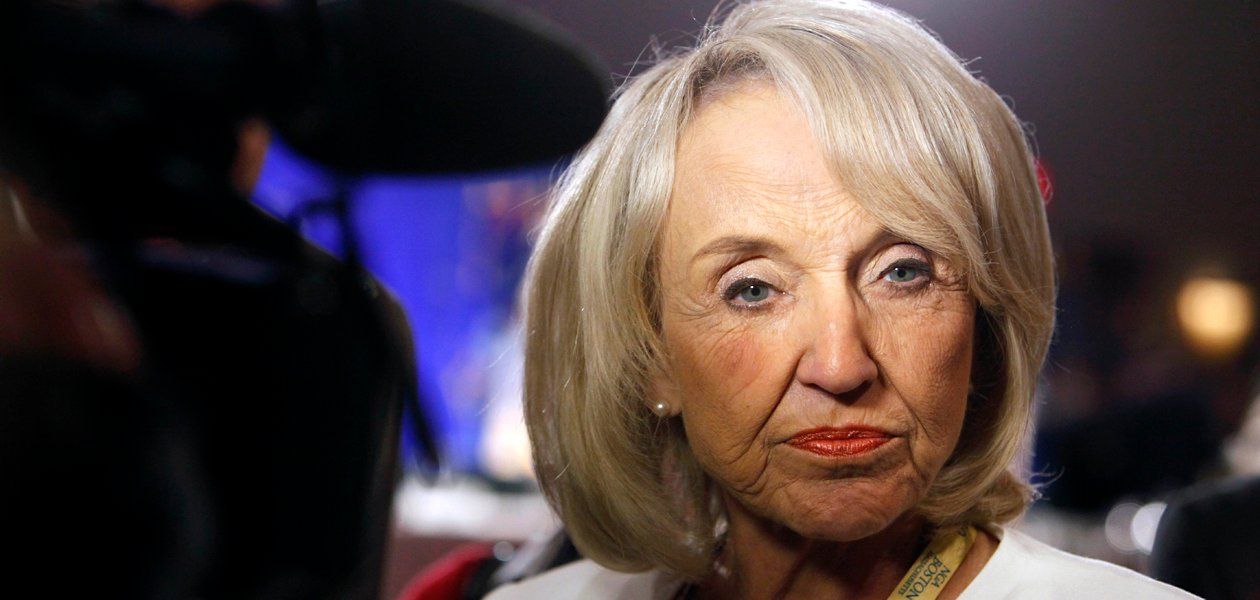 Back before they grew distant, Barry Broome, head of the Greater Phoenix Economic Council, would talk to Arizona Gov. Jan Brewer every few weeks. They'd brainstorm ideas for how to make the state a leader in solar and other renewable energies. He'd bring in CEOs to schmooze with her. They'd fly around the country trying to drum up business for Arizona companies. "Not once did she mention immigration," Broome recalls. So he never imagined what was to come: that she would sign into law one of the nation's most draconian illegal-immigration bills; pick a costly, high-profile fight with the federal government to defend it; and create a public-relations fiasco for the state. "The question is whether the tone of the debate has fractured [Arizona]," says Broome, who hasn't spoken to the Republican governor since her bill-signing ceremony in April.
Strains between Brewer and the state's business community are starting to show. Though her championing of the immigration measure has proved politically popular and catapulted her to national prominence, that success has come at a price. She has essentially sided with the immigration hawks in her party, at the expense of its business wing. Backers of the law, which would require police to check the papers of those they suspect are in the country illegally, justify it partly on economic grounds, claiming it would help rid the state of undocumented people who place a burden on public services. Yet even though the law was mostly struck down by a federal judge two weeks ago, the state has already taken an economic hit (on top of the ravages of the Great Recession). Several companies have packed up and left. At least 40 groups have canceled conventions and conferences, says Debbie Johnson, CEO of the Arizona Hotel and Lodging Association. And the Phoenix area alone is projected to lose $92 million in business, according to Mayor Phil Gordon. "Anyone who says our image has not been hurt is living in a bubble," he says.
Many business leaders are reluctant to criticize Brewer publicly. After all, she appears likely to win a full four-year term in November (as the former secretary of state, she inherited the post after Gov. Janet Napolitano joined the Obama administration). They're also sensitive to the public's mood, which has turned alarmist on the issue of illegal immigration, given the pileup of dead migrants in the desert this summer and a rash of drug-related kidnappings in recent years. Public officials like state Sen. Russell Pearce—the author of the immigration measure—have "whipped this state into a frenzy," says Gordon. (Pearce argues he's merely trying to choke off the drug and human--smuggling trades, and that the GOP remains business-friendly.) Still, business interests are becoming increasingly vocal about the impact all the fiery rhetoric is having on the state. Johnson recalls that one couple who had a reservation at a Sedona bed and breakfast e-mailed to ask if they'd get caught in "drug gunfire" on their way out of the airport. Broome says a business group from Atlanta asked him if neighborhoods in Arizona were integrated.
The state is perilously close to sealing a reputation as a bastion of intolerance. Phoenix "risks becoming the next Birmingham," says Robert Lang of Brookings Mountain West, a think tank based in Las Vegas. Noting that Arizona is trying to diversify into the solar-energy and biotech industries, he adds, the state is "playing with fire…Who is in solar? Not the kind of people who are listening to Rush [Limbaugh]." It makes Gordon cringe. Arizona has produced some of the nation's earliest Hispanic city-council members and judges, he says. But who would believe that today?
Many Latino organizations, both local and national, are leading the charge to punish the state economically. In many ways, the effort is shaping up as a de-fining civil-rights struggle for Hispanics. They're pressuring baseball teams to boycott the state. They're petitioning cities and states to cut off business ties (many have done so, including Los Angeles and St. Paul, Minn.). They're urging artists to forswear performing there (among those who have agreed are Kanye West and Rage Against the Machine). And they're warning other jurisdictions considering similar legislation that an equally potent backlash would await them. "We will make clear that the damage to Arizona can happen anywhere else that tries to pass a law like this," says Alfredo Gutierrez, a former Arizona state senator who's helping organize some of the efforts. He's modeling his approach on the anti-apartheid campaigns against South Africa and has been reaching out to Latin American countries to discuss the possibility of sanctions. "We even have a committee in Rwanda," he says. "I just discovered it while Googling."
In response to the uproar, Brewer—who declined to speak to NEWSWEEK—has engaged in some limited damage control. She pledged $250,000 for a public-relations campaign on behalf of the state (a pittance, considering what it costs to buy airtime or place a newspaper ad). And she convened business and tourism task forces to devise ways to repair the state's image. Yet some of the pronouncements she has made in especially overwrought moments have only made matters worse. Among them: the contested claim that officers have found bodies in the desert "just lying out there…beheaded."
From a purely political standpoint, Brewer's actions make sense. Arizona's business groups may be getting clobbered, but her political fortunes are soaring. Her approval rating jumped after she signed the immigration measure. What makes her rise all the more fascinating is that she didn't seek out the immigration issue; it was thrust upon her, by Pearce and other proponents of the bill. As soon as she cast her lot with them—and earned rebukes from the Obama administration—she became an instant hero of the right. Conservative Web sites have begun mulling her 2012 presidential prospects. Limbaugh has lavished praise on her. And Sarah Palin has said that Brewer "has the cojones that our president does not." Given her newfound stardom, dozens of Republican candidates across the country are vying for her endorsement, according to her campaign manager, Doug Cole (she has chosen to back three so far).
Brewer's likely Democratic opponent, state Attorney General Terry Goddard, may yet prove to be a tough adversary. He has fought crime linked to illegal immigration for years—credentials that give him legitimacy to attack her and the GOP for their handling of the issue. "This is the worst thing that ever happened for business in Arizona," he says. Yet he's well aware that his rival has become something of a national -phenomenon—all "based on one signature," he says, shaking his head in seeming disbelief.
If Brewer wins in November, business leaders aren't sure what to expect. Will she temper the rhetorical excesses that come with campaigning and turn her attention to more pressing economic matters? Or will she try to continue building up her stature as a new conservative darling? "We're hoping she'll come back to business," says Broome. She may indeed pivot away from the immigration issue, says Cole. "But only if the federal government steps up and does its job," he adds. "Anyone who knows her knows she fights till the end." Unfortunately for Arizona's business community, it may well wind up on the losing end of that battle.