Brewery Sues Alcohol Board for Rejecting Label Showing Cartoon of Nude Man by Famed Artist
Maryland-based Flying Dog Brewery is suing the North Carolina Alcoholic Beverage Control Commission for rejecting its seasonal winter beer label depicting a naked cartoon claiming it's in "bad taste."
The business' "Freezin' Season" Winter Ale features artwork designed by famed British illustrator Ralph Steadman of a stylized person standing naked by a campfire. The ABC Commission ruled that Flying Dog Brewery could not use the label under state laws that forbid "undignified, immodest" marketing.
In a federal lawsuit, the brewery accused the alcohol board of infringing on its constitutional right to free speech.
Jim Caruso, CEO of Flying Dog, said the lawsuit is "about defending the First Amendment against petty bureaucrats who want to censor whatever they personally dislike."
According to the lawsuit, Flying Dog Brewery sent the seasonal label along with several others to the alcohol board in July and learned a week later that it had been rejected. An email exchange included in the court filings shows that the commission cited state regulations as the reason and said, "as you can see... the image below is seen as inappropriate to many here."
The business, which has long advocated for free speech, said the commission's actions were unconstitutional. Legal representation for Flying Dog Brewery also said that sales will likely suffer as it's a seasonal product and they're losing "hard-won shelf placements" in North Carolina.
The label has been approved in every other state within its 24-state distribution network, according to Flying Dog Brewery.
In 2019, the North Carolina alcohol board also rejected a label for Wasatch Brewery's Polygamy Nitro Porter because the name and label promote unlawful activity, according to The Salt Lake Tribune.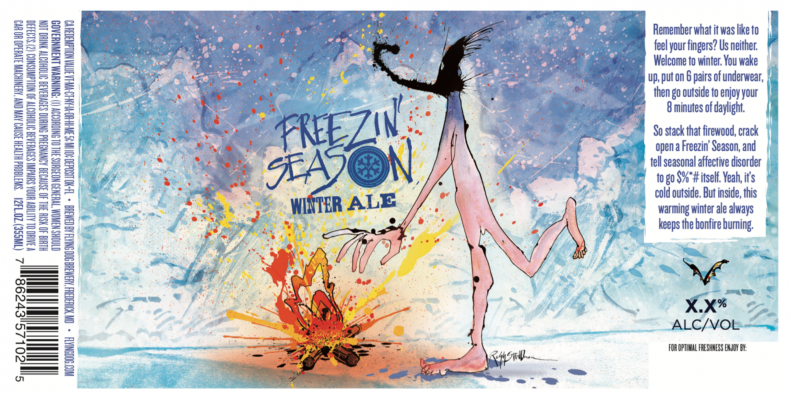 "This case is about our fundamental rights under the First Amendment," Marc Randazza, who is representing the brewery, said in a statement to McClatchy News. "Do you want a government official to be able to simply turn up their nose and say 'I don't like that kind of thing' and restrict what you have to say?"
This isn't the first time that Flying Dog Brewery has gone to court over censorship.
In 1995, Caruso said the business had a "run-in with the thought police" after the Colorado Liquor Board rejected a label deemed obscene for including "Good Beer, No Shit." In response, they also released a limited-time label that altered the phrase to "Good Beer, No Censorship."
Twelve years later, Flying Dog was challenged over "In Heat Wheat," a dog-themed Hefeweizen, in Arkansas. The brewery's "Raging Bitch" IPA was challenged from 2009 to 2015 in Michigan.
The business was founded by George Stranahan who was influenced by longtime friend and neighbor Hunter S. Thompson—who connected Flying Dog Brewery and Steadman, who illustrated a number of Thompson's books and articles of "gonzo journalism," including Fear and Loathing in Las Vegas.
Through the use of gonzo-inspired label designs, the brewery hopes to communicate with its customers and draw them into the conversation, according to the lawsuit.