'Brexit Is Based On Lies': Yorkshire Grandma Revealed As Anti-Brexit Graffitist
Hazel Jones — a retired school teacher from Wakefield, England — has been revealed to be the graffiti artist behind anti-Brexit slogans written in chalk across many of the walls and fences of a West Yorkshire town.
Facebook user Carla Petts, who filmed the 30-second clip of Jones at work on August 2, said she was astounded to discover an elderly woman was behind all the slogans. She wrote: "Keep seeing this message appear on this wall. Thought it must be some youths writing it. Today I spotted the culprit. What a woman!"
Jones, 71, wrote the words "Brexit is based on lies. Reject it." She is then seen in the video pocketing the chalk and walking away.
"Had I known I was being filmed I would have dressed up a bit more," Jones said to The Times when asked about the video.
The clip has been widely shared across social media garnering praise, as well as excitement among Wakefield-residents that the mystery had finally been solved. One person wrote: "Amazing! Good message and using chalk means no vandalism caused in the process! Keep up the work lady." Another said, "Please, Ms Hazel Jones, don't stop!!! You are a legend!!!"
Jones, who has been writing political slogans since the EU referendum in 2016, told The Times that she was doing it for her grandchildren, who she believed had been "wronged" by her generation.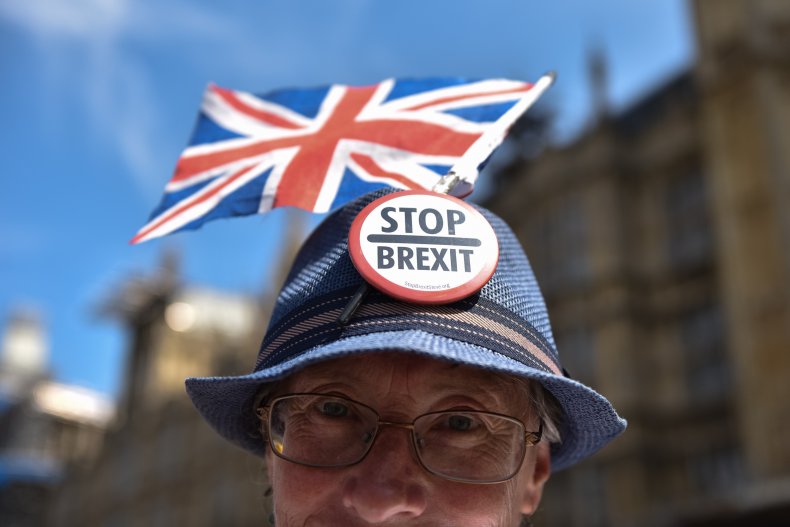 "We all have to do our bit and I think it's very important that people are made aware of the imminent catastrophe that we will be faced with if Brexit goes through," she said. "My generation has fouled up the prospects of younger people, so it's my grandchildren that I'm doing it for."
Jones — a grandmother of four — said to The Times that she had spent the past three years chalking hundreds of protest slogans around the town while out and about. A long-time Labour party supporter, she said that she now voted for the Liberal Democrats because of the party's commitment to a second referendum.
When writing her anti-Brexit slogans, the Grandmother said that she did not see herself as a vandal because the messages wash off in the rain. She added that she always used walls and fences in public spaces and steered clear of writing her anti-Brexit commentary on houses.
She had previously never been caught in the act, but her record was broken when she was spotted by Petts. "I was a little later than usual — that was my mistake," Jones said.
"I suppose the game is up now; I can't keep on doing it anymore," she continued, saying that she now planned to protest by petitioning her Member of Parliament.
Wakefield backed Brexit by a majority, with 66.3 percent voting leave against 33.6 percent opting to stay in the European Union.