Brexit Could Take Bite Out of Brits' Apple Orchards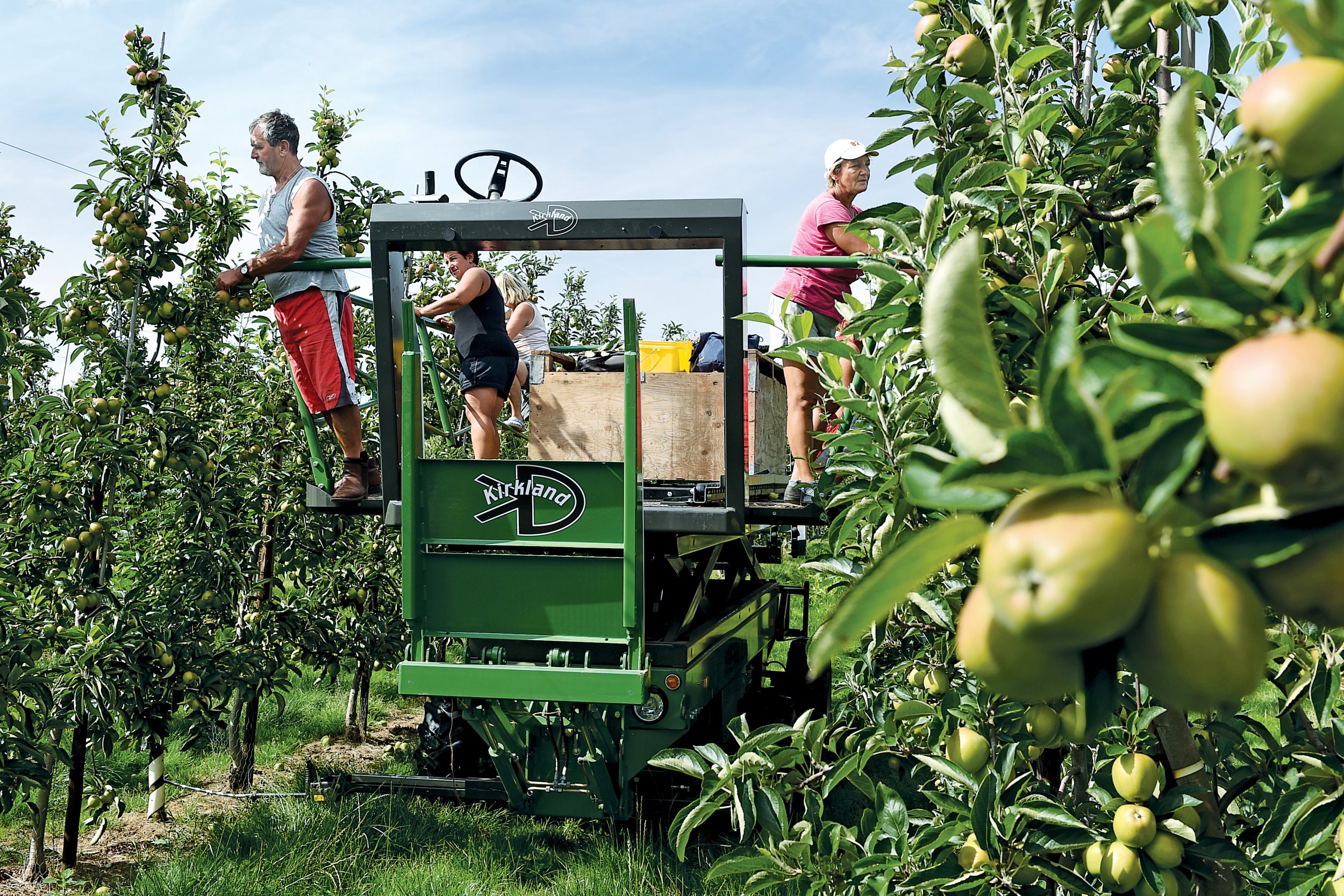 Somerset, in the deep west of England, is the highway to the great beaches of Devon and Cornwall that lie beyond. It's not often a place that people think to stop in, but on a perfect summer day there, it's hard to understand why. Huge, richly green hills are cut by narrow, winding lanes lined with unkempt hedges of beech and bramble. The verges, unruly with purple knapweed and pink campion, allow only sporadic peeks into the fields beyond: a herd of black and white Friesians chewing the cud here; a corduroy hill of newly mown hay there.
In the gardens of small, higgledy-piggledy stone villages, late roses hang on to their yellow petals in the warm summer sun, deep purple buddleia attract pale butterflies, and in every backyard, without fail, there is an apple tree. Next to many of them, a Union Jack flutters in the light breeze.
England has always been a place of apples. As a child learning the alphabet, you begin with "A is for apple." Pete Brown, a drinks journalist and the author of The Apple Orchard: The Story of Our Most English Fruit (which will be published September 29 in the U.K.) believes that England, in terms of climate, has an almost God-given advantage where apples are concerned. "It's a question of terroir," he says. "The combination of average temperatures, rainfall and soil types mean that even [varieties of] apples originally grown in other countries prefer to grow here."
And England's western end is more appley than most: Somerset lies at the root of artisan cider-making in the U.K., a tradition going back nearly 400 years. Historically, farms in this part of the world always had an orchard large enough to provide cider for the farm, its workers and the village beyond.
Proving Provenance
Julian Temperley is a significant character on the modern cider scene—though perhaps more famous for his daughter, the British fashion designer Alice. A handsome, silver-haired man with a tanned, deeply etched face, a slight limp and a barrel chest, he has been farming in the tiny hamlet of Burrow Hill for more than four decades. His traditional cider orchard of 73 acres is the largest of its kind in the country. Fifty-year-old trees, at least 25 feet high and spaced about 16 feet apart, cling to the hill as far as the eye can see. As we pass each row, Temperley lists the varieties by sight: Harry Masters, Yarlington Mill, Kingston Black, Stembridge Jersey. Sheep graze in the shade under the trees. They look picturesque, but are there for a reason: to keep the grass under control so that by harvest time the grass is a soft bed, ready to cradle the apples when they fall and protect them from frost as they ripen and sweeten on the ground.
After the U.K. voted on June 23 to leave the European Union, one of the first of many collective voices raised in despair was that of the soft-fruit farmers—June in England is strawberry season, and the industry relies almost exclusively on temporary workers, largely from Eastern Europe, to pick the fruit, which must be done by hand. Come August and the approach of the top-fruit season, the apple and pear farmers began to voice the same concerns. Without seasonal migrant workers, they said, English fruit could be finished. But take a walk through the orchards of England and you begin to see the story is more nuanced.
Unlike with fresh eating apples, bruising isn't an issue for the apples used to make cider; they can be collected by machine from the ground. Still, Temperley is unequivocal about the impact of Brexit on his world. "It is singly the worst thing that has happened to this country since the Second World War," he says. "We went to bed as a country of warm beer and cricket on the village green and woke up as hooligans who had voted for our own demise." Yet despite the uncertainty about whether pickers from the EU will be allowed to continue working in the U.K., Temperley's concern is not about a potential labor crisis but about identity.
His belief is that cider is a forgotten part of English heritage, and his passion is to get it into the world of three-star restaurants and five-star hotels, where provenance is everything. Right now, the EU provides consumers with some assurance of that provenance. That could well change. In 2012, after a three-year tussle with Brussels, Temperley's Somerset Cider Brandy was awarded Protected Geographical Indication(PGI) status—a label awarded by the European Commission's division for agriculture and rural development. The equivalent of the Appellation d'Origine Contrôlée, or AOC, tag in France, it informs would-be consumers that all the apples used in Temperley's cider come from his orchards alone, in the same way that you would expect a wine from the finest château to be made from its own grapes.
The dark cellar that houses the giant oak barrels in which Temperley ages his cider brandy (distilled in a similar way to cognac but made from cider rather than wine) is imbued with the sweet, mellow scent of distilled fruit liquor. These 500-liter barrels would have a retail value of £400,000 ($521,476). "Our PGI is crucial to our market value," he says. "It makes our drinks definable, recordable, respectable. We need to protect that integrity."
And then of course there are the exports, which Temperley expects will take a hit. "We currently sell to eight European countries," he says. "Now we'll be looking [to] forge relationships in America and China, but that's going to take time."
Vital Migrant Workers
On the other side of England's south lies Kent, known as the "Garden of England" for its abundance of orchards and hop poles, its gentle topography and sunny climate. It's here that David Deme and his wife, Linda, established Chegworth Valley, an apple-led, organic fruit and vegetable farm. Deme, a quietly spoken man in his mid-60s with a slight tremor in his hands, spent teenage summers on his uncle's farm; he grew up to be a newsagent, running three shops in central London, but always dreamed of being a farmer. "I knew it would be hard work, but so was being a newsagent—we were up at 5 a.m. seven days a week." His main memory of moving into the farmhouse in Christmas 1983? "The cold." There was no central heating, and the windows were all rotting. "I remember waking up the first morning and thinking, I'm a farmer. What do I do now?"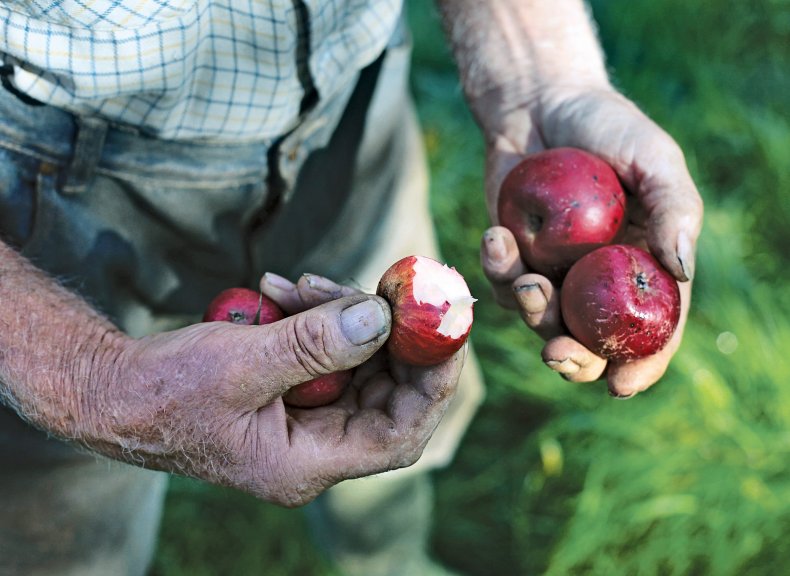 In the orchard, we walk around five-year-old trees planted closely in rows. Below them, workers wrestle with thistles, which need to be pulled out by hand—one downside of organic farming. At this time of year, as picking season approaches, Chegworth Valley employs about 100 people, up to a third of whom are seasonal workers from, primarily, Poland, Lithuania and Bulgaria.
"We pick on average 2,500 to 3,500 bins [about 830 to 1,150 tons]; last year it was 5,000 to 6,000 bins [1,670 to 2,000 tons]," Deme says. "Harvest is a long day—I'm up at 5 or 6, going around the farm assessing orchards, and we're frequently picking into the darkness, particularly in October." The pickers, accompanied by a "train"—a tractor trailing three or four bins, where the fruit is carefully deposited—pick in pairs, either on the ground or from a platform so they can access higher branches.
"The harvest won't be doable without workers from Europe. We have had English pickers in the past, but it never works out. They come for a few days, but they don't like the work. They don't need the money badly enough," Deme says. He remembers one who fell asleep under a tree; another who lost his watch in the fruit; another, his shoes in the orchard.
The seasonal workers live in static caravans in what was previously a black-currant field; some bushes still grow between the caravans. The caravans are a mismatched collection, functional rather than charming. A couple show signs of pride—marigolds and geraniums are planted in pots in front of one, but the patch runs to thistles, and the Portaloos smell in the warm summer air.
The more permanent European staff, from Poland, speak excellent English and are clearly highly valued members of the team. The Bulgarian pickers out in the orchard speak no English at all. I was able to communicate with one woman in basic Spanish. It is her second year here as an apple picker. The work is "hard but fair." She doesn't seem too concerned that her movement is likely to be restricted in the future.
Perhaps surprisingly, Deme shares some of her sanguinity. "I'm not too worried about the migrant workers [being shut out by Brexit]. The countryside cannot run without them. There just aren't the English people there to do the work. There will have to be a way to let them in."
You have to hope his faith in the government's good sense is justified: New Zealand, with its sturdy wine culture, is already beginning to explore cider opportunities, and in the U.S., the Boston Brewing Co., a craft brewer, has applied for a license to make cider labeled "Brexit." Brown feels that some kind of system, perhaps similar to the permits required to work seasonally before the U.K. joined the EU, will need to be re-established. "But it will mean yet another layer of red tape and hassle for farmers who are already pushed."
Driving out of Kent, through its checkerboard of fields striped with rows of apples and pears, you realize how hard it is to imagine this landscape without its orchards. When it gets to midwinter—long after the apple-picking season has finished—the fruit farmers of Somerset and Kent, men and women whose passion and resilience have kept this industry alive, will parade through their fruit trees for the annual wassail. It's an ancient practice: Everyone sings, dances, drinks cider and beats the trunks of the trees to banish any bad spirits that might be residing there. And then? They have ensured a good season ahead.