From Blair to Brexit: How Britain Changed Between the 1997 and 2017 Elections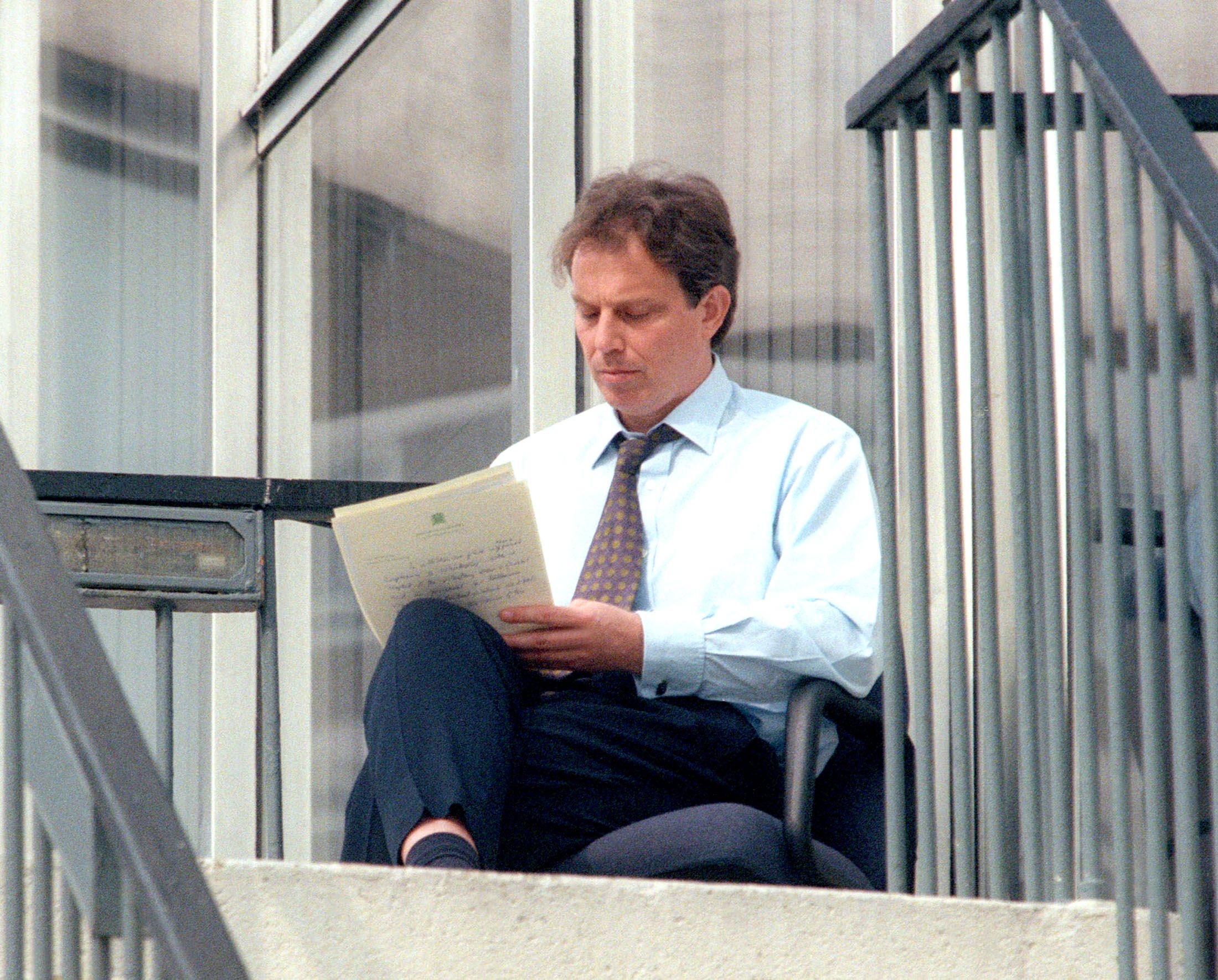 May marked the start of the short campaign for Britain's next general election, set for June 8. But it also marked the anniversaries of two towering moments in British politics. Twenty years ago, on May 1, 1997, Tony Blair, then so youthful the press nicknamed him "Bambi," led his Labour Party—nicknamed and now referred to as New Labour—to the greatest landslide victory of its near-100 year history. On May 10, 2007, 10 years later, he resigned from the premiership with a speech in his Sedgefield constituency. He looked a lot older. But he struck an optimistic tone. Blair said he felt confident about the country he had led. It was, he proclaimed, "comfortable in the 21st century, at home in its own skin, able not just to be proud of its past but confident of its future."
"I think it certainly felt like that at that time," says Blair's former communications director and lieutenant Alastair Campbell when we speak, 11 months after a Brexit vote that struck against globalism, Europe—everything Blair stood for—and a month before an expected landslide for the most right-wing Conservative Party leadership in a generation. "I think there's been something very strange that's happened in our politics since," he says. What exactly that is, and whether it has entirely disposed of the country Blair thought he built, is a central question for post-Brexit Britain.
Striding into Downing Street six years before the Iraq war, Blair in 1997 hadn't attained global significance, but represented total domestic renewal. His rise—coinciding with the "cool Britannia" phenomenon that spiraled after a November 1996 Newsweek cover story on London's cultural resurgence—reflected a newly optimistic national spirit. He made politics attractive: "Tony Blair is the first prime minister I can completely imagine having voluntary sex with," Helen Fielding's Bridget Jones character wrote in a 1997 Independent column. Steven Fielding, a professor of political history at Nottingham University and curator of A New Dawn , an exhibition about the British election at Manchester's People's History Museum in the north of England, says Blair found a "magic formula," blending social justice and aspiration. He told voters that "you can feel good about yourself, and support the right kind of policies, but you're going to benefit from it too."
More recent portrayals of Blair as an isolated metropolitan who didn't get "ordinary" Britons downplay the fact that in 1997 he won across the U.K. with this vision for the country. He took 418 parliamentary seats to the Conservatives' 165. He won not only in Scotland, in the north of England, and in Wales, then his party's heartlands, but in southern and middle English constituencies like Thanet South, Kent, full of faded seaside towns and rainy beaches and previously Conservative since its creation in 1983. He won the contented suburban commuterland of St Albans in the verdant outskirts of London, formerly a Conservative stronghold. He took Castle Point, Essex, another suburban area near the capital, a seat now safely back in Conservative hands but with sizable backing for the far-right UK Independence Party (UKIP).
So what changed? How is the Brexit Britain of 2017 different from the Blairite Britain of 1997? One answer is in its attitudes to immigration. In 1997, immigration was barely on the British political map. According to the pollster Ipsos Mori, in June of that year just 3 percent of British voters ranked "race relations/immigration/immigrants" among the top issues facing the country. By June 2016, the month of the EU referendum, that had soared to 48 percent naming "immigration" among their top concerns. Most commentators agree that opposition to mass immigration from mainland Europe played a big part in the Brexit vote. "All focus groups now start with immigration and tend to revert to it within two minutes unless you stop them," Leave campaign director Dominic Cummings wrote in a January blog about the campaign.
Nobody can agree on exactly when or why immigration began to inflame such strong passions in Britain. Some point to 2004 when eight former communist states from Eastern Europe, including Poland, Hungary and the Czech Republic joined the EU. Blair could have applied temporary controls on their citizens coming to Britain but chose not to, reasoning that the booming British economy needed a swift influx of eager workers. For others, there was no defining moment. And it's not as if Britons were always comfortable with immigration before. "Since the 1960s, academic surveys have shown that the British people have always backed restrictions on immigration," says Matthew Goodwin, senior visiting fellow at Chatham House, a London-based think tank.
But the issue wasn't as high in voters' minds in 1997 as, say, education, which 45 percent of respondents then named as a top concern. Blair made that a central plank of his campaign. He even agreed to appear on a 1997 episode of a Russian soap opera, on the condition that he could deliver his catchphrase "education, education, education" in Russian ("obrazovánije, obrazovánije, obrazovánije.") He also made sure to hammer home tough messages on crime, and build economic credibility, both similarly hot issues.
The growing importance of immigration, some argue, has changed the rules of British politics. Voters now, they say, want politicians who aren't afraid to stand up for what they consider "British values" against international pressure and the forces of change. Trevor Phillips, a broadcaster once influential on Blair's wing of the Labour Party and later a board member of the official pro-EU campaign, says the famous adage " it's the economy, stupid," followed in one way or another by most western leaders since it was coined by Bill Clinton aide James Carville in 1992, should be replaced by another: "It's identity, you idiot."
But Fielding, the political historian, thinks the economy still has a big part to play in Britain's changing political climate. "Things changed before Brexit, and obviously the international financial crisis and the austerity that has followed [under the Conservative-led governments since 2010], that definitely changed things," he says. "Labour won in '97 in a period of economic boom," Fielding adds, and the party promised that it could keep making things better. When it was no longer financially possible to spend money on fixing problems, particularly after the global financial crash in 2008, its core message was unsustainable. In Fielding's reading, Britain is now doing what it always has at times of national danger and economic uncertainty: It votes Conservative.
There's also the question of who Blair left behind to preserve his legacy. The exhausted state of Labour at the end of the 2000s is best summed up by the double entendre title of The End of the Party , a history of the government's last days by political journalist Andrew Rawnsley. Blair was succeeded first by Gordon Brown, for 10 years his finance minister, his most important partner and his bitterest political foe, then by Ed Miliband, a former Brown adviser. The latter especially, says Campbell, failed to stick up for Blair's economic legacy, allowing the Conservatives to cement in voters' minds the idea that "Labour caused the crash." A failure to nurture talent in the mid-levels of the party during Blair's tenure is part of the reason no inspiring candidate was available to fight Jeremy Corbyn, the party's current hard-left leader, who won the 2015 leadership contest with a landslide. Blair—and the opinion polls—predict disastrous results for Corbyn's Labour in the coming election.
However, before the financial crash, the government was unpopular; by 2007, Blair's approval rating sat at -43 percent. Campbell pinpoints two policies in particular that damaged the administration: the introduction of university tuition fees in 1998, which "felt at odds with what we were saying about what we wanted to do" and, "obviously Iraq was incredibly difficult."
Few would disagree with him on the latter: It is likely that the disastrous 2003 invasion, alongside George W. Bush's gungho America, will be the defining feature of Blair's entry in the history books. Some critics of Blair's New Labour argue that the communications—the spin and extreme message discipline—that Campbell brought to politics, especially in the lead-up to the war, fueled a distrust in politics and politicians among the British public. "I think it has to some extent," says Campbell, "but I think that's a very convenient argument for our opponents…to say that any problem with politics is to do with the fact that we did certain things and did them very well."
Blair himself is convinced that his voters are still out there. "The Labour Party that we put together was a Labour Party of people who were economically in favor of social justice, but…in favor of enterprise, were socially liberal, were internationalist in outlook, and that coalition; I still think it exists in British politics today," he told a Times podcast recently. He is campaigning for a second referendum on Brexit as part of a pitch to the moderate center ground. But Fielding is skeptical, give the sweeping change the Brexit vote has made to British politics. "Brexit has just driven a coach and horses through that kind of approach," he says. Though the country was fairly evenly split (52 percent voted to leave, versus 48 to remain), he says, "What we do know is that even those people who voted to Remain, there's a significant proportion that have just basically accepted [Brexit]."
And Campbell? He's happy to admit he has no idea. "[Ronald] Reagan had that quote where, you know, the loss of freedom is never more than a generation away, and I sort of feel that at the moment. It's not just about Brexit, it is about different visions for the world." The election of 2017 could prove every bit as much a milestone in British political history as 1997. Just as before, those on the losing side of the argument might have a long struggle back through the wilderness to power again—if they make it at all.