U.K. Government to Release Millions of Special Brexit Coins, Remainers Vow to Donate Them to Refugees
British Prime Minister Boris Johnson's government is facing a backlash over plans to release millions of 50 pence coins to commemorate Brexit, Britain's formal departure from the European Union, this Friday.
Bearing the inscription: "Peace, prosperity and friendship with all nations," three million 50p coins will be released to mark Britain's exit from the EU, with another 7 million expected to be released later in the year.
Announcing the planned release of the coins, which has already been pushed back twice due to Britain's delay in parting ways with the EU, finance minister Sajid Javid said the coins would mark the beginning of a "new chapter" in British history.
However, for many it marks a dark chapter in Britain's future, particularly among those who voted to Remain in the EU in the U.K.'s 2016 referendum.
Vowing never to use a single 50p Brexit coin, Prof. Jonathan Grant, the Vice President and Vice Principal (Service) at King's College London tweeted on Sunday that the coins would not be "legal tender in our household."
Instead, Grant said he planned to "collect and use" the coins for donations for refugee and migration charities.
"What really gets me is the provocation that minting this coin represents," Grant said, making reference to the fact that many in the U.K. were opposed to leaving the EU, with just over 48 percent voting to remain, while a slight majority, nearly 52 percent, wanted to leave. "So much for 'healing' the nation," Grant said.
Expanding on his opposition to the British government's efforts to commemorate the coin, Grant told Newsweek that he, personally, finds the coins "offensive as they are celebrating something I don't believe in nor can support."
"As a European household," Brexit, he said, is something that has been "forced" on his family and that is "damaging to our wellbeing."
"Freedom of movement is something that I strongly believe in," the professor said. "Supporting refugees therefore seems to me an appropriate cause...as refugees are migrants, albeit forced ones."
Noting that "almost 50% of Britons did not vote in favor of Brexit," Grant said that the "rhetoric about 'healing' and being 'one nation' can only be taken at face value when the supporters of Brexit stop baiting people like myself. I would love us to come together as a country, but minting a coin like this reignites my anger and disgust with pro-Brexit political elite."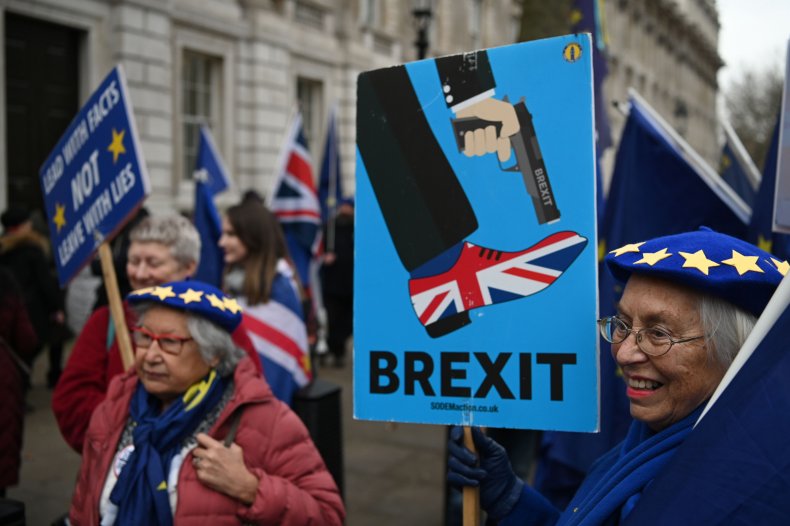 Grant was not alone in opting to support immigrants and refugees with the coins, with other social media users also backing the plan.
Natasha Walter, the director of Women for Refugee Women, an organization supporting refugee women in the U.K., said that she would donate every coin she finds to the organization in a bid to "build a world of greater solidarity and equality."
In a statement to Newsweek, Walter, said that "this is a time when the country, and the world, are very divided. At Women for Refugee Women we are trying to ensure that people remember what unites us."
"Every Monday over 100 refugee and asylum-seeking women come to have lunch together with us and we chat and learn and share together," she said.
"We think the world needs more communication and solidarity and we look forward to welcoming donations from those who feel similarly."
Phil Baty, Chief Knowledge Officer at British publication Times Higher Education, said he had asked his family to collect the 50p coins and donate them to the Council for At-Risk Academics, an organization that supports academics forced to flee their home countries due to fears of persecution.
Meanwhile, others supported the idea of donating the coins to organizations fighting racism in the U.K.
In a statement posted on Twitter, author Damon Young called for Britons to donate their 50p Brexit coins to the "I BELONG HERE" foundation, which seeks to provide a platform for marginalized communities and combat racism in the U.K.
If all three million of the 50p Brexit coins expected to be rolled out in the initial release were to be donated to charity, it would amount to 150 million pence, or £1,500,000, the equivalent of $1,962,450.
If all ten million of the commemorative coins were to be donated to charity, that would bring the total up to 500,000,000p or £5,000,000, the equivalent of $6,542,000.
This article was updated with a statement from King's College London Prof. Jonathan Grant and Women for Refugee Women Director Natasha Walter.