Brexit Deal 'May Be Done but Incomplete' as COVID Halts Talks
Brexit negotiations between Britain and the European Union are making "better progress" despite being thrown off track by a COVID-19 infection.
Negotiators on both sides stepped back from post-Brexit trade talks after a member of the EU team tested positive. Chief negotiator Michel Barnier for the EU and his U.K. counterpart David Frost agreed to halt debate for a "short period" but said their teams would continue discussions remotely.
The clock continues to count down to a December deadline with both sides still disagreeing on major areas of a trade agreement for when the U.K.'s Brexit transition period ends in January 2021.
Irish foreign minister Steven Coveney had warned of "problems" should a deal not be done within the week, and said that fishing rights could be the issue that sees Britain crashing out of the European Union without a deal in place. The British government wants to negotiate fishing quotas annually in the same way that Norway does but coastal EU states, including France and Ireland, have complained this would be unfair on their fishermen.
"There hasn't been any success in closing the gap between the positions of either side," he told RTÉ's Morning Ireland. "Until we can find a way of doing that, there isn't going to be an agreement. We're in the same place in fishing as we were in mid-summer."
Despite an agreement looking "very difficult", Coveney told a European Movement Ireland event that it was still "doable".
Kevin Featherstone, professor of European politics at the London School of Economics, believes a deal will be done in the next two weeks but the details won't be ironed out until next year.
He tells Newsweek: "The fundamentals haven't changed: the likelihood is that we're still on for a deal within the next two weeks but the 'deal' will be minimal and it will be incomplete. There'll be further negotiations in specific areas to be put off until 2021 – again probably hiding away the concessions being made, by both sides."
Featherstone describes the COVID infection as a "mishap" but says it does not change the points of divergence where concessions are needed. Instead, it has become more likely that concessions made on either side will be laid bare.
"It does impact on the story of the negotiations," he says. "It is easier for the U.K. to make concessions if it is seen to be locked into intense hard-bargaining in a closeted room.
"This would allow it to claim they had gone down to the wire and the deal had only been obtained by a supreme effort. The deal looks better if it has been wrung from the other side – it can mask the concessions."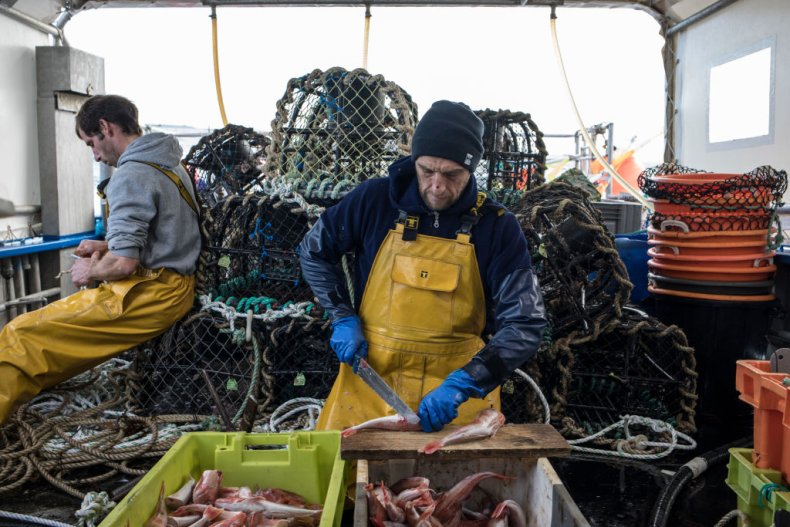 In one of the union's most positive assessments of the talks, EU Commission President Ursula von der Leyen said that despite the COVID setback: "We've seen in the last days, better progress, more movement on important files."
von der Leyen told reporters that "this is good." Previous statements from the EU have been far less upbeat, describing negotiations as dragging on with little progress despite the looming January 1 deadline.
Further discussions will take place by video over the next few days, von der Leyen said. The commission's most senior official, Ilze Juhansone, added that the majority of the key issues now had "joint legal texts with fewer and fewer outstanding points".