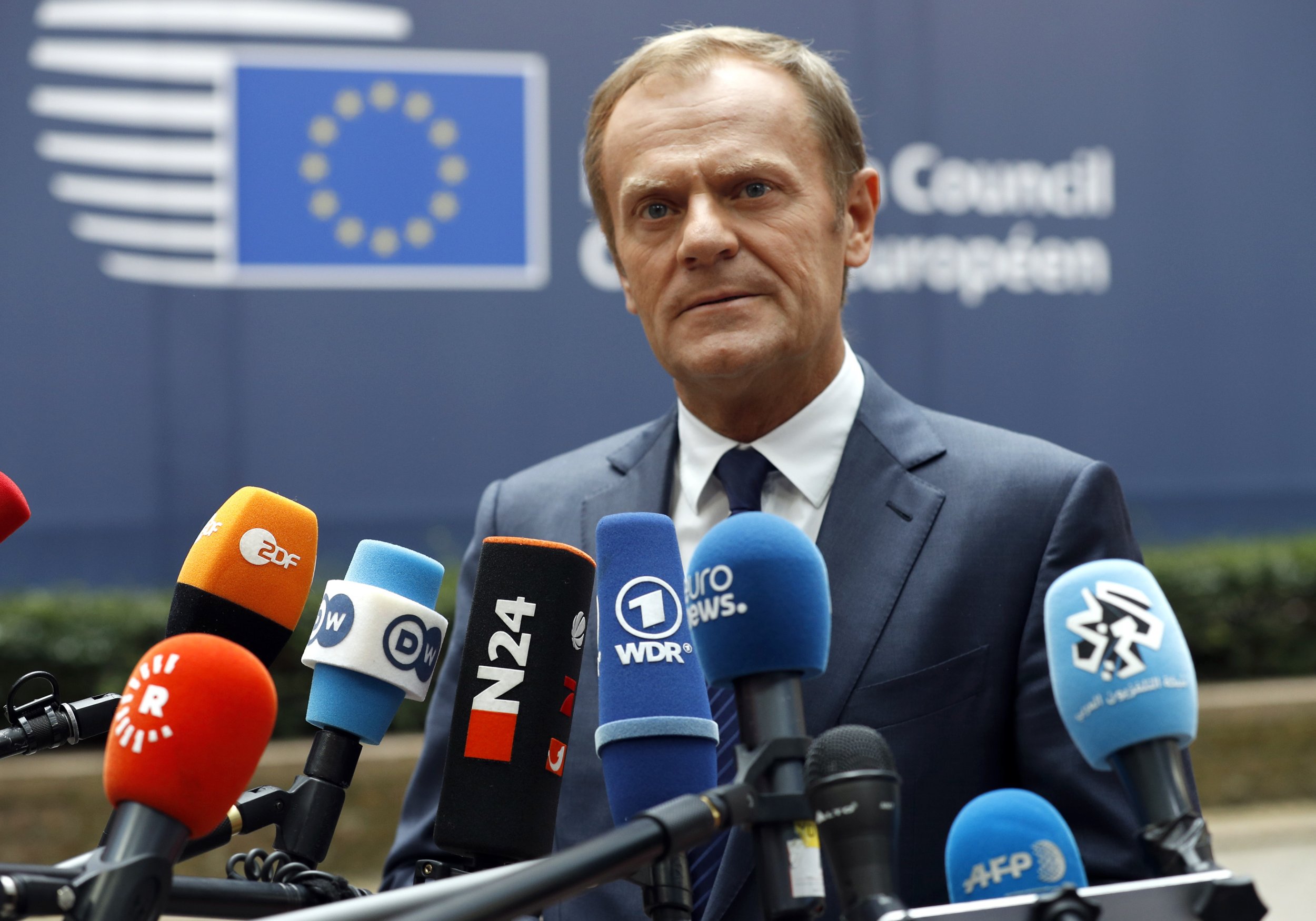 Donald Tusk, the president of the European council, has insisted the EU will not be "punitive" in its approach to "confrontational" Brexit talks, warning that "Brexit is punitive enough."
In a press conference in Brussels on Friday Tusk set out the bloc's negotiating guidelines for its talks on Britain's exit terms and future relationship after Brexit.
"The talks which are about to start will be difficult, complex and sometimes even confrontational. There is no way around it," Tusk said, "The EU27 [the remaining member states] does not and will not pursue a punitive approach. Brexit in itself is already punitive enough."
One of the first clashes in early negotiations was over the timing of talks: Britain wanted to discuss the terms of exit in parallel with a conversation on the shape of the future U.K.-EU economic and security relationship. Brussels has always said these two matters must be settled one after the other, exit terms first.
Friday's press conference revealed a compromise on the issue. The talks will take place in two phases, the first covering withdrawal and the second covering a future relationship.
The second can only begin once the parties have made "sufficient progress" on the first, said Tusk, but both phases can take place within the two-year period set for the negotiations.
The first phase, covering Britain's withdrawal, will focus on four issues, Tusk said: protecting the rights of EU citizens in the U.K. and British citizens on the continent; preventing a "legal vacuum" for businesses operating in the U.K.; settling the size of any "exit bill" Britain must pay to cover the financial commitments it has already agreed; and avoiding a "hard border" between Northern Ireland and the Republic of Ireland after Brexit.
The second phase will attempt to set out the framework for a free trade agreement that can then be signed at some point after Brexit.
A draft strategy document circulated to EU member states and leaked to Bloomberg stressed that this "cannot, however, amount to participation in the Single Market or parts thereof, as this would undermine its integrity and proper functioning."
The draft strategy document also suggests that the EU agrees a "transitional" period with the U.K. in which the conditions of a future relationship could be gradually phased in.
"After more than 40 years of being united, we owe it to each other to do everything we can to make this divorce as smooth as possible," Tusk said. Businesses and citizens on both sides of the new divide will hope he is successful.