What You Need to Know About Jean-Claude Juncker's Plan for Europe's Post-Brexit Future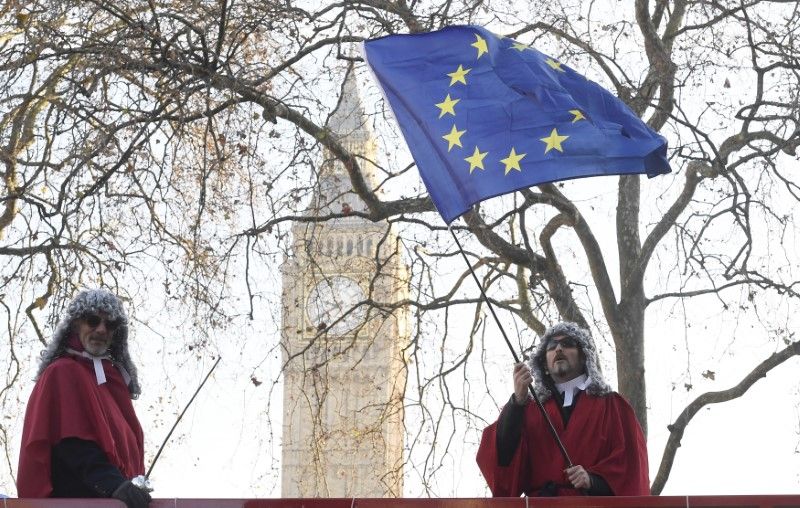 European Commission President Jean-Claude Juncker has hailed the "birth moment" of a new 27-member post-Brexit European Union, vowing that Brexit "will not stop the EU."
Speaking in the European parliament to launch a report on Europe's future direction, Juncker said: "It is time we sought answers to a question as old as our union is young: 'quo vadis Europa?' ['where are you going, Europe?']"
His white paper, released ahead of a March 25 summit in Rome, unveils five potential options for Europe's future direction. These range from a scenario demanding an extreme reduction of the EU's political power and reach, reducing the bloc to little more than its single market, through to a federalist scenario demanding deep, EU-wide political and economic integration, with more powers and resources for the Brussels institutions.
Here are five things you need to know about his plans for Europe's future.
There'll be lots of talking (and some listening)
What is the EU about if not lengthy, multi-stage discussions? This white paper is no exception. Juncker intends it to lay out a range of different potential future paths that Europe could take.
The idea is for the 27 EU members (all of them without Britain) to read the paper before the March 25 summit in Rome on the bloc's future. Different member states and the Brussels institutions will then engage in a public debate, before deciding which path to adopt later.
Juncker said he would not be recommending a preferred option in advance: "We prefer to listen before speaking," he said.
Tough times ahead
The report doesn't shy away from detailing the challenges facing the EU.
On economic power, it acknowledges that "Europe's place in the world is shrinking." It says security concerns are paramount in "an increasingly tense global context." And it references fears of the "return of isolationism."
In his speech, Juncker acknowledged the scale of Europe's task by citing some of the earliest inspiration for European federalism, Altiero Spinelli and Ernesto Rossi, who devised the first blueprint for a united Europe while imprisoned on the island of Ventotene in Italy during World War II.
Spinelli and Rossi, "dared to dream of a place where allies and adversaries would unite," Juncker said, suggesting the EU must follow their visionary example. "There is no better time than now, no other time than now, in order to have these difficult debates," he added.
Less Europe? Less of an option
The five scenarios laid out in the report are intended to move the debate about Europe's future beyond the simplistic question of "more or less Europe," Juncker said. But they do seek to answer questions about whether EU countries need to come closer together.
The scenarios cover a wide range of options and differing levels of integration. The scenario closest to the end of spectrum opposed to European federalism is number two: "Nothing but the single market." This would see the functioning of the union's free trade bloc become the " raison d'etre " of the EU, and swathes of European regulation cut back. Issues of political "common concern" would increasingly be managed bilaterally.
This is a Euroskeptic's vision of Europe, and has political appeal for some who dislike Brussels' "meddling." But the report makes clear that the commission does not recommend it. It warns this option could result in failure to agree trade deals, less technological innovation, and widely differing environmental standards across the bloc. Juncker said in his speech that he "rejects" such an option.
More Europe for all? Or a deeper union for some?
Two of the scenarios involve significant new integration among member states. These are scenario three: "those who want more, do more," and scenario five, "doing much more together."
Scenario five is the most radically pro-European option in the report, suggesting "cooperation between all member states goes further than ever before in all domains." All member states would agree to submit more power to Brussels representatives, so that Europe "speaks and acts as one in trade," completes a European Defense Union by 2025, and Euro area countries co-operate much more closely on fiscal policy.
Scenario three resembles what is sometimes called a "two-speed Europe." One or more smaller blocs of member states would form within the EU in order to work together much more closely on specific policy areas. For example, it might see the eurozone countries developing much more unified taxation and social policies than the other member states.
Getting priorities straight
Perhaps the most novel option is scenario four, the obliquely titled "doing less more efficiently." This would see the bloc agreeing to co-operate more closely in some areas, in exchange for much less co-operation in others.
That would mean the EU would need to decide which policy areas to prioritize over others. It might start doing a lot more to manage its borders and the impacts of migration, and much less to improve public health as a bloc, for example.
But while this scenario asks the clearest questions of the EU's priorities, the report in general requires Brussels and the member states to come together and agree what the EU should be for, and how it should get to its goals.
Agreement could mean a stronger, more coherent EU, with better public backing. But failure to agree could leave the bloc looking confused and divided as it hurtles toward the Brexit negotiations.