'Why Are You Here?' Farage and Juncker Clash in European Parliament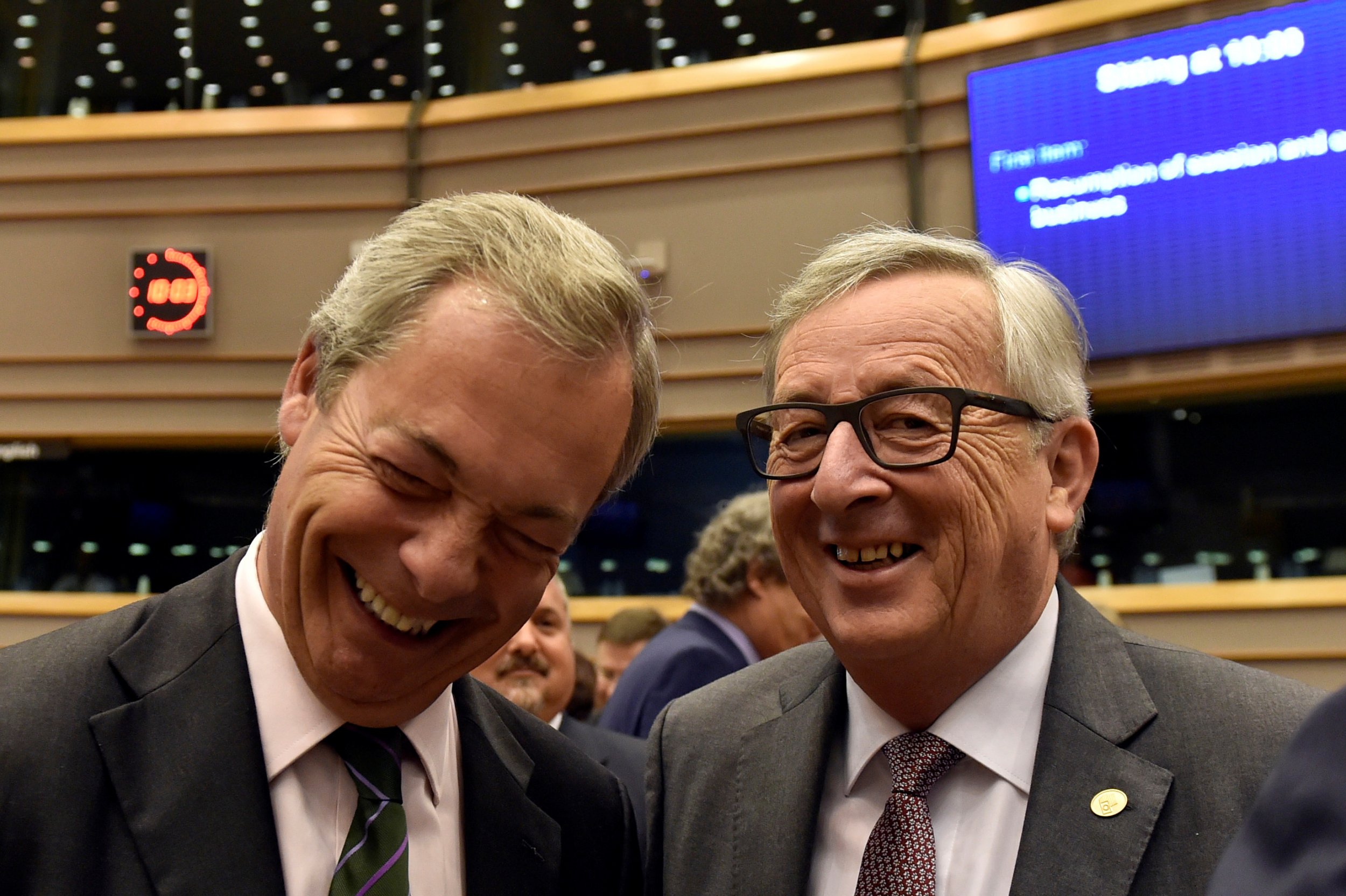 U.K. Independence Party (UKIP) leader Nigel Farage clashed with MEPs and Jean-Claude Juncker in riotous exchanges on Tuesday as the European Parliament met for the first time after the U.K. voted for Brexit.
Speaking in the parliament, Farage, who also serves as president of the Europe of Freedom and Direct Democracy (EFDD) group of parties, bellowed an address amid gales of booing from his fellow MEPs.
"When I came here 17 years ago and said I wanted to lead a campaign to get Britain to leave the European Union, you all laughed at me," he said, continuing, "Well I have to say, you're not laughing now!"
"You're in denial that your currency is failing…As a policy to impose poverty on Greece and the Mediterranean you've done very well," he said. "The main reason the United Kingdom voted the way that it did is, you have, by stealth, by deception, without ever telling the truth to the people of Britain and the rest of Europe, you've imposed on them a political union.
"I'll make one prediction this morning: the United Kingdom will not be the last member state to leave the European Union," he said.
But European Commission president Jean-Claude Juncker, in a furious address, hammered Farage and stressed the importance, as he sees it, of beginning Britain's formal exit as soon as possible.
"To some extent I'm really surprised that you are here," he said to Farage and UKIP. "You were fighting in favor of the exit; the British people voted in favour of the exit. Why are you here?"
Farage had "fabricated reality" during the campaign, Juncker said.
He also said there had to be "consequences" of Britain's decision to leave. "I would call on the government of the United Kingdom," he said, "To clarify the situation as soon as possible. We cannot be embroiled in lasting uncertainty."
"I wouldn't like the idea to become common currency that there could be some kind of secret negotiations behind closed doors," he added, saying, "I have placed a presidential ban, and I don't like to do that, on commissioners engaging in discussion with the British government."
And he insisted the European project would continue despite this trauma: "The British member state has cut off one of our wings, as it were, but we're still flying."