Brexit Fears Are Driving Migrants To Make Dangerous Journeys To Britain Before Its Borders 'Close'
Smugglers are exploiting Brexit fears to push migrants and asylum seekers to pay thousands of dollars in order to reach Britain before its border "close," the union representing Border Force officers has warned.
In an interview with Newsweek, Lucy Moreton, the spokesperson and former general secretary of the Immigration Service Union, described how Britain had seen a sweeping surge in the number of migrants and asylum seekers arriving on British shores on small boats.
In 2019 alone, Moreton, immigration officials encountered more than 1,000 people who had arrived to Britain by making the journey across the English Channel, which separates Southern England from northern France.
In a recent article, The Guardian reported that number to be closer to 2,000, with more than 1,800 people, including many children reported to have crossed the Channel since December 2018, when then-Home Secretary Sajid Javid declared the growing boat arrivals a "major incident."
Previously, Moreton said, there had "always been a minor level of small boat crossings," on the Channel, with only a few hundred crossings made in 2018. But, in early 2019, the numbers "escalated massively" and have only continued to increase since then.
Immigration officials in Britain have warned against making the crossing, as it is not only an "illegal" way to arrive in the UK, but it can also be extremely dangerous and in some cases, even deadly, Moreton said.
In the past year, she said, "there have been at least four recorded fatalities." But, as she noted, "we won't know all of them," since it is impossible to know exactly how many people might have drowned while making the dangerous crossing.
What immigration officials do know is that smugglers have been working to send out the message to migrants and asylum seekers that Britain's borders are bound to "close" once the country parts ways with the European Union.
"That's one of the things that the criminals involved in this are telling people in order to encourage them to pay the money to make this type of crossing," Moreton said. "They're being told, after Brexit, Britain will somehow close."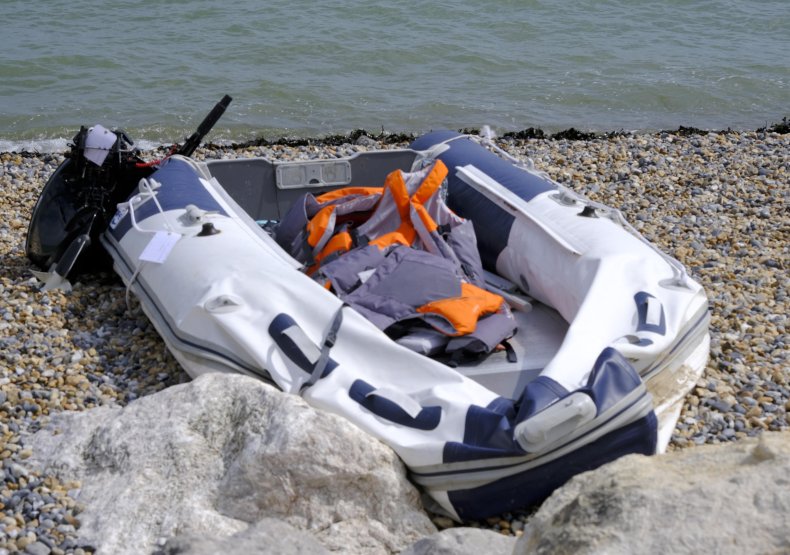 The union representative said border officials had noticed a clear trend during interviews with recently-arrived asylum seekers and migrants, who said smugglers had warned them that the window of opportunity to cross into Britain would close after Brexit.
While Moreton acknowledged that under Prime Minister Boris Johnson's new government, Britain could be set to see more stringent immigration rules put into place, she said the argument that its borders will "close" is simply "not true."
Further, she said, irregular crossings through the English Channel already stand in violation of British immigration laws and are "not going to be more illegal after Brexit."
Still, smugglers' fearmongering appears to have been effective, with migrants and asylum seekers paying anywhere from £6,000 ($7,905) to £10,000 ($13,175) to travel in a small boat across the Channel and to the U.K.
With steep prices to pay, Moreton said it was not uncommon for migrants and asylum seekers to accept loans from smugglers only to effectively be forced into human slavery once they arrive in Britain.
As a result, once the indebted migrants and asylum seekers arrive in Britain, she said, they "vanish into sex work and other areas," including construction and carwashing, where they are enslaved "in plain sight."
Newsweek has contacted the British government and the office of former home secretary MP Sajid Javid for comment for this article.