Brexit: The Movie Is A Libertarian's Wet Dream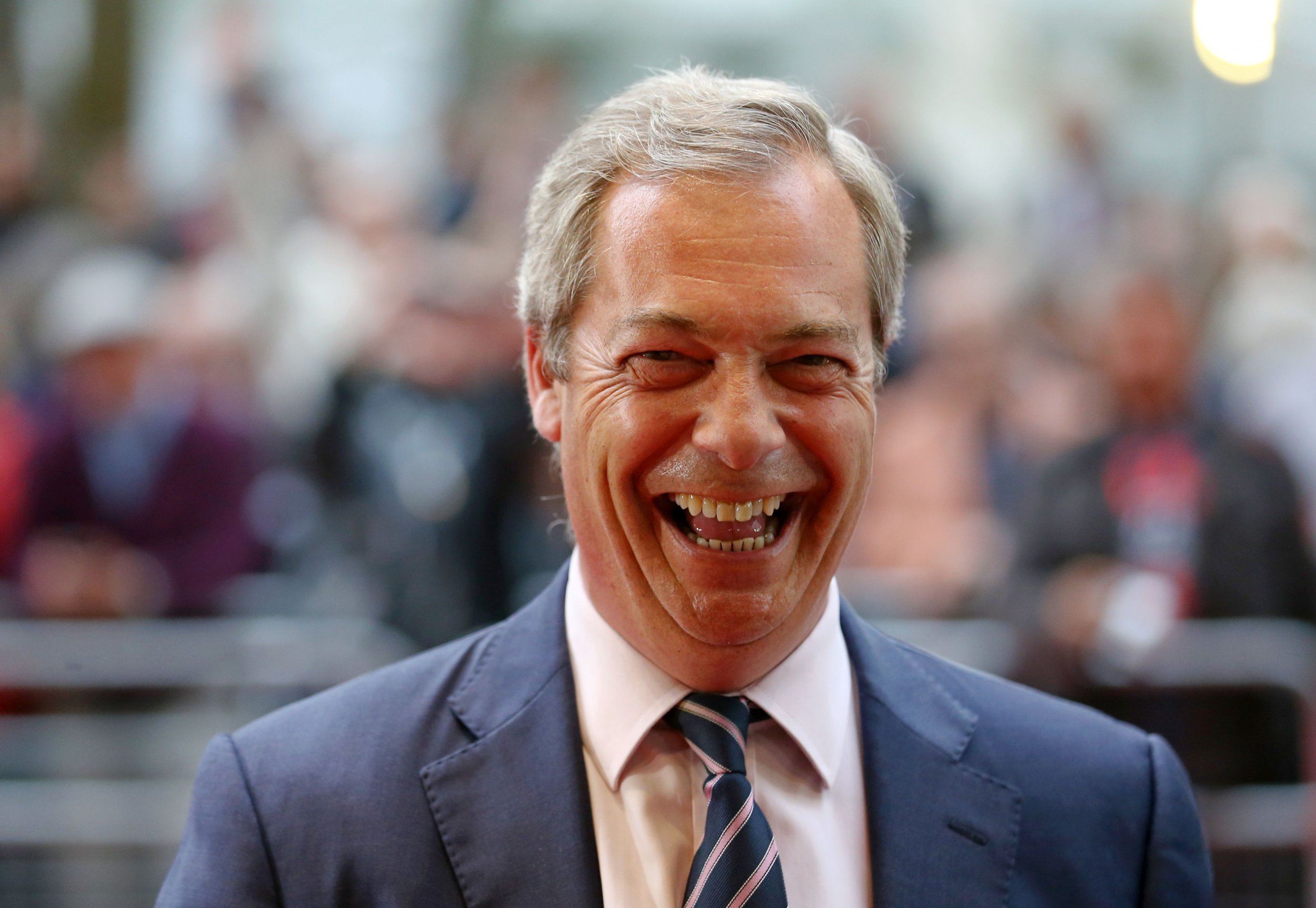 There's not much that unites everyone in Britain's fractious "Brexit" campaigns, but if there's one point they all agree on, it's the claim to be "anti-establishment." From Eton-educated former London Mayor Boris Johnson to sometime City trader and Member of the European Parliament (MEP) Nigel Farage, "Leave" campaigners like to portray themselves as revolting against a shadowy elite.
So Newsweek experienced a little cognitive dissonance at the Wednesday night premiere of pro-Leave documentary Brexit: The Movie at the Odeon cinema in London's Leicester Square. The venue recently hosted Ben Affleck for the first U.K. outing of Batman V Superman, and the Brexiters were determined to have their own red carpet experience. The champagne poured forth both before and after (when the crowd gossiped to pumping trance music at the "glamorous and decadent" W Hotel bar nearby). The guest list included Margaret Thatcher's former Chancellor of the Exchequer Nigel Lawson and ex- Daily Telegraph editor Charles Moore. An aide even told shy Tory MEP Daniel Hannan, who entered through a side door, to go out and come back in properly for the benefit of the waiting paparazzi.
But as the film began, the swanky setting made more sense. Forget the referendum campaign rhetoric about preserving British culture and controlling our borders. Brexit: The Movie, which tells the story of the U.K.'s relationship with Brussels through archive footage, dramatic reconstructions, and interviews with a "who's who" of British Euroskeptics, is ostensibly about democracy but has another more pressing concern: the glittering possibilities of unfettered free trade. It is a paean to high aspirations, low tariffs and even lower taxes. It is a libertarian's wet dream of Randian proportions.
As presenter and filmmaker Martin Durkin travels around Brussels ( Newsweek admits to laughing when he gets into a taxi at the Eurostar terminal and asks "The EU, sil-vous-plait"). He and a series of talking heads then tell us how the once-great British spirit of enterprise is being strangled by rules and regulations. "The EU," the film says, "has slid from free trade into crony capitalism and protectionism." The film reserves particular ire for moves to save national industries from global competition—we see a "French farmer" sporting a comedy beret and a string of onions doing a backroom deal with a Eurocrat. Newsweek doesn't remember Brexiters being so averse to government intervention during the U.K.'s recent steel crisis, when the Leave.EU campaign complained that "EU state aid rules do not allow public support for the rescue and restructuring of companies in difficulty in the steel sector."
Britain, meanwhile, was apparently at her best in the 19th century, when it became "the pioneer of global free trade." The 20th century, with its wars and its workers' rights, put paid to that. Stagnant, nationalized 70s Britain joined the EU, the film argues, because it wanted a bit of post-war Germany's economic miracle, but instead was shackled with meddling regulations by the pesky French. A sequence that shows Durkin getting up on a typical day details the number of rules now governing each household object, painting a portrait of "EU man" stymied by red tape. Showers have 91 rules attached to them, apparently ("we've all seen psycho: murdering girls like that is now strictly prohibited").
In some ways this isn't surprising. The likes of UKIP MEP Douglas Carswell (who features in the film) and Vote Leave campaign director Dominic Cummings have often argued for a classical liberal Brexit vision. Farage is said to hold similar views privately. But the UKIP leader long ago grasped that voters who don't obsess over trade regulations need other issues to latch on to. He's always preferred immigration, the likes of Boris Johnson and Michael Gove more often go for the notion of "sovereignty." (When Newsweek put this to Farage after the film, he dismissed the criticism: "There are lots of different arguments about this," he said, "That Brexit movie is designed very much at the 5.2 million men and women running small businesses").
But Brexit: The Movie is perhaps best understood as Britain's Euroskeptic community talking to itself. It certainly excited the faithful, who whooped through much of Wednesday's showing, except the bit of archive footage showing former Prime Minister Ted Heath taking the country into the then-EEC, when they shouted "Judas!" And for that, it's worth seeing. As Newsweek watched Tories, Ukippers and the odd maverick Labourite hobnobbing under the afterparty's neon lights, the impression was of a new establishment waiting to take on the mantle after June 23. After Brexit, our new overlords might be obsessed with tearing up rules while the old lot love to make them. But in many ways, they don't look so different. As they might put it in Brussels: plus ça change.