Brexit: NHS Would 'Collapse' If EU Workers Left, Report Warns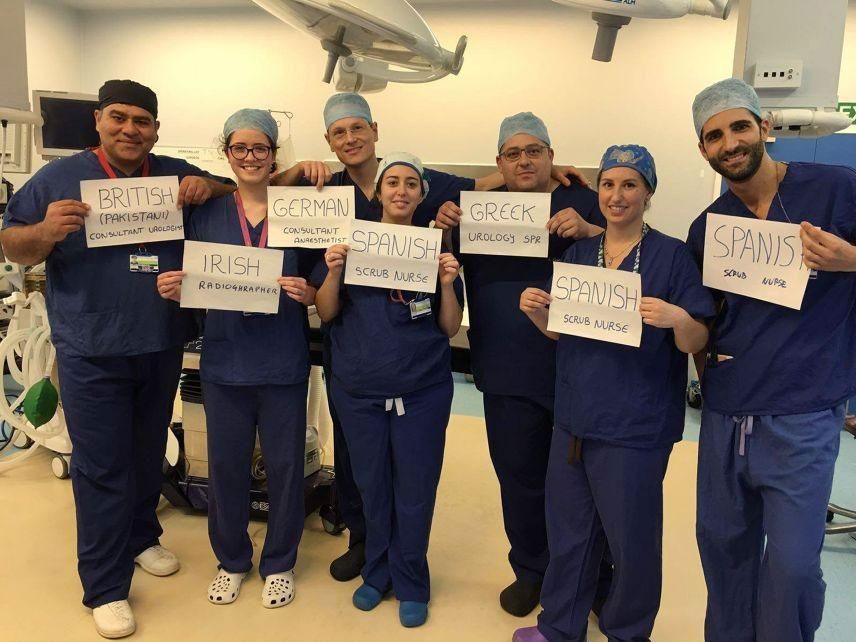 The U.K.'s National Health Service (NHS) would collapse without its 57,000 employees from the European Union, according to a report published Thursday.
The report by the Institute of Public Policy Research (IPPR) coincided with the first release of official migration statistics since Brexit, revealing a 14 percent rise in the number of EU nationals applying for British citizenship over the past year.
The think-tank has urged the U.K. government to prevent EU nationals—who account for 5 percent of the NHS workforce—from leaving the country after Brexit by granting them all automatic British citizenship.
"The 14 percent rise in applications for [British] citizenship this morning is a sign that people are feeling uncertain. People rightly think about the uncertainties before they sign contracts, put their children in school, make investments and take on extra employees," said IPPR research fellow Chris Murray, who put together the report, in a statement Thursday.
"It is critical to public health that these workers do not seek jobs elsewhere. All EU nationals who work for the NHS, or as locums in the NHS system, should be eligible to apply for British citizenship. This offer should be organized by the regional NHS and mental health trusts, who would be responsible for writing to all NHS staff who are EU nationals to inform them of their eligibility," he added.
The report makes a number of recommendations, including waiving the £1,200 ($1,584) citizenship fee for NHS workers and instead offering a "particularly generous citizenship offer" to persuade them to remain in the U.K. It also suggests that EU nationals who have lived in the U.K. for more than six years, and children of EU nationals who have been educated here, should also be granted indefinite leave to remain in the U.K.
At present, one in ten of the U.K.'s registered doctors come from the EU, with the NHS becoming increasingly reliant on immigrants each year. As of February this year, 57,063 of the NHS's 1.2 million staff members were EU citizens, a steady increase from 33,420 in 2012 and 41,566 in 2014.
"Britain can ill afford to lose the talents of many EU migrants who have made Britain their home," added Murray. "EU migrants who are already here should get indefinite leave to remain. In particular, EU NHS workers should get the automatic right to citizenship. If they left, it would be a crisis for the NHS."
On Sunday, the results of a poll conducted for the think-tank British Future revealed that more than eight in ten Britons believe EU nationals already living in U.K. should be allowed to remain in the country after Brexit.
A number of politicians, including Diane Abbott, the Labour MP for Hackney North in London and the shadow secretary of state for health, agree that the NHS is heavily reliant on workers from the EU.