Brexit Party Leader Nigel Farage Calls Boris Johnson's Suspension of U.K. Parliament 'The Worst Political Decision Ever'
Leader of the Brexit Party Nigel Farage has called U.K. Prime Minister Boris Johnson's suspension of parliament, ruled unlawful by the country's Supreme Court, "the worst political decision ever."
"The calling of a Queen's Speech and prorogation is the worst political decision ever," Farage, an architect of Brexit and an ally of President Donald Trump, tweeted.
Farage said that Dominic Cummings, Johnson's chief of staff at Number 10 and the man believed to have masterminded the prorogation plan, "must go."
When asked if Farage had any further comment, a Brexit Party spokesman referred Newsweek back to the tweet.
Johnson prorogued the British parliament, shutting it down for five weeks in order to wind down the clock as the Brexit deadline of October 31 approaches. The chart below, from Statista, shows the public opinion regarding prorouging: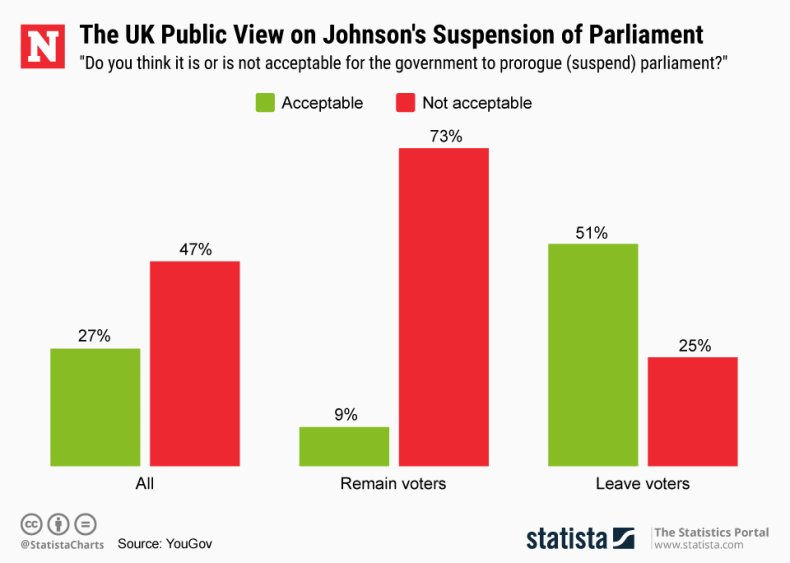 The Conservative prime minister says he is trying to negotiate a new Brexit deal with the European Union, but will leave without one on Halloween if there is no agreement before then.
Parliament has voted against a no-deal Brexit and also against Johnson's attempt to call an early election. Prorogation was Johnson's bid to overcome this opposition.
But legal challenges to prorogation in England and Scotland produced differing judgments, leaving the final decision to be made by the Supreme Court.
All eleven Supreme Court justices were unanimous in their view that the government has overreached its power by lengthily proroguing parliament, and ruled it to be unlawful.
Now, parliamentarians are rushing back to Westminster to carry on with the business of scrutinizing the government over Brexit as the deadline looms ever closer.
Lady Hale, president of the Supreme Court, described the prorogation in her summary as a "suspension of parliamentary democracy."
"No justification for taking action with such an extreme effect has been put before the court," Hale said.
"The court is bound to conclude, therefore, that the decision to advise Her Majesty [Elizabeth II] to prorogue parliament was unlawful because it had the effect of frustrating or preventing the ability of parliament to carry out its constitutional functions without reasonable justification."
Jeremy Corbyn, leader of the opposition Labour Party, called for parliament to be reopened immediately and said Johnson should consider his position.
Johnson is currently in New York for the United Nations General Assembly.
"Obviously this is a verdict we will respect, we will respect the judicial process," Johnson said, BBC News reported.
"I don't think that it's right, but we will go ahead and of course parliament will come back...The important thing is we get on and deliver Brexit on October 31."
He said previously he would not go to Brussels, Belgium, to seek another extension to the Brexit deadline from the EU.
It is also not clear that Brussels would agree to one.
Johnson lost his party's slim majority in the House of Commons after expelling 21 of his M.P.s for voting against his government on Brexit.
Upon returning to the U.K., Johnson will likely face a vote of no confidence in the House of Commons, which could bring down his government.
A possible election pact between the Conservatives and the Brexit Party has been touted by figures from each.
Farage said he could do a deal with Johnson not to stand in the same seats as the Conservatives if the party and its candidates commit in a manifesto to no-deal Brexit.
But Johnson has ruled out any electoral pact with the Brexit Party.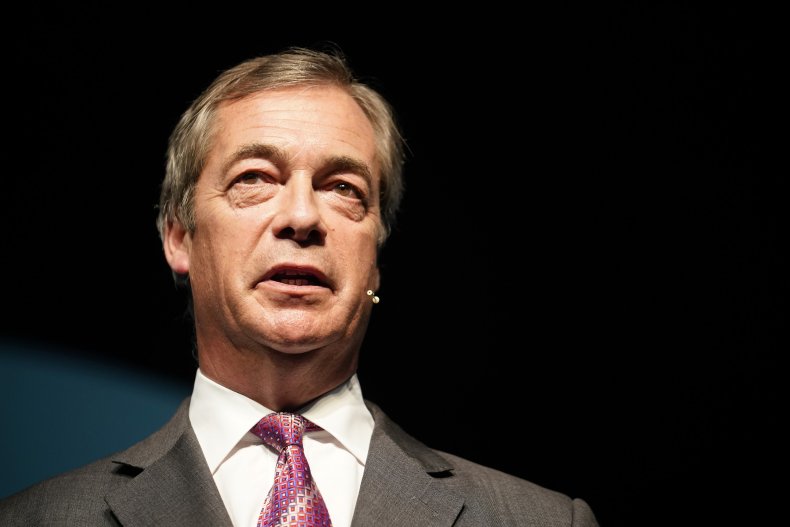 This article was updated with a comment by Boris Johnson.