Obama Turns Hawk As He Intervenes In U.K. Brexit Battle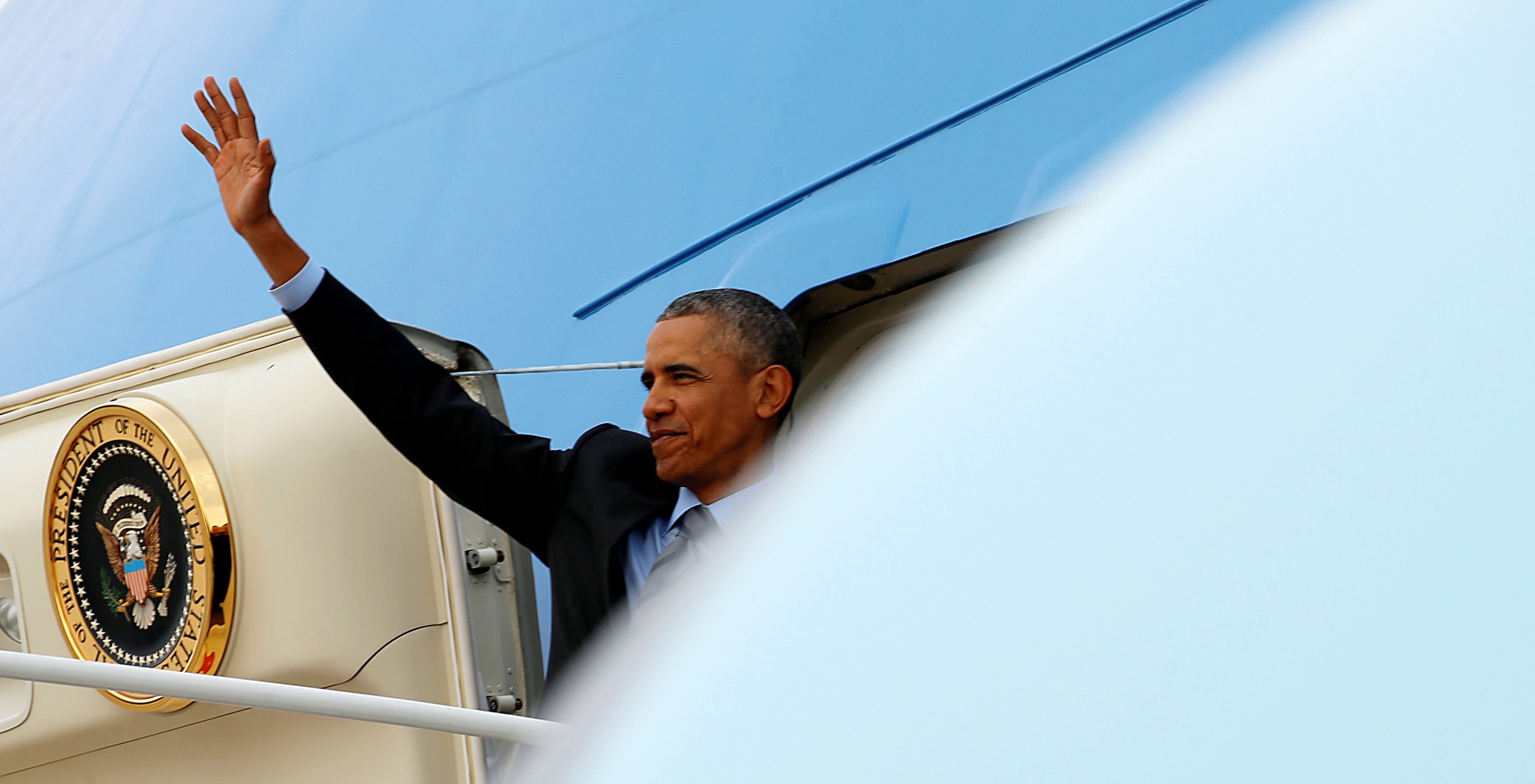 US President Barack Obama has earned a dovish reputation during his time in office—he's less keen than some of his predecessors on intervening in foreign wars. But tonight he'll touch down into Britain's bloody Brexit battlefield for a tactical strike that Prime Minister David Cameron hopes could turn the conflict in his favour.
Landing on Thursday night, Obama and his wife Michelle will wish Queen Elizabeth II a happy birthday over lunch on Friday, but their main engagement that day is expected to be the President's long-awaited intervention in favour of the U.K. voting to remain in the European Union on its June 23 referendum.
The Obama administration's view on the referendum is well known; it is concerned about the economic hit it thinks a Brexit would inflict on the U.K. economy and the potential wave of EU instability it could unleash. Obama told the BBC last summer that "having the United Kingdom in the European Union gives us much greater confidence about the strength of the transatlantic union."
The American economic establishment is dead set against it, too: eight former leaders of the US treasury this week published a letter in the Times of London which highlighted Britain's role as "the gateway to Europe."
But a personal, direct contribution from the President himself could still inject a burst of energy into the embattled Remain campaign. Obama is exceptionally popular in Britain; one YouGov poll in 2014 found that the president had a 49 percent approval rating (colossal compared to Cameron's, -12 at the time). More pertinently for this debate, some 59 percent described him as "wise" and 67 percent said he is "very well-informed about the world."
As such, the visit has not been without controversy. As soon as rumours of the anti-Brexit air strike began to circulate, Leave campaigners cried foul. Conservative MP Jacob Rees-Mogg has written that it is "wonderfully arrogant and presumptuous of a foreign leader to think that he can lay down the law for the United Kingdom." More recently Boris Johnson, the Mayor of London and one of the highest-profile advocates for a Brexit vote, accused Obama of "hypocrisy," saying Americans "wouldn't dream of sharing [their] sovereignty" as Britain does with Europe." Johnson, who hopes to be prime minister when David Cameron steps down, may come to regret speaking so strongly.
Perhaps sensitive to these concerns, Obama may not make a barnstorming speech, but will likely introduce his opinion in response to questioning. As the president's Deputy National Security Adviser Ben Rhodes put it in a briefing to reporters: "he'll make very clear that this is a matter that the British people themselves will decide," but "we have no closer friend in the world, and if we are asked our view as a friend, we will offer it."
But ultimately, the Brexiters misjudge the British mood when they seek to sully Obama's image (Nigel Farage said it was "merciful" that Obama "won't be in office for much longer." ) William Hague, Britain's former foreign secretary and a soft Euroskeptic who nonetheless supports British membership, had a reasonable take in a Telegraph column this week: "it would be a bit rich for us, opining as we do on every aspect of America's relations with other states, to turn all precious and sensitive when American leaders comment on ours."