What Is Driving Britain's 'Post-Ref Racism?'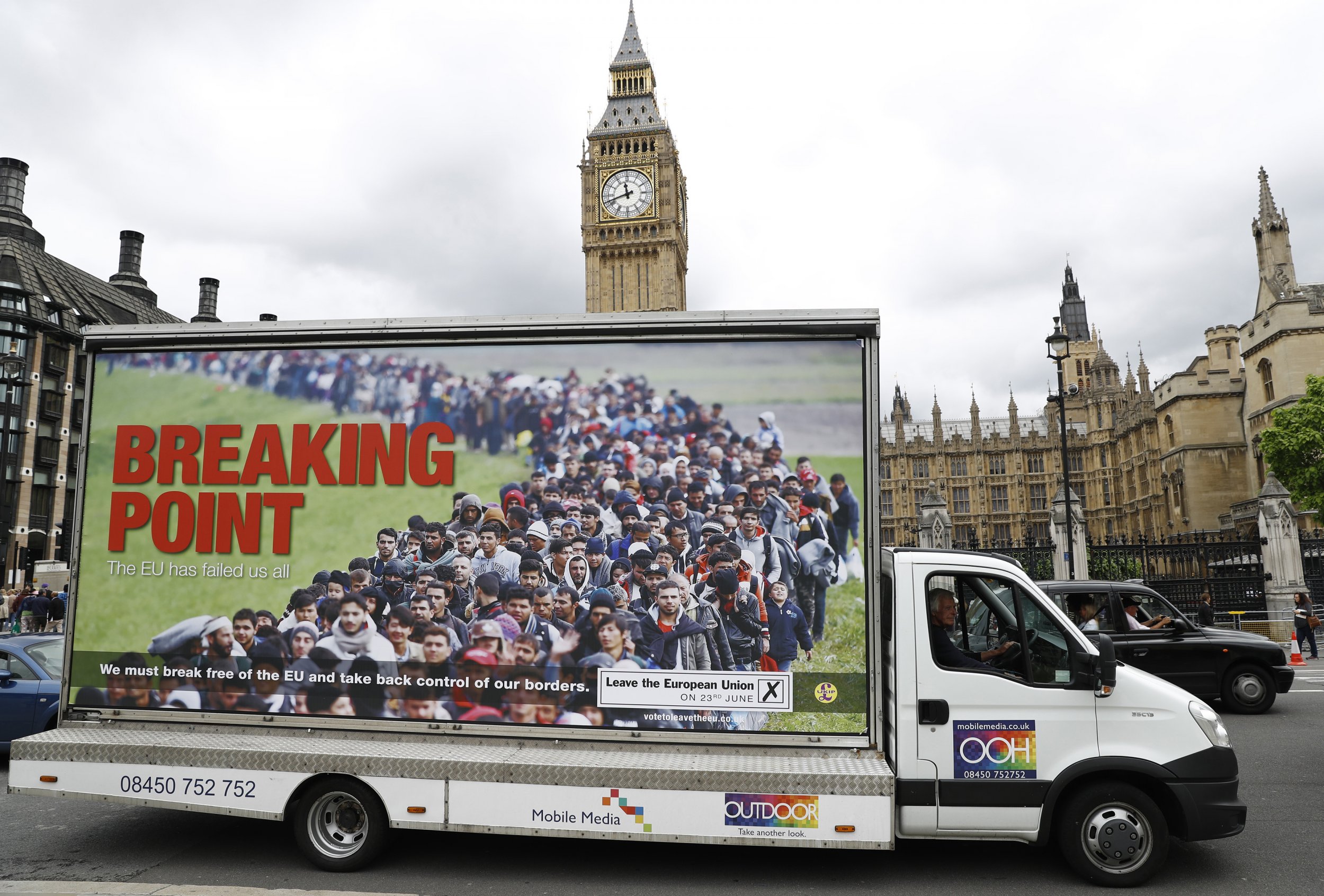 Lauren Stonebanks, an artist and mental health campaigner of mixed race, was born in Edinburgh. But getting off a bus in the city on Monday, an old woman shouted at her: "Get your passport, you're fucking going home." "I was born here," she tells Newsweek. "I have nowhere else to go. My dad was born here. But I don't feel safe going out at the moment. It could be anyone, you don't know who might throw abuse at you."
Sadly, Stonebanks' story is not unique. Since Britain's Brexit vote, outpourings from people who have experienced or witnessed xenophobic or racist hate crimes have streamed across social media newsfeeds, many of them using the hashtag #PostRefRacism.
Official sources differ on whether reporting of hate crimes has spiked following the referendum. West Midlands Police and London's Metropolitan Police both tell Newsweek there is no evidence of a rise. But Home Office Minister Karen Bradley on Wednesday quoted in Parliament figures released by the National Police Chiefs Council, showing a 57 percent rise in reports using the "True Vision" online service—not hard evidence, she said, but a "small snapshot."
"There is no denying that these incidents are related to Brexit... there is more hate crime going on, and it's nastier," Rose Simkins, the chief executive of charity StopHateUK, tells Newsweek.
Certainly, hate crime is nothing new in Britain, and it has been sharply on the rise, even before the referendum. A report released Wednesday by Tell Mama, a group that logs instances of anti-Muslim violence and abuse, noted a 326 percent rise in Islamophobic incidents in 2015.
Karissa Singh, who started the "PostRefRacism" Twitter account to share reports of attacks, says: "I have been very concerned with the media portrayal of this surge as painting racism as a new problem created by Brexit. Racism has been normalized in our society for a long time and this referendum is accelerating that process."
But Stonebanks tells Newsweek that, while she has experienced racism all her life, she now notices a marked shift in the type of abusive comments she receives. "I'm used to the random nasty comments," she says, but "since Brexit the tone has changed. It's no longer 'Effing Paki.' It is now 'Go Home,' which used to happen in the 80s and it's happening again. As UKIP started becoming more prominent and Nigel Farage started getting more attention in the media, incidents I experienced started to increase again. Throwaway slurs have been replaced by real anger. People are really saying that foreigners don't belong here anymore and they should be thrown out."
One 26-year-old British Bengali man who spoke to Newsweek received similar comments in East London—the first such incident he has experienced in the city where he has lived all his life. "Why are they still here?" he heard a passerby remark. "We voted 'Leave.'" "It's scary," he says, "because you think: 'Where have I been living all this time?'" Such disturbing calls for expulsion of non-white British people match the sentiment of cards distributed in a Cambridgeshire town at the weekend, reading "Leave the EU, no more Polish vermin."
Immigration was consistently high on the agenda during the referendum campaign, with controls on the freedom of movement for EU citizens implicitly or explicitly promised by different Leave campaigners. But the main Leave campaigns always expressly ruled out repatriations of EU citizens who already live in Britain, and abuse targeting British people who happen to be of a non-white ethnicity goes far beyond issues relating explicitly to the EU.
One section of society that has, however, been quick to promote the idea of expelling non-white citizens is the far-right. Images circulated at the weekend of protesters from hard-right group the National Front in Newcastle with banners reading "Stop immigration, start repatriation." "It is evident from the videos of hate incidents which have emerged over recent days that people now feel emboldened to decide who has the 'right' to live and work in Britain," Stevie-Jade Hardy, from the Centre for Hate Studies at the University of Leicester, says via email.
For Joanna Mludzinska, chair of the Polish Social and Cultural Association in Hammersmith, London, a small, racist fringe has become emboldened. Her staff arrived at work early on Sunday morning to find graffiti reading "F*** off out" scrawled across their door—an unprecedented incident. They cleaned it off and since, says Mludzinska, they have been so overwhelmed with flowers and cards that their receptionist is barely visible at her desk. But, she says, recent events "seem to have somehow released this feeling that people who may have had these thoughts now somehow feel it's legitimate to voice them."
That's also the view of Nick Lowles, chief executive of the charity Hope Not Hate, who writes for Newsweek in an op-ed that "such bullies seem to have felt energized by the immigrant scaremongering that was voiced by elements of the Leave campaign during the referendum debate. They saw the result as a green light to act out their prejudices and foist their hatred on others." But both Lowles and Mludzinska emphasize the tolerant, good-hearted views of the majority of the British public. "The Britain that I know and love is not racist. The Britain that I love is not full of hate. Of course we have racists and haters, but they are and always have been a tiny minority in our society," Lowles writes.
So how to tackle the post-ref racism? The government says it is redoubling efforts to crack down on such crimes, and charities and pressure groups are working hard to gather and highlight as many reports as they can. But for the British Bengali man who was asked why he was "still here," it is for the tolerant majority of white British people to stand up and fight this. "White people who are against racism… should actually do a major protest or march or something," he says. "White British people are being represented badly to the whole world by these people."