BBC Guest Says People Should Riot Over Brexit Delays: 'Why Have the British People Been so Patient?'
A guest on a BBC News politics show said British people should be rioting over delays to Brexit.
Brendan O'Neill, an outspoken columnist who supports Brexit, made the incendiary comments on the BBC's Politics Live show on Friday.
One of England's former top prosecutors said police should now speak to O'Neill over his comments. There is legislation against inciting criminal activity, including violence and public disorder.
Brexit has been twice delayed after M.P.s repeatedly rejected a deal negotiated by the British government and the European Union.
Now, the current government, led by Conservative Prime Minister Boris Johnson, is pledging that Britain will leave the EU with or without a deal on October 31, the latest deadline.
O'Neill, a former communist who has a newfound popularity among right-wing audiences, said British voters were told frequently that the Brexit referendum result would be delivered.
He asked what British people must think about "these so-called experts, and these lawyers, and these judges, and these parliamentarians" delaying or disrupting Brexit.
"They must just be watching this and thinking what's happened to democracy in this country?" he said, adding that he is "amazed that there haven't been riots yet."
When asked by the host if he thought there would be riots, O'Neill replied: "I think there should be."
His fellow panelists were shocked by the suggestion that people should riot.
O'Neill said he looks at the Gilets Jaunes in France, also known as the Yellow Vests, who have protested against the Macron government—sometimes violently—and "what I continually think is why have the British people been so patient?"
"I'm not talking about smashing up shops," O'Neill said, noting that the Suffragettes took "physical action" in their campaign for the women's vote.
"There is a fine tradition in this country of radical protest...when people's voices have been ignored. I think we have reached that level now."
Nazir Afzal, a former chief prosecutor in the northwest of England, said there is no defense for O'Neill's comments.
"Apart from being indefensible, it is criminal to encourage public disorder and he has crossed the line here & on national television," Afzal tweeted.
"There is no excuse, nor defence. Police SHOULD want to have a word with him."
David Lammy, the opposition Labour Party's Member of Parliament for Tottenham, which was hard-hit by London's riots in 2011, also attacked O'Neill's comments.
"Right wing commentator Brendan O'Neill calling for riots over Brexit is the height of irresponsibility," Lammy tweeted.
"Lost lives, broken families, burnt out homes, looted shops and damaged businesses are not some cheap talking point."
When asked for comment, a BBC spokesperson directed Newsweek to tweets by Rob Burley, its head of live political programming.
"On Brendan O'Neill: on live television people say unpredictable things. O'Neill's assertion that there 'should' be riots if Brexit delayed was immediately picked up on and pushed back by Adam Fleming as well as other guests. O'Neill then appeared to backtrack on his comments," Burley wrote.
"It is for Mr O'Neill to defend his position but given we can't know what he was going to say in advance, all we can do is push back on air and allow other guests to challenge and that's exactly what Adam Fleming did."
O'Neill did not respond immediately to Newsweek's request for comment.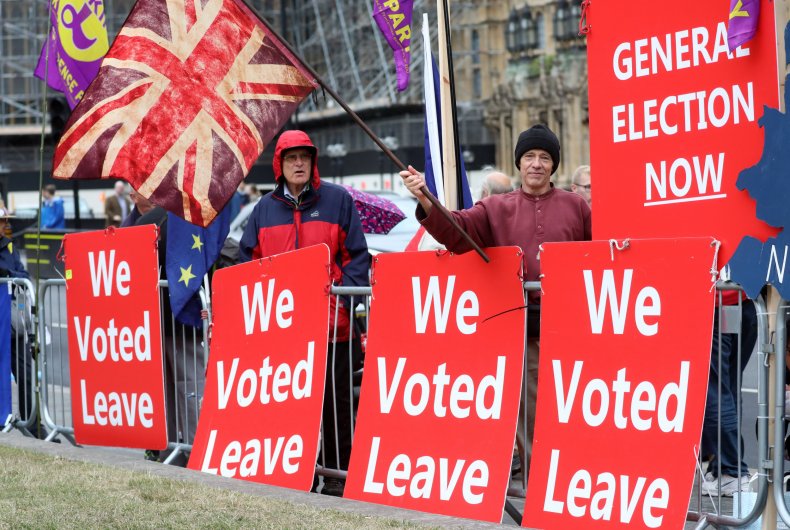 This article was updated with comments by Rob Burley.
Correction 27/09/19: This article was updated to clarify that Nazir Afzal was the chief prosecutor for northwest England.