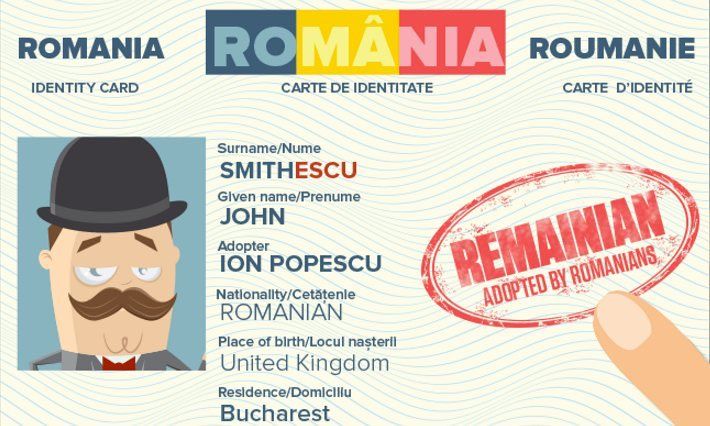 For the many disappointed by Brexit, help is at hand—thanks to Romania.
"Romanians for Remainians" offers disillusioned Brits the chance to be 'adopted' by a Romanian family. The playful campaign was launched by Gândul, a daily newspaper based in Bucharest, on Monday.
"Leave the Brexiters, the quarreling and the weather behind" and "start brand new life," the campaign website says. The page also urges Romanian citizens to volunteer their homes to "the good people who voted to remain and share European values; [they] deserve to be our relatives."
"Besides re-establishing a contact between people, the outcome of the website is a playful Romanian ID for any British citizen who applies, complete with photo and Romanianized name ('escu' suffix added to the surname)," said Mihai Gongu, the executive creative director at GMP/Webstyler, the agency responsible for creating the Romanians for Remainians website.
"The British and Romanians alike can share the freshly generated IDs. So far, in just a couple of hours since launch we have 600 volunteers and 160 Romanian IDs generated. But the numbers are rising fast."
When a "Remainian" signs up, the site asks for a Facebook login in order to link with a signed up Romanian. Once signed up, the Brit receives notice of the Romanian they're linked to and can click through to their profile if they want to get in touch.
It is unclear whether or not leave voters who now regret their choice are welcome, but there is no mention of them being excluded. "Start a brand new life in a loving Romanian family," the campaigners add, encouraging more Romanians and Brits to get involved.