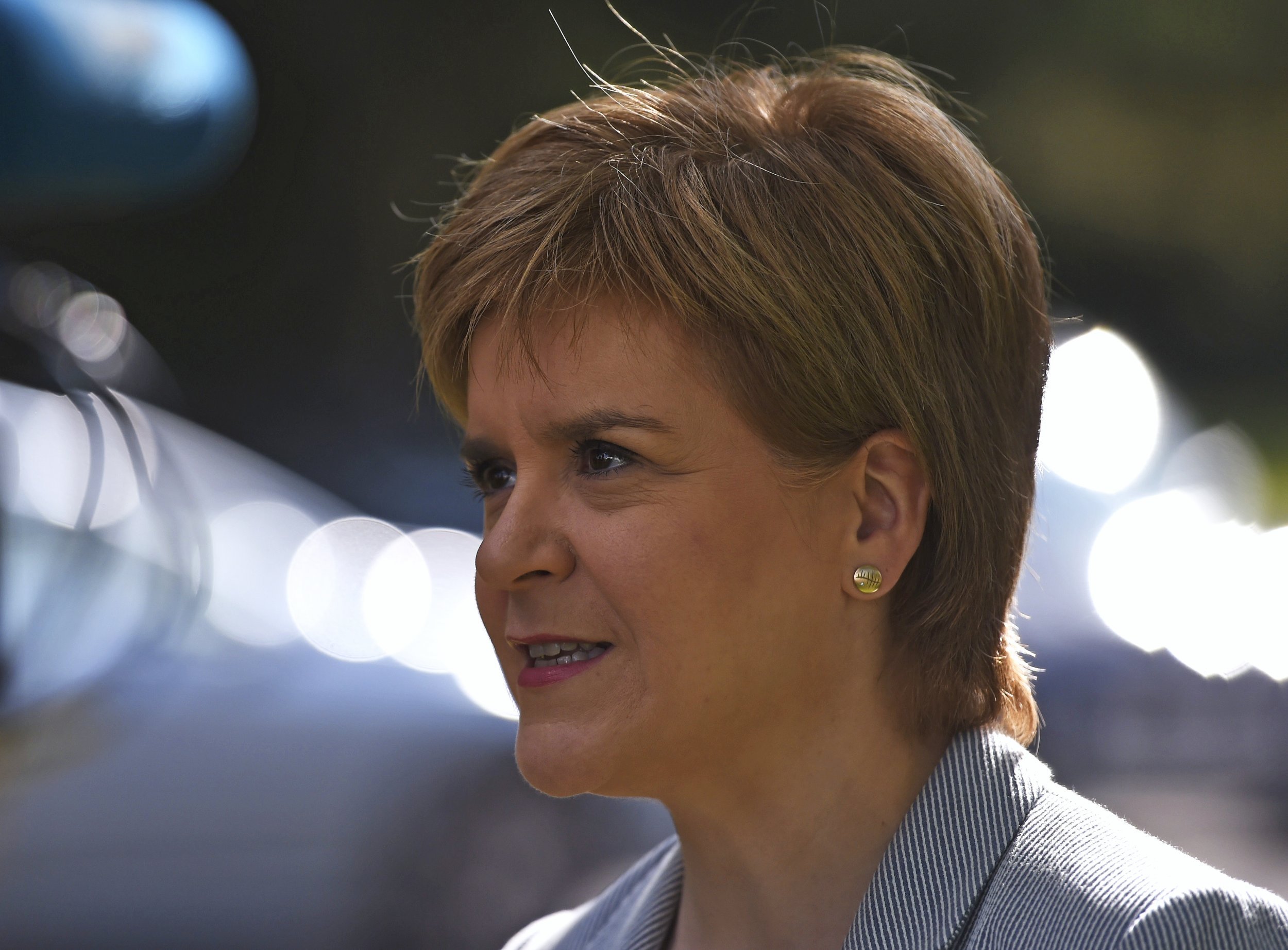 Could Scots get their wish to remain, effectively, in the European Union even while maintaining their union with England once the United Kingdom as whole leaves the EU?
Dubbed the "reverse Greenland" option, that was among ideas kicked around by First Minister Nicola Sturgeon during a flying visit to Brussels after Scots voted heavily against Brexit while their southern neighbors opted to quit the EU.
Sturgeon, a pro-independence nationalist, stressed during her visit to the EU capital on Wednesday that she was keeping an open mind and simply wanted "all of the options for Scotland" considered once a new British government starts negotiations on what, in principle, is supposed be a two-year divorce process.
But several people involved in the meetings she had with the EU executive and lawmakers told Reuters that ideas discussed included possible models based on the fact that several states have some parts in the EU and some outside—as in the case of EU member Denmark and its non-EU territory Greenland.
At its most extreme—and, in the view of officials and experts, deeply implausible—a "reverse Greenland" solution might see the Scottish government in Edinburgh take on Britain's EU membership while remaining in the United Kingdom and the U.K. government in London would, like Greenland in the 1980s, pull England out of the EU while keeping the British state united.
More plausibly, Sturgeon's warm reception in Brussels amid the shock of Brexit, highlighted the possibility that British withdrawal from the EU could well be accompanied by special EU arrangements for some of the United Kingdom's constituent parts—not just Scotland but also Northern Ireland and Gibraltar.
"They discussed possibly Scotland getting special status within the U.K. to let it still be a member of the EU somehow," an EU official who took part in one of Sturgeon's meetings said.
"On the 'reverse Greenland' option, she wasn't trying to put it on the agenda. It was a genuine reflection."
Senior EU officials say they are in no mood now to do more than brainstorm, even if they sympathize with the plight of the pro-EU Scots. Brussels faces existential and legal nightmares to cut loose the bloc's second biggest economy and expects to wait months for a new British government even to start the process.
"Scotland is a part of the U.K.," a spokesman for the European Commission said. "All parts of the U.K. should sort out what they want to do," he added, calling the options "speculation".
However, Sturgeon's trip to Brussels, on the very day the EU sat down without Britain to consider its options, showed leaders her determination to get a seat at the Brexit negotiating table.
Crucially for her charm offensive in a city that rebuffed Scots' appeals for assurances of EU membership during their 2014 independence referendum—a reflection of fears of secession in other EU states such as Spain—Sturgeon kept the secession card firmly off the table, insisting that was not the priority.
"We don't come at it from the starting point of independence," she told reporters in Brussels. "We come at it from the starting point of protecting Scotland's interests."
Another person familiar with one of her meetings said Sturgeon was told that Brussels did not want to be drawn into a battle inside Britain or offer a future independent Scotland any fast-track to EU membership—and she had not disputed that.
"She didn't use the Brexit referendum as an excuse to leave the U.K. She wasn't pushing independence at all," the person said. "That was smart...it's not what Brussels wants to hear."
Alyn Smith, an EU lawmaker for Sturgeon's Scottish National Party (SNP) who won a standing ovation in the chamber on Tuesday with a plea to the EU not to "let Scotland down", stressed: "I am talking about status rather than membership...Everyone wants to talk about Scottish independence—except us."
Keeping close EU ties, such as in education and research for which Edinburgh has its own powers and a big economic interest, might be achieved in a variety of ways, involving considerably less constitutional acrobatics than Greenland-inspired ideas. These would be much more likely to secure approval by the other 27 EU states.
"Reverse Greenland" is just "silly" in the opinion of David Edward, formerly Britain's justice on the EU's top court and, with Smith, a member of an advisory panel Sturgeon set up in the wake of the Brexit vote to explore Scotland's options.
Scotland has 100 times the population of Greenland and, in the reverse scenario, it would be England, 10 times bigger again, that was playing "Greenland" to Scotland's "Denmark". In other states with differing internal relations with the EU, it is minority regions, not the main state, which is outside.
But, Edward said, the Scottish government could use devolved powers in some areas to rework partnerships with Brussels.
Alyn Smith said the advisory group had drawn up a list of all the different territorial arrangements in the EU, which also include for example exemptions from EU tax and economic rules for the likes of French departments in the Caribbean or the English Channel island of Jersey, ruled by the British crown.
The closest, though not very close, analogy, Smith thinks, is that of Finland's autonomous, Swedish-speaking Aland Islands.
Scotland should look into using devolved powers to take part in EU programs like the Erasmus student system or the Horizon 2020 research fund, in which several non-EU states—including Israel—participate, Edward said: "It's not much but it's something, given Scotland's commitment to academic research."
Sturgeon has not ruled out the possibility of a second independence referendum and Scottish anger at Brexit and chaos in London politics may have bolstered support for secession. But the fall in oil prices has put Scotland's potential finances in a poorer position than two years ago, while the depth of trade ties with England and the problems that a new customs border along the River Tweed would create still leave many unconvinced.
The EU also would be unlikely to grant Scotland concessions that Britain has secured during its 43 years of membership.
EU officials also caution that Sturgeon should not underestimate hostility among other member states. The Spanish prime minister, wary of Catalan separatists, was also in Brussels on Wednesday and threw cold water on Scottish EU membership.
Yet, the demonstrative pro-European clamor in Scotland has struck a chord with shellshocked EU politicians who, Edward said, are "absolutely fed up to the back teeth" of the British.
"At least Nicola Sturgeon maintained goodwill," he said.
MEP Smith said that goodwill could be vital in promoting the kind of legal creativity EU lawyers are renowned for: "Brussels is good at this," he told Reuters. "So if there is goodwill—and there is goodwill as we saw—a solution is possible."