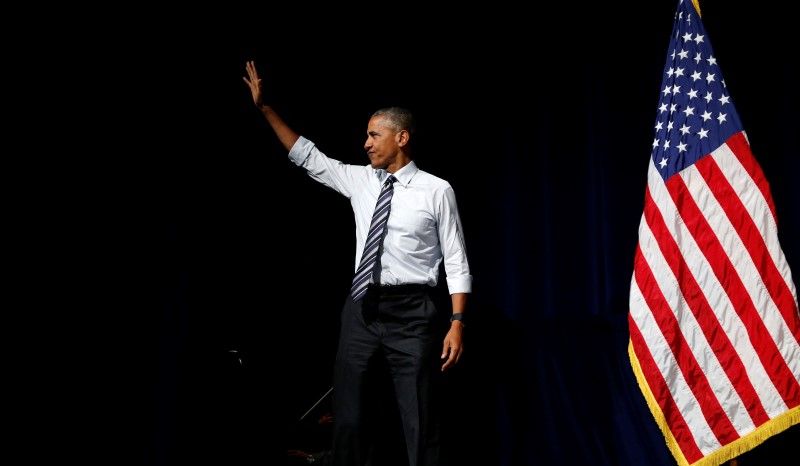 U.S. President Barack Obama tried to limit the fallout from Britain's vote to leave the European Union, which threatens to harm the U.S. economic recovery, derail his trade agenda and distract U.S. allies from global security issues.
Obama, who had argued passionately against Britain leaving the EU in a trip to the country this year, vowed that Washington would still maintain both its "special relationship" with London and close ties to Brussels.
"While the UK's relationship with the EU will change, one thing that will not change is the special relationship that exists between our two nations. That will endure," he told an event at Stanford University, referring to close ally Britain. "The EU will remain one of our indispensable partners," Obama said.
He spoke to outgoing British Prime Minister David Cameron and German Chancellor Angela Merkel after the stunning result of Thursday's referendum, the biggest blow to the European project of greater unity since World War II.
Obama said he was sure Britain's exit would be orderly and vowed that the United States and Britain would "stay focused on ensuring economic growth and financial stability."
The Brexit result rattled Wall Street and many other financial markets, with global stock markets losing about $2 trillion in value on Friday.
"I must say we had looked for a different outcome. We would have preferred a different outcome," U.S. Vice President Joe Biden, traveling in Ireland, said on Friday.
The historic divorce launched by the Brexit vote could sink hopes of a massive U.S.-EU free trade deal before Obama leaves the White House in January.
Negotiations on the Transatlantic Trade and Investment Partnership, or TTIP, were already stalled by deeply entrenched differences and growing anti-trade sentiment on both continents.
As well as the global economic consequences, Brexit makes it more difficult for Obama and the United States to corral its Western allies into joint action against challenges such as the Islamic State militant group, Russia and the rise of China.
Britain's exit could present the next U.S. president with a decision on whether to turn to other key European partners like Germany and France, essentially downgrading the United States' special bond with Britain, whose foundation was laid in World War II.
Senator Ben Cardin of Maryland, the top Democrat on the Senate Committee on Foreign Relations, called on Washington's partners in Europe to keep their eye on foreign policy threats.
"We must maintain our trans-Atlantic consensus on how to deal with a resurgent Russia and the growing threat of ISIS," he said. "I urge leaders in London, Brussels and across Europe to not lose sight of these threats and remain coordinated in our response."