Brexit Standoff as Boris Johnson Defies MPs' Vote to Delay EU Exit
Parliamentarians in the U.K. voted to delay Brexit once again on Saturday after a landmark vote backing a motion called the Letwin Amendment.
The measure, proposed by Oliver Letwin, a former Conservative politician who was kicked out of the party for supporting legislation that aimed at blocking a no-deal Brexit, passed by a slim margin of 322 votes to 306.
The amendment means that parliamentarians will withhold support for a Brexit deal until it has passed into law.
The result of the vote now legally requires the government, led by Prime Minister Boris Johnson, to write to the European Commission and request a Brexit extension until January 31.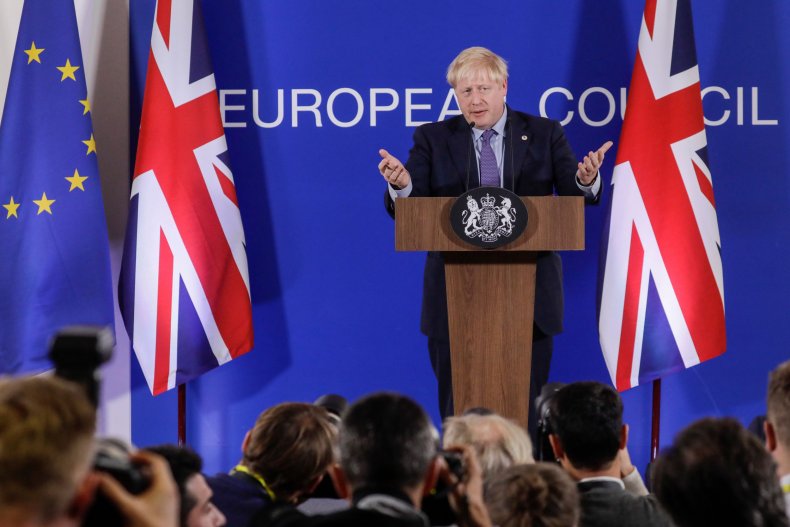 Speaking immediately after the vote, Johnson said he would not negotiate a delay to the Brexit deadline. He added that his government would try to pass legislation for his recently-agreed deal with the European Union next week in order to proceed with Brexit on the previously proposed date of October 31.
"I wish the House to know that I am not daunted or dismayed by this particular result," said Johnson.
"I continue in the very strong belief that the best thing for the U.K., and for the whole of Europe, is for us to leave with this new deal on October 31. And to anticipate the questions that are coming from the benches opposite, I will not negotiate a delay with the EU."
Opposite Labour Leader Jeremy Corbyn said he welcomed MPs voting for the Letwin Amendment and warned Johnson to be wary of breaking the law by going against the result of the vote.
"The prime minister must now comply with the law. He can no longer use the threat of a no-deal crash out to blackmail members to support his sell-out deal," Corbyn said.
"Labour is not prepared to sell out the communities that we represent. We're not prepared to sell out their future.
"And we believe that ultimately the people must have the final say on Brexit, which actually only the Labour Party is offering."
The proceedings—dubbed "Super Saturday"—marked the first time parliament in the U.K. sat on a weekend in four decades. It took place as thousands of demonstrators took to the streets requesting a "people's vote"—effectively a second referendum on whether Britain will remain a part of the EU.