The United Kingdom could face food, medicine, and fuel shortages when it splits from the European Union on October 31, according to a government report leaked to British newspaper The Sunday Times.
The report, entitled "Operation Yellowhammer," outlines a laundry list of ways life on the British Isles could be disrupted if politicians can't reach a trade deal with the EU in the next 11 weeks. The yellowhammer is a small bird that is on track for extinction.
According to one BBC report, the document was leaked to the press by a former government minister hoping to influence negotiations with the EU.
Starting on November 1, trade with Britain's neighbors could slow to a trickle as Britain's main route into Europe gets blocked.
"On Day 1 of No Deal, 50%-85% of [trucks] travelling via the short straits may not be ready for French customs," according to the report, which would cause them to be turned back at the French border. It goes on to add that: "The worst disruption to the short Channel crossings might last 3 months before flow rates rise to about 50%-70%."
Currently, 56 percent of U.K. exports land in Europe. Such a major, prolonged reduction in those numbers could have a catastrophic impact on Britain's economy. Inversely, the flow of important goods into Britain could also be cut off.
Three quarters of the medicines used in the U.K. come from Europe, according to the report. With no trade or customs agreements in place, imports "could be as low as 40% on Day 1 of No Deal...with significant disruption lasting up to six months."
Perhaps most alarmingly, "Certain types of fresh food supply will decrease. Critical elements of the food supply chain (such as ingredients, chemicals and packaging) may be in short supply."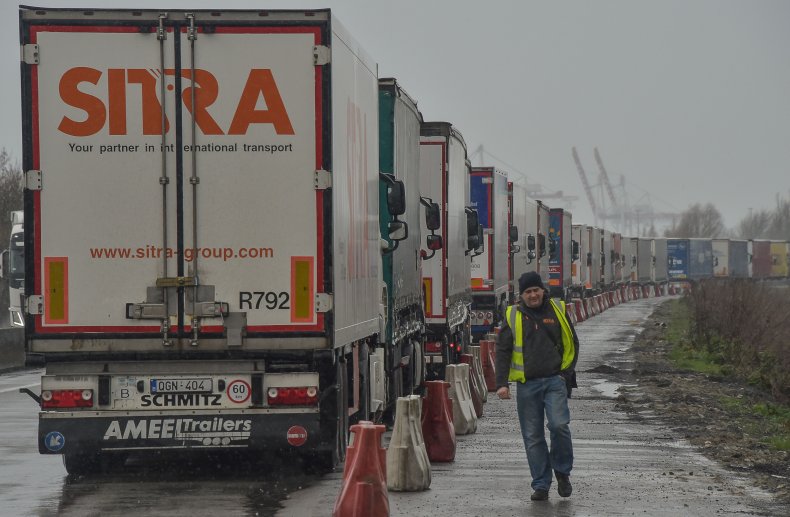 If that weren't bad enough, the Yellowhammer report goes on to foretell gas shortages in London and other areas, and the loss of 2,000 jobs at oil refineries that will be forced to close.
Rule of law is also under threat, as "job losses are likely to result in protests and direct action with road blockades" and price increases "are likely to lead to the growth of the illegitimate economy."
British politicians have been quick to downplay the report, with Cabinet member Michael Gove tweeting that it was a "worst case scenario" and "significant steps have been taken in the last 3 weeks to accelerate Brexit planning."
Gove tweeted his call for calm in response to Sunday Times journalist Rosamund Urwin's claims that the government had another, even worse set of predictions entitled "Black Swan."
"Black Swan is not an HMG [government] doc but a film about a ballet dancer..." Gove concluded.
Prime Minister Boris Johnson will meet with EU leaders next week but has vowed to stick to the October 31 deadline, deal or no.