Boris Johnson and EU set Deadline for Brexit 'Moment of Finality'
British Prime Minister Boris Johnson's attempts to find a way out of the Brexit impasse during a fish dinner with E.U. chief Ursula von der Leyen ended without success.
Von der Leyen said the two sides were still "far apart" from an agreement, with differences still remaining over issues such as fishing rights and business competition. Despite their differences, Johnson has said that an agreement must be reached by Sunday or there will be no deal.
Following the talks in Brussels, commission president Von der Leyen, tweeted: "We had a lively and interesting discussion on the state of play on outstanding issues. We understand each other's positions. They remain far apart. The teams should immediately reconvene to try to resolve these issues. We will come to a decision by the end of the weekend."
The two sides are hoping to agree to a post-Brexit trade deal before the transition period ends on December 31. Although the U.K. left the EU on January 31, the 11-month transition period means it remains bound by EU rules. The idea behind it was to allow some breathing space for negotiations between the two sides to take place.
There is an irony, perhaps a deliberate one, that one of the sticking points in the deal likely discussed over the fish dinner is over fishing and the rights for European countries to fish in U.K. waters.
U.K. Foreign Secretary Dominic Raab told the BBC's Today programme that Sunday will be a "point of finality" for Brexit trade talks It comes as German Chancellor Angela Merkel said she was willing to let talks collapse if Downing Street continues to reject the EU's proposals.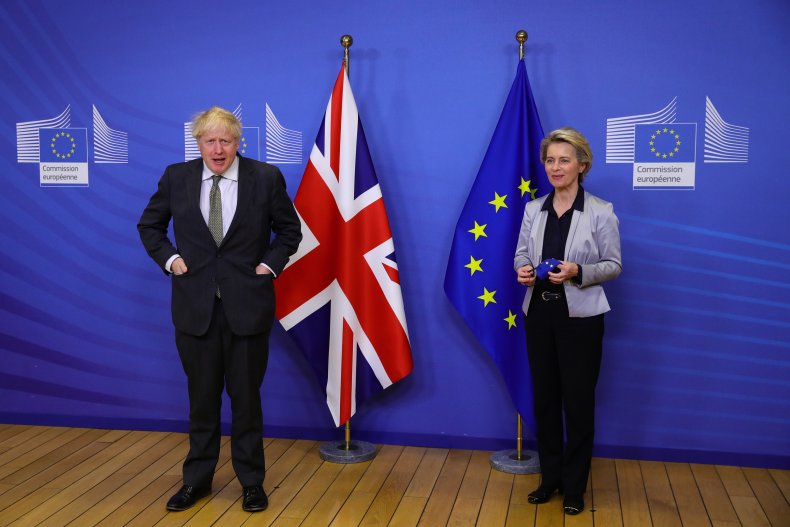 "If there are conditions coming from the British side which we cannot accept, then we will go on our own way without an exit agreement," she said. "Because one thing is certain: the integrity of the single market has to be maintained."
The main source of contention is the EU's demand for a "ratchet clause". The clause, which the E.U. calls an "evolution clause", is aimed at ensuring that if one side develops their environmental, labor and social standards, the other cannot enjoy competitive advantages. The E.U. hopes to ensure a level playing field and the integrity of its single market through the clause.
Johnson had told the British parliament that the European bloc wants Britain to comply with new EU laws in the future or be automatically punished, and that it was insisting London give up sovereign control over UK fishing waters. "I don't believe that those are terms that any prime minister of this country should accept," he said.
Should a deal fail to materialize it could result in turmoil for financial markets and cause chaos for supply chains. There could be price increases for the goods the U.K. buys and sells from and to the EU as well as long queues for lorries due to border checks.
U.S. President-elect Joe Biden has warned that there should be no hard border between Ireland and the U.K. and that any Brexit agreement should protect the Northern Ireland peace process.