Nigel Farage Resigns: Who Could Be UKIP's Next Leader?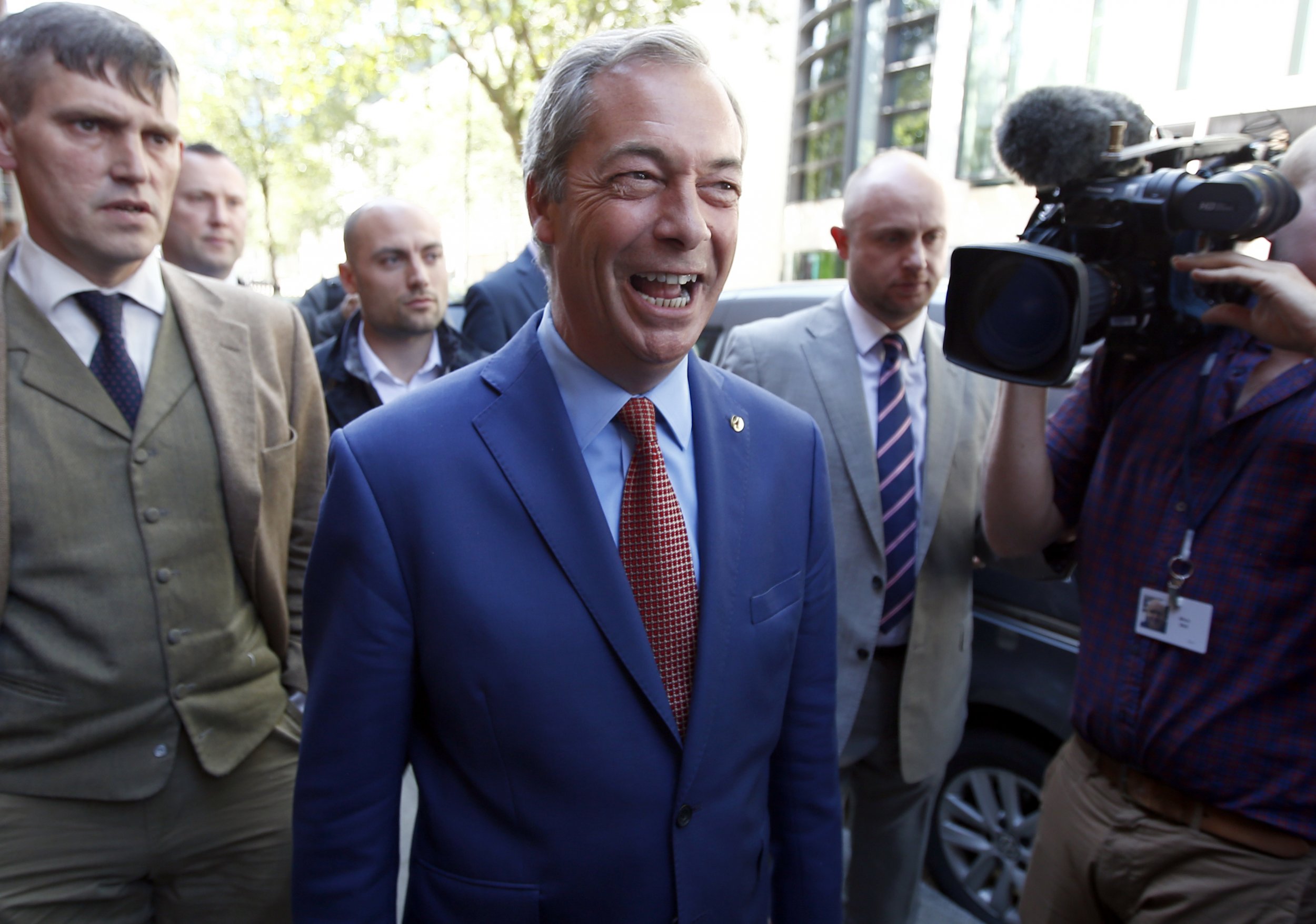 Nigel Farage has resigned as leader of the U.K. Independence Party, just weeks after a victory in a referendum on the U.K.'s EU membership that he and his party helped to secure.
"I want my life back," Farage told journalists, and what he does next is likely to be a subject of frantic speculation. On Monday, he suggested he would be a good addition to Britain's team of negotiators on a new deal with the EU. In the past, he has suggested he would like to make military history documentaries. Perhaps he'll find time to do both.
But the immediate question for his party, which Farage has ruled for most of the period from 2006 to the present, is who succeeds him. Nobody has yet entered a formal bid, but here are five possible candidates.
Paul Nuttall
The party's deputy leader and an MEP, Nuttall, who was born in Bootle near Liverpool, has been credited with masterminding UKIP's push into Labour's northern heartlands. After a Brexit vote that saw many such places voting against Labour and with the anti-EU campaign, that's likely to be a key focus for the party in future, and Nuttall could argue that he'd be well-placed to lead it.
Verdict: With plenty of time logged at the top of UKIP and an eye for its appeal to Labour voters, Nuttall could be a strong contender.
Douglas Carswell
UKIP's only MP, Carswell has enjoyed an unsackable position since he defected from the Conservative Party in 2014, despite he and Farage viewing each other with increasingly undisguised loathing and contempt. Following Farage's announcement on Monday, Carswell tweeted only a smiley-faced emoji to describe his mood. His eccentric, almost academic style and liberal views on immigration put him well out of step with most of the party membership. And Carswell has said that he is not interested in the leadership, on Monday putting his chance of running at "somewhere between nil and zero" in an interview with the BBC. Still, he has always had bold ambitions to reform the party and make it a more liberal, pro-democratic reform group. He told the BBC on Monday he wanted to help steer UKIP away from being an "angry, nativist" party, and if he does not run, he may work to do so via another candidate.
Verdict: Despite his high national media profile he sits well outside UKIP's ideological center of gravity. But Carswell may decide that his big ideas mean it's worth a shot at running anyway.
Suzanne Evans
One of the party's strongest media performers, Evans, who has held various senior roles in the party and wrote its 2015 manifesto, was once considered a favorite to succeed Farage. But in the run-up to the EU referendum, in which she and Farage supported different pro-Leave campaigns, she was suspended from the party for six months. That suspension doesn't expire until September, which may well bar her from the contest. But if she did find a way to mount a bid she would count solid policy experience and a softer, potentially broader appeal than Farage among her attributes.
Verdict: Her suspension would be her biggest obstacle if she wants the job, and members supportive of Farage might view her as disloyal. But if that's cleared, Evans is a credible candidate with a strong national media profile.
Steven Woolfe
An MEP and the party's immigration spokesperson, Woolfe, unlike Evans has kept a top job and Farage's support, but has still shown willingness to pursue more moderate stances where necessary. Born to a father of mixed black and Jewish ancestry and a white mother, Woolfe can dodge charges of racism more easily than some of his colleagues, and has grown into a confident performer who can handle the press.
Verdict: Woolfe is one of UKIP's grown-up politicians, who has run the party's most important policy brief in immigration. He could be a strong contender.
Neil Hamilton
Hamilton, a former Tory MP, lost his Tatton seat in 1997 after allegations, which he has always denied, that he took cash payments in return for asking parliamentary questions. In 2011 he mounted a return to national politics when he attended UKIP's conference, later joining the party's National Executive Committee, serving as deputy chairman and, this year, getting elected to the Welsh assembly and leading the party's group there. He has a proven ability to drum up support in the party despite behind the scenes battles with Farage.
Verdict: If he wants the job, there'd be serious questions over whether he could do it properly from Wales. But Hamilton does have more experience in national politics than most Ukippers.